Promoters of solar, wind and other allegedly "green" technologies have repeatedly and misleadingly conflated the words "energy" and "electricity" when making their claims.
Environmentalists must choose to protect the "real natural world" or their all-consuming technology-driven industrialized way of life. "We cannot save both" – Bright Green Lies Book Review.
Environmentalist and documentary film maker, Julia Barnes brings us "Bright Green Lies – The Film"
Official Trailer
BRIGHT GREEN LIES dismantles the illusion of green technology in a bold and shocking exposé, revealing the lies and fantastical thinking behind the notion that solar, wind, electric cars, or green consumerism will save the planet.
Almost every major environmental organization is pushing for so-called renewable energy.
Claims are being made about "green" technologies that are frankly untrue. Words like "clean", "free", "safe", and "sustainable" are often thrown around.
But solar panels and wind turbines don't grow on trees. The mass production of these technologies requires increased mining, industrial manufacturing, habitat destruction, massive greenhouse gas emissions, and the creation of toxic waste.
BRIGHT GREEN LIES investigates the change in focus of the mainstream environmental movement, from its original concern with protecting nature, to its current obsession with powering an unsustainable way of life.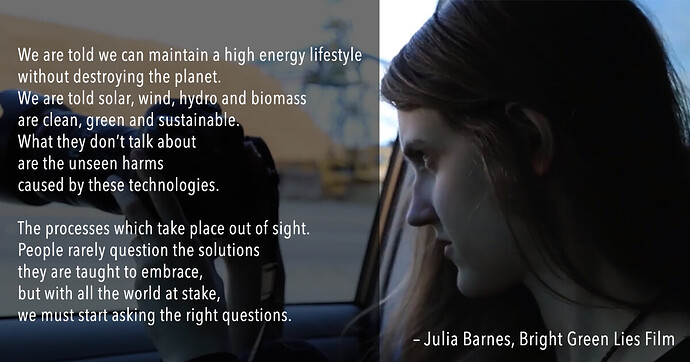 In response to criticism about the film, Julia said -

"If people are genuinely interested in protecting the natural world in the environmental movement, then a film that points out the harmful industries of things like renewables, shouldn't be considered divisive, it should be something that is information that they're going to take in and that's going affect the way they look at these issues.

If their allegiance is to these technologies above life on this planet, then they were never really an environmentalist to begin with. Their allegiance isn't with the natural world. I don't think we were ever part of the same movement…

A movement has to be able to differentiate. We have to be able to recognize when we are being colonized and co-opted."
Dirty secrets of renewable energy revealed as 'Bright Green Lies' – "I was amazed and there's this whole side of these technologies that we don't hear about in the mainstream environmental movement and it's so important," Barnes said. "We have this huge movement but no matter how impassioned a movement it is, if it's pushing for the wrong solutions it's not going to work," she adds.
Dark Green Lies Exposes The Dark Reality And Deceptions of So-Called "Renewable Energies" – "Green technologies are touted as saviors but all they are doing is adding to the destruction, accelerating the mass extinction of life on earth, and wasting time we don't have on false solutions," said Barnes.
The Film is a MUST-WATCH.
There are numerous ways to watch the film. It's main website points people to Vimeo.

Update: Watch it on Bitchute