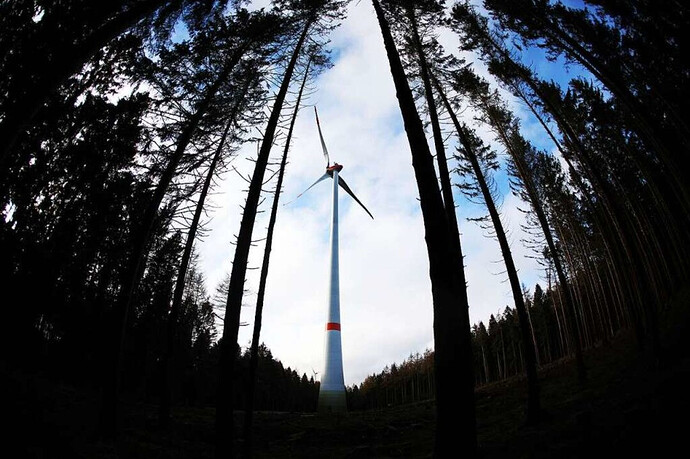 Photo by Oliver Berg
So it seems that Germany's 'Green brigade' are now cutting down trees across the country to make room for huge industrial wind turbines.

In an apparent bid to 'save the planet', activists are driving the destruction of parts of Germany's famed forests.

In July, the Baden-Württemberg Government of the Greens and CDU announced plans to clear-cut state owned forests and build 1,000 wind turbines in the next legislative period.
Tesla's Berlin gigafactory will accelerate shift to electric cars
The site is located in the sparsely populated and largely forested municipality of Grünheide, around 35 kilometres south-east of Berlin, where Tesla bought a plot of land measuring about 3 km2 that had been reserved for an industry project for around 20 years.

Most local opposition is centred on environmental concerns relating to the plant's water usage, the clearing of a local forest and increased traffic.

Large chunks of the planned factory sit within a designated water protection zone.

The parts of the forest that needed to be cleared to make room for the factory were not naturally grown, but a monoculture pine forest planted for cardboard production. Tesla has said it will overcompensate the clearing of the forest with reforestations elsewhere in the region. To minimise the impact on the local fauna, Tesla relocated bats and reptiles, as well as 21 ant nests. The company also installed 368 nesting boxes for bats and 329 for birds.
To Make Room, Something Has To Go
Have you watched Bright Green Lies?
BRIGHT GREEN LIES – Green now means sustaining a destructive way of life – BRIGHT GREEN LIES dismantles the illusion of green technology in a bold and shocking exposé, revealing the lies and fantastical thinking behind the notion that solar, wind, electric cars, or green consumerism will save the planet.