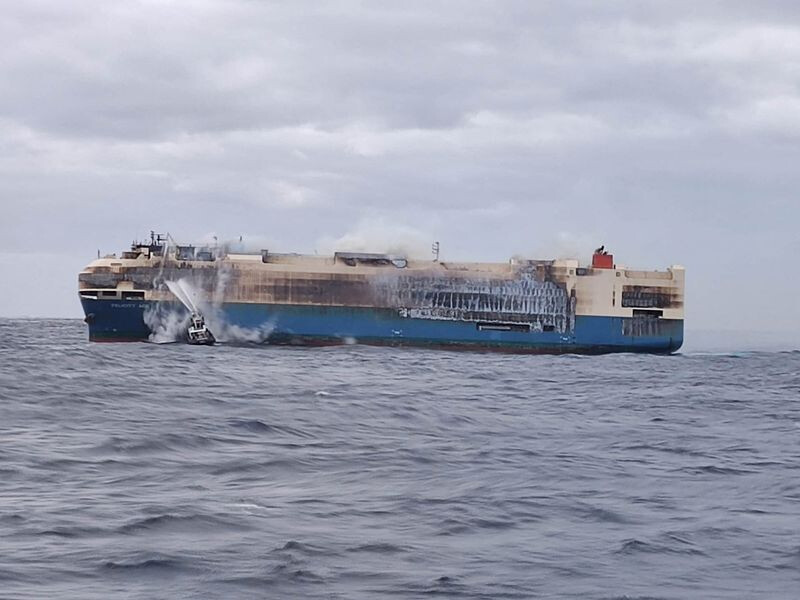 Two large tugboats arrived on the scene Tuesday from Gibraltar and are spraying the ship with water to cool it down, according to a statement from the owner of the Felicity Ace, Japanese ship operator Mitsui O.S.K. Lines (MOL). The tugboats will also help to position the Felicity Ace as safety conditions are assessed. Once approved, the initial salvage team will board and provide more insight on the damage as well as next steps. Two salvage boats are en route to the cargo ship to assist with firefighting and towing, according to the statement.

Cabeças told Reuters over the weekend that the fire was being kept alive by the lithium-ion batteries of the electric cars on board, with flames edging closer and closer to the fuel tanks of the ship.

A main concern of the Portuguese navy has been the potential environmental impact of the fire. Pollution is a high risk with the large amount of fuel and car batteries present.
Many of the articles about the burning ship highlight the economic impact, but this article brings up two issues more important than cars that can be replaced.
Lithium-ion batteries aren't as green as we are made to believe – Bright Green Lies.

Industries (ie Shipping) are MAJOR Polluters, yet they seem to operate with near impunity.
Who is responsible for this devastation? Who will be held accountable?