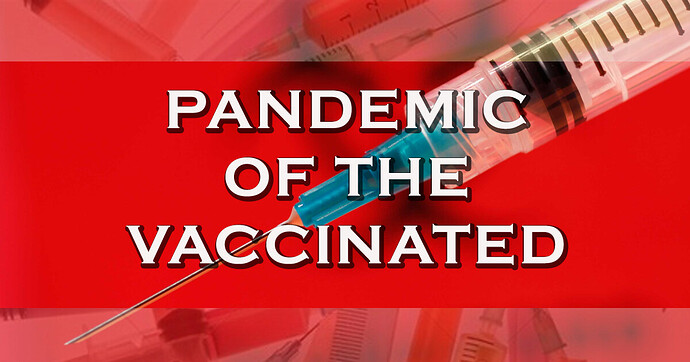 Despite the evil spin that this is a "pandemic of the unvaccinated", facts tell us a completely different story.
It is a PANDEMIC OF THE VACCINATED
Latest UKHSA report shows Vaccinated accounted for 80% of Covid-19 Deaths and 60% of Hospitalisations in the last 4 weeks
Between September 13th and October 10th 60% of those hospitalised with Covid-19 were vaccinated whilst 40% were not-vaccinated.

The number of people to have died within 28 days of a positive test result for Covid-19 who were not vaccinated was just 557, whilst a further 92 were partly vaccinated, but a shocking 2,136 were fully vaccinated.
DEATHS FOLLOWING VACCINATION REPORTED IN TAIWAN EXCEED NATION'S COVID DEATH TOTAL
While the nation hadn't had even a dozen deaths attributed to COVID-19 by the time the first vaccine was administered, 836 of the 846 deaths attributed to COVID-19 have occurred since the vaccination program began.

In an even more dubious display concerning the safety and effectiveness of the vaccines administered in Taiwan, the nation's Central Epidemic Command Center ("CECC") has reported that 847 deaths have been reported as adverse events following vaccinations as of October 6, a number which has risen to 850 since according to other media outlets. That total eclipses the number of fatalities attributed to the virus itself.

More at ZeroHedge or also on the Irish Sentinel.
Hospital covid outbreak saw many deaths among fully vaccinated, only minor symptoms among unvaccinated
The journal Eurosurveillance published a paper recently that debunks the myth of "vaccine-generated herd immunity" for the Wuhan coronavirus (Covid-19).

A Chinese Virus outbreak recently occurred at an Israeli hospital, the paper explains. And almost everyone who got sick received their shots. Everyone who died was fully injected.

Only a couple unvaccinated people got sick, and their illnesses were very mild compared to what became of those who took the shots.
CDC Reports 15% Increase In Rate Of Death Among "Fully Vaccinated" & Revealing Immune System Test
Previously on Defending-Gibraltar:
• THE UK HAS FALLEN: 81% of Covid-19 deaths are among the Vaccinated
• New UK Study: People Who Have Been Vaccinated Make Up 47% of New COVID Cases
• SNHD stops releasing fully vaccinated death numbers after total tops 112 COVID Deaths among Vaxxed
• The Covid Scam Is Unraveling
• CDC: Teens Injected with COVID Shots have 7.5 X More Deaths, 15 X More Disabilities, 44 X More Hospitalizations than All FDA Approved Vaccines in 2021
• CDC Data Shows Almost Twice As Many Vaccine-Related Deaths in First 3 Months of 2021 than All Vaccine Deaths Combined over the Past Ten Years
• CDC Study: 74% of Infected and 80% of Hospitalized in Massachusetts Outbreak Were Fully Vaccinated
• BOMBSHELL: FDA Allows Whistleblower Testimony that COVID-19 Vaccines Are Killing and Harming People!