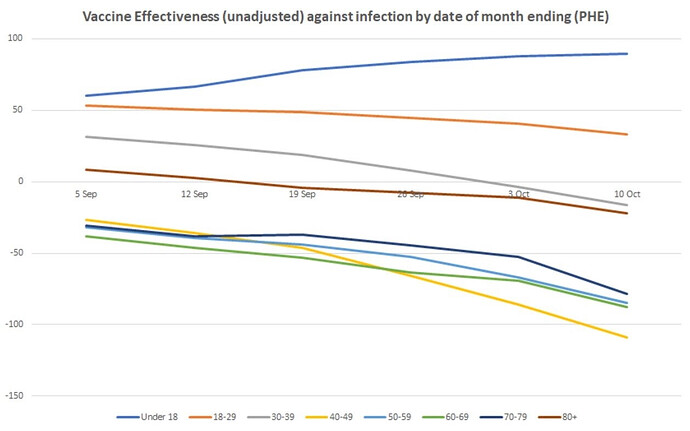 IN THE latest Vaccine Surveillance report from Public Health England (PHE) the Covid infection rate in double-vaccinated people in their 40s went above 100 per cent higher than in the unvaccinated for the first time, reaching 109 per cent. This translates to an unadjusted vaccine effectiveness of minus 109 per cent.

Vaccine effectiveness continues to drop fast in all over-18s, hitting minus 85 per cent for those in their 50s, minus 88 per cent for those in their 60s and minus 79 per cent for those in their 70s.

There is still nothing from Government sources acknowledging this failure of the vaccines against infection.

More at link.
It would seem government and health officials don't really care about this failure, because in their eyes it's a success to push the narrative that boosters will be needed to battle this boggy-monster. 8 BOOSTERS PLANNED – They Want This Nightmare To Last Forever! - #5 by DOTS
Can T.H.E.Y. keep hold of the fake narrative? Especially when more and more of the world is waking up to the fact that is a Pandemic Of The Vaccinated.