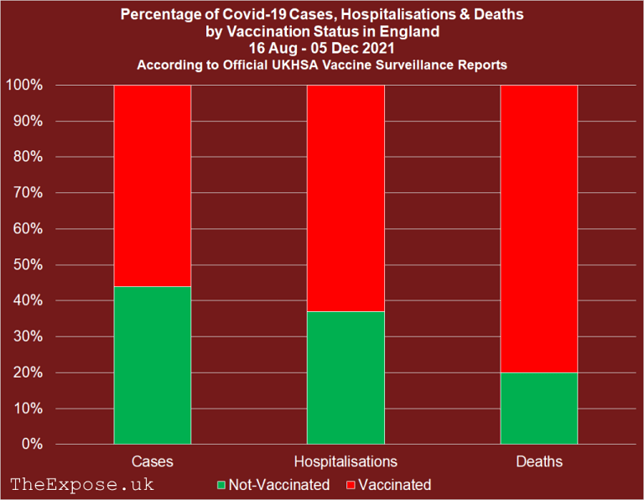 Serious questions need to be answered as to why Boris Johnson's Government have decided to restrict the freedoms of the unvaccinated population through the introduction of Vaccine Passports, when the latest official data shows that the vaccinated population have accounted for 3 in every 5 Covid-19 cases, 3 in every 5 Covid-19 hospitalisations, and 4 in every 5 Covid-19 deaths, in England since August 16th 2021.

During a national Covid-19 briefing that took place on Tuesday December 8th, the Prime Minister of the United Kingdom announced that 'Plan B' would be implemented in England from Wednesday December 15th, which would entail 'working from home' (if you can) orders, and the introduction of Vaccine Passports.

The reason given for the commencement of 'Plan B' is that it has to be done to protect the public from the alleged new Omicron variant of the Covid-19 virus. A variant which as of December 11th, has failed to cause a single fatality in the UK, with just several hundred cases allegedly being confirmed.

A new law will come into effect from Wednesday December 15th, which will state that Vaccine Passports will become mandatory for entry to nightclubs and other large venues, including Premier League football matches and concerts. We're told they will be required for indoor settings of 500 people or more, outdoor settings of 4,000 people or more, and any setting with 10,000 attendees or more.

There will be many in England who believe Vaccine Passports are the answer to their prayers. Two years of misinformation, and disinformation mixed with propaganda published by the mainstream media can do that to people. But unfortunately the official data published by the UK Government proves that they are far from it, and suggests Vaccine Passports have absolutely nothing to do with protecting public health, and instead everything to do with controlling the nation.

The UK Health Security Agency (PHE) is an executive agency of the Department of Health and Social Care and recently replaced Public Health England. The Chief Executive of the agency is Dr Jenny Harries OBE, who you may recognise from the television as she has served as Deputy Chief Medical Officer for England throughout the pandemic.

The UKHSA publish a weekly 'Vaccine Surveillance' report which contains data on Covid-19 cases, hospitalisations, and deaths by vaccination status over a period of four weeks, and unfortunately for the vaccinated population, the official data shows that they have accounted for the majority of Covid-19 cases, hospitalisations, and deaths for at least the past four months.

We have used the following official reports for our analysis –
Christmas Lockdown For Britons?