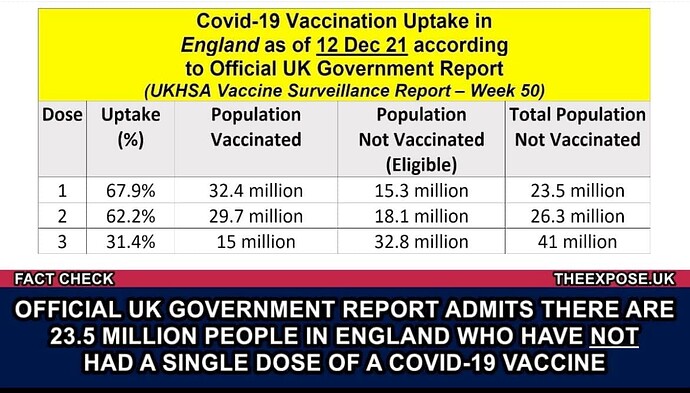 https://dailyexpose.uk/2021/12/17/23-million-not-vaccinated-in-england/
For months the British public have been deceived with tales that there are just 5 million people in the United Kingdom who have refused to take up the offer of a Covid-19 vaccine. But today we can reveal that this is a lie.

It is a complete fabrication that has no doubt been used to make those who have refused the jab feel as if they are part of a minority, because an official UK Government report proves that in England alone there are approximately 23.5 million people who have not had a single dose of a Covid-19 vaccine.

The population of England is approximately 56 million.

It was back in September that the British public were told there were 5 million Brits who had so far refused the experimental jabs. Sir Patrick Vallance, the UK's Chief Scientific Advisor and former president of GlaxoSmithKline, announced in a televised Covid-19 briefing that "There are five million or so people who are eligible for vaccines now who haven't been vaccinated,".

Well it turns out the "or so" make up approximately another 10.3 million people in England alone as of December 17th 2021, bringing the grand total of people eligible to have the Covid-19 jab to 15.3 million, and 23.5 million when including all children under the age of 12.

Read more of this analysis on Daily Expose.
Obviously, Gibraltar doesn't have an over 100% vaccination rate, although it makes for catchy headlines.
There's always a caveat to what it means, which usually has to do with of those eligible (ie adults - at the time); or adding cross-border workers which could easily inflate the numbers.
Below are some posts where unvaccinated in Gibraltar are mentioned:
HMGoG's Delta Fear-mongering to increase jab rates – "
It's clear this is a lie about the vaccinated being better protected – Pandemic Of The Vaccinated
HMGoG on Omicron – Same script really – "The Omicron variant is highly transmissible so get your booster shot to bring our level of immunity back up and protect our GHA." And Helen Carter saying: "There is evidence to suggest that three doses of the Pfizer vax can generate a neutralizing effect against Omicron."
Carter went on to try to explain away the fact that cases are rising despite total compliance with the jab program.

"So we know that with all vaccines, our immune response fades over time," she said. "And covid vaccines are no different to other vaccines, so that's why we need to boost our population."

Residents of Gibraltar do have the option to "exercise their own judgment," the government says. But people are "strongly" advised to stay at home forever and take whatever injections are presented to them as boosters

100% Vaccinated Gibraltar now cancelling Christmas due to "exponential increase" in covid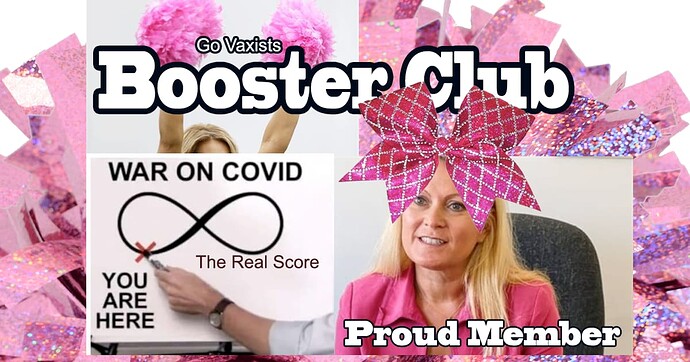 Carter is still taking the cues from the UK – JCVI'S RAZZLE DAZE Press Conference
One also has to ask is the omicron covid symptoms just vax side-effects they are trying to cover – Vaccine 'Side-Effects' Might Actually Be Covid, Study Warns.
And there's also the 5G angle – Study: 5G exposure a "significant factor" in higher covid cases, deaths. Investigate how the Spanish Flu was tied into electricity – Isn't it time to unmask this criminal conspiracy? - #7 by A_Freeman