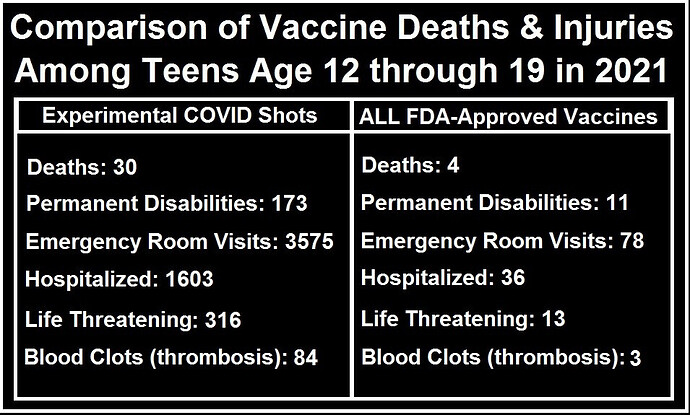 As I reported yesterday, the COVID-19 shots seem to be killing and crippling teenagers in record numbers.

I expanded the search today to include the new data that just came out today, and to include age 12 through age 19.

The search returned the following results for this age group following COVID-19 shots: 30 deaths, 173 permanent disabilities, 3575 ER visits, 1603 hospitalizations, and 316 life threatening events. Note that the search separates 12-17 year olds, and 17-44 year olds, although we only searched through age 19, so you need to add the two tables together to get the numbers in the graph above.

Continued at link.
CDC Data Shows Almost Twice As Many Vaccine-Related Deaths in First 3 Months of 2021 than All Vaccine Deaths Combined over the Past Ten Years
For Second Week in a Row: More COVID-19 Vaccination Deaths than COVID-19 Deaths in the US According to CDC and VAERS Websites
MASSIVE CDC Cover-Up: Delta Variant Comes From Getting Vaccinated – Dr. Jane Ruby