All eight RIPPLE EFFECT documentary films are now featured on Gibraltar Messenger's new Brighteon channel.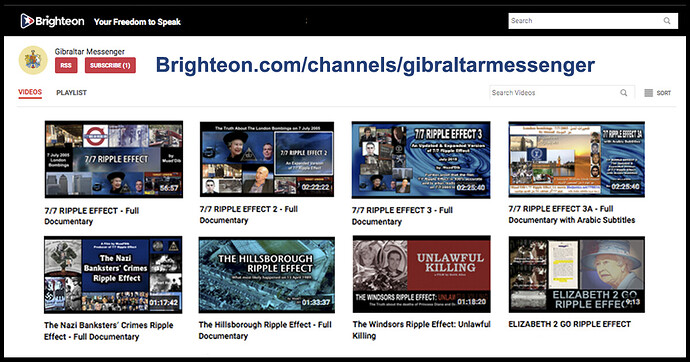 GIBRALTAR MESSENGER Brighteon Channel
Our goal was to put all of them in one place outside of Big-Tech censorship.
Brighteon was chosen for this purpose, because its founder Mike Adams (Natural News) created it as an alternative platform for freedom fighters around the world. And we appreciate his work.
While J for Justice (JforJustice.net) remains the MAIN HUB for the films as well as The Challenge Document, being able to share Brighteon links could prove beneficial moving forward, especially because Big Tech shows no sign of stopping its censorship controls.
These Brighteon links have been added to J for Justice.
Each film on Brighteon includes an informative description and appropriate links, with the thought that when you share these individual Brighteon links, all relevant information is already assembled.
These descriptions were gathered from different sources across the web that had already been written to help educate viewers about their contents.
Also, each film has its own Defending-Gibraltar (DG) Post under CATEGORY: Muad'Dib's J for Justice (incls. films), which provides essentially the same description as written on Brighteon; but gives a DG forum link to share with others.
These DG posts also provide users and visitors with brief summaries of the films.
The Gibraltar Messenger's Brighteon Channel is an additional resource for everyone to use. Keep sharing the Truth.
---
HERE IS THE COMPLETE DOCUMENTARY LIST -
---
7/7 RIPPLE EFFECT
Featured on Defending-Gibraltar - 7/7 RIPPLE EFFECT - Full Documentary
View on J for Justice – 7/7 RIPPLE EFFECT
View on Brighteon - 7/7 RIPPLE EFFECT – FULL Documentary
---
7/7 RIPPLE EFFECT 2
Featured on Defending-Gibraltar - 7/7 RIPPLE EFFECT 2 - Full Documentary
View on J for Justice – 7/7 RIPPLE EFFECT 2
View on Brighteon - 7/7 RIPPLE EFFECT 2 – FULL Documentary
---
7/7 RIPPLE EFFECT 3
Featured on Defending-Gibraltar - 7/7 RIPPLE EFFECT 3 - Full Documentary
View on J for Justice – 7/7 RIPPLE EFFECT 3
View on Brighteon - 7/7 RIPPLE EFFECT 3 – FULL Documentary
---
7/7 RIPPLE EFFECT 3A (Arabic subtitles)
Featured on Defending-Gibraltar - 7/7 RIPPLE EFFECT 3A - Full Documentary with Arabic Subtitles
View on J for Justice – 7/7 RIPPLE EFFECT 3A
View on Brighteon - 7/7 RIPPLE EFFECT 3 – FULL Documentary
---
The Nazi Banksters' Crimes Ripple Effect
Featured on Defending-Gibraltar - The Nazi Banksters' Crimes Ripple Effect - Full Documentary
View on J for Justice – The Nazi Banksters' Crimes Ripple Effect
View on Brighteon - The Nazi Banksters' Crimes Ripple Effect– FULL Documentary
---
The Hillsborough Ripple Effect
Featured on Defending-Gibraltar - The Hillsborough Ripple Effect - Full Documentary
View on J for Justice – The Hillsborough Ripple Effect
View on Brighteon - The Hillsborough Ripple Effect – FULL Documentary
---
The Windsors Ripple Effect: Unlawful Killing
Featured on Defending-Gibraltar - The Windsors Ripple Effect: Unlawful Killing
View on J for Justice – The Murder of Diana
View on Brighteon - The Windsors Ripple Effect – FULL Documentary
---
Elizabeth 2 Go Ripple Effect
Featured on Defending-Gibraltar - ELIZABETH 2 GO RIPPLE EFFECT
View on J for Justice – Elizabeth 2 Go Ripple Effect
View on Brighteon - Elizabeth 2 Go Ripple Effect – FULL Documentary
---