"The Hillsborough Ripple Effect" Sheds New Light On The Stadium Tragedy, that claimed the lives of 96 Liverpool Football fans and injured hundreds more on 15 April 1989.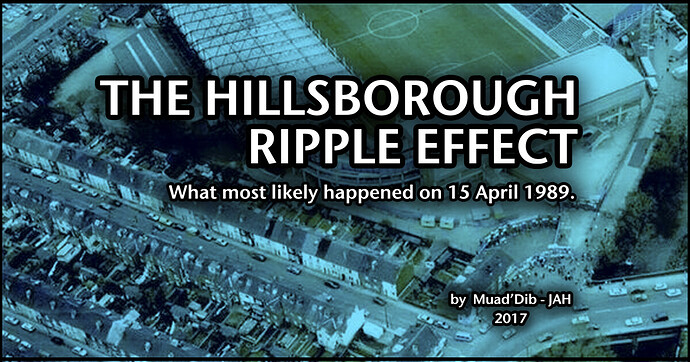 Released: April 2017
In this documentary, Muad'Dib-JAH reveals what most likely happened that day, during the semi-final football match, at the Sheffield Wednesday Stadium in Hillsborough, Sheffield, England.
Watch the film on Gibraltar Messenger's Channel on Brighteon:
"The Hillsborough Ripple Effect" is a no holds-B.A.R.red examination of the facts, reports, associations, planning and cover-ups that lead to why the disaster happened in the first place. No matter how much and to what degree the government tries "to control" inquests, investigations, outcomes, and punishments (or the lack thereof), the campaign for truth will not die until there is Justice – which should be apparent to all those involved and affected by it.
To grasp who all, and what all, was involved in the Hillsborough Disaster, one needs to realize what was and is at stake. It has been these high stakes that persuades politicians, police, judges and coroners to keep a lid on what would shatter their reputations, and their control over the people.
The UK South Yorkshire Police remain under fire for their evil works, not only from the Hillsborough Disaster cover-up, but also from its 1984 Battle of Orgreave cover-up; and more recently the child-trafficking and sexual perversion cover-ups in Rotherham. There is an under-current that flows through all these events – even the 7/7 London Bombings, and Dunblane Massacre in Scotland – but they'd like to keep their secrets secret.
For them "it's a life and death situation" with devastating outcomes if the truth was told.
The documentary will answer many questions, especially "WHY" did Hillsborough happen. It will also answer questions about why so many tragedies like it happen on the world stage.
For more information:
JforJustice: The Hillsborough Ripple Effect
JforJustice.net
(JforJustice.info)
Friends of Muad'Dib
CHRISTS.NET
Sheffield, UK, in Prophecy – Scripture explained again at the end of the 20th Century: On The Way to Emmaus Again
More Background:
The Parable of The Unjust Judge and The Persistent / Prayerful Widow – Luke 18:1-8 - Hillsborough – A Spiritual Reflection