The Windsors Ripple Effect is a presentation of the 2011 documentary "Unlawful Killing", with added information about the Windsors and the murder of Princess Diana and Dodi Al-Fayed on 31 August 1997. While the original Keith Allen film was banned in the UK, after its showing at the Cannes Film Festival, it is still available to watch on worldwide platforms, including YouTube.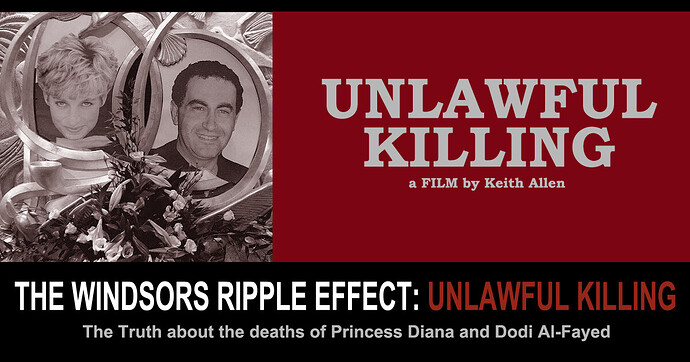 Watch the film on Gibraltar Messenger's Channel on Brighteon:
Released: 2011
Muad'Dib relabeled it "The Windsors Ripple Effect" in his Ripple Effect series, because "Unlawful Killing" has the power to topple the criminal so-called Royal family – The Windsors, and the British Establishment, by sending out waves of truth about their involvement in what really happened to Princess Diana and Dodi Al-Fayed.
Co-financed by Dodi's dad Mohamed Al-Fayed and Associated-Rediffusion, it was directed by Keith Allen. The film was shelved due to legal pressure from the British Establishment, trying to suppress uncomfortable facts. But the fact remains that Diana and Dodi were victims of an Unlawful Killing, further proven by the inquest highlighted in the film.
"Truth will out. And as more and more people understand what the damning inquest verdict really means, we may soon witness what the British Establishment fears most – The end of the so-called "Royal Family".
The TRUTH about the British Monarchy; the "Golden Jubilee" (50 year reign) of the queen who never was and The GOSPEL of The Kingdom.
Was Diana's Extremely Convenient Death an Accident?
In the film, Al-Fayed says: "There was a clear verdict of unlawful killing, so why has nobody been arrested? What is at the core of all this is racism. Powerful people in this country, my country, don't want to hear me talking about Prince Philip's Nazi background, but I have to, because it is 100% true. They wouldn't accept me or my son, and when he fell in love with Diana, they murdered him."
Prince Philip's Nazi background is true – as shown in Muad-Dib's The Nazi Banksters Crimes Ripple Effect.
"We do know this for certain. Dodi and Diana were the victims of an Unlawful Killing. And various parts of The Establishment with their unerring instinct for self-preservation, then seemed to rally around to cover it up. And covered for each other, and suppressed uncomfortable facts, and they seem to think they have got away with it. The British Establishment think they have gotten away with murder. But then, What's new? They've been getting away with murder for centuries.
Murder – such as the London attacks in 2005 – as shown in Muad-Dib's 7/7 Ripple Effect documentary -
In the film, Diana is shown saying, "I would like a Monarchy to have more contact with its people."
That day will come – On The Way to Emmaus Again (Scripture explained again at the end of the 20th Century)
Muad-Dib/JAH is not afraid to stand up to the British Establishment and its pretended queen - "The Lawful Challenge - REGINA/THE QUEEN V JAH – "Lawful Argument Against Jurisdiction and Sovereignty" of Elizabeth 2".
This Challenge is available for others at J for Justice.
For more information:
J for Justice: The Murder of Diana
JforJustice.net
(JforJustice.info)
Friends of Muad'Dib
More Background:
Keith Allen: Princess Diana cover-up and why you won't see my film
UNLAWFUL KILLING - a film by Keith Allen
Actually, you can see Allen's film in "The Windsors Ripple Effect: Unlawful Killing".
"In times of universal deceit, telling the truth is a revolutionary act."