This is the original world-renowned documentary that explains what really happened in London on July 7, 2005.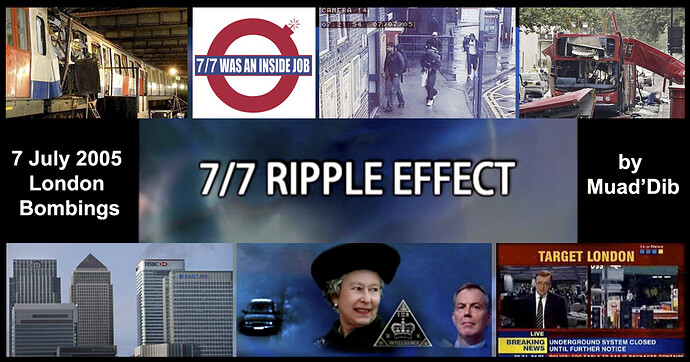 Released: 5 November 2007
Watch the film on Gibraltar Messenger's Channel on Brighteon:
Transcript can be read on J for Justice.
It is this documentary that was sent to the courts as an amicus curiae brief to the judge and jury of the Kingston Crown Court, England, where three Muslim men (Waheed Ali, Sadeer Saleem and Mohammed Shakil) were standing trial for the second time in 2009, for allegedly helping the original alleged four bombers of the 2005 London bombings on July 7. British court acquits 3 charged in 2005 London bombings
Producer Muad'Dib was arrested for allegedly attempting to pervert the course of justice with his amicus curiae brief, of which he was found not guilty in 2011 - The (7/7) Ripple Effect Story.
The 2005 London Bombings – What Really Happened?
Using Ockham's Razor and common-sense, Muad'Dib examines what likely happened in London 7 July 2005. This documentary is divided into nine chapters.
1 - MOCK EXERCISES AND BOMB HOAXES IN THE RUN-UP TO 7/7/2005.
2 - PETER POWER: DUPE, OR ACCOMPLICE?
3 - FOREIGN SECURITY FIRMS - CAN THEY BE TRUSTED?
4 - THE FOUR MUSLIMS: ACTORS, OR PATSIES?
5 - THE GHOST TRAINS.
6 - THE NUMBER 30 BUS.
7- PRE-PLANTED EXPLOSIVES.
8 - CONCLUSION.
9 - EPILOGUE.
For more information:
JforJustice.net: 7/7 Ripple Effect
JforJustice.net
(JforJustice.info)
Friends of Muad'Dib
CHRISTS.NET