Sending proof of someone's innocence should NEVER be a crime.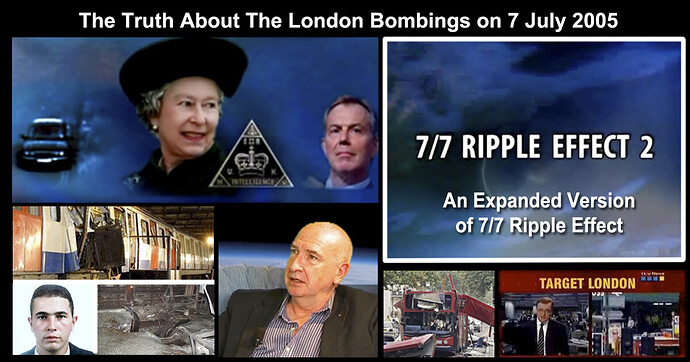 Released: 7 July 2012
Muad'Dib's 7/7 Ripple Effect 2 is an expanded version of the acclaimed original film, which includes additional evidence gathered after its original release and information about Muad'Dib's arrest and trial for sending the original film (DVD) as an amicus curiae brief to the judge and jury of the Kingston Crown Court, England, where three Muslim men were standing trial for allegedly helping the original alleged four bombers of the 2005 London bombings on July 7. These three men were wrongfully accused of helping the four designated patsies of the bombings, who were victims, as much as all the others, who died and/or were injured and traumatized that day.
Watch the film on Gibraltar Messenger's Channel on Brighteon:
Muad'Dib sent the DVD as proof they could not have helped the four patsies, because the 7/7 London bombings was a false flag, which his film proved.
Instead of accepting it as an amicus curiae brief, they arrested Muad'Dib and falsely and hypocritically accused him of "attempting to pervert the course of justice", when the film; and the act of sending copies of it to those in charge of delivering a verdict; are all about STRAIGHTENING the course of justice, which the U.K. authorities are perverting.
After being unlawfully jailed for 157 days based on trumped-up charges, and the BBC making a dedicated hit-piece on the original 7/7 Ripple Effect, the film-maker Muad'Dib expanded upon the original film and added over 60 minutes of new material connecting the dots of what most likely really did happen in London on July 7th 2005, when 3 tube-trains and a double-decker bus were bombed.
The original film produced in 2007 revealed many gaping holes in the official government story. Not only that, it provided a plausible narrative of what most likely really did happen on the day. By 2012, a great deal more information had come to light, including information from the Lady "Injustice" Hallet, sham inquest. All of the new information firmly backs up the original narrative in the 2007 film and also explains some of the finer points.
We appeal to all members of the police, the security services, the military or anyone who was involved or has knowledge of the plot to come forward and reveal what you know. Some brave individuals have already come forward and many members of the UK police force now firmly believe 7/7 was an inside job carried out by intelligence operatives.
For more information:
JforJustice: 7/7 Ripple Effect 2
JforJustice.net
(JforJustice.info)
Friends of Muad'Dib
CHRISTS.NET