Cruises are one of Gibraltar's cash cows in regards to tourism, bringing in over 400,000 people in 2018, along with £17million from 254 ship calls, according to an article on The Olive Press.
Cruise Liners is one of three parts of the Government's tourism strategy. Minister for Tourism Daryanani mentioned the other two were UK arrivals to Gibraltar and Visitors from Spain through the border.
During the plandemic, Gibraltar aided cruise liners by acting as a service point for maintenance and for repatriation of crew.
One of those maintenance calls was with Viking, as already posted on Defending-Gibraltar – Gibraltar's Minister Daryanani meets with Viking's Hagen and Grimes
News broke that Gibraltar was open and made the media circuit –
Gibraltar Reopens To Cruise Ships and Passengers
Gibraltar Ready To Welcome Back Cruise Ships
Gibraltar is on Vikings New Iberia Port of Call in its Iberia, The Med and Malta itinerary.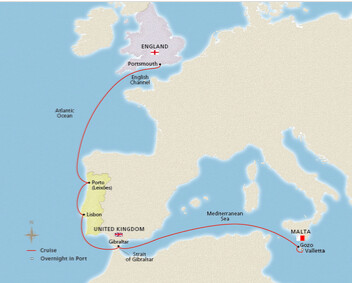 Viking Prepares Another Med Launch – Viking Prepares to Launch Voyages From Valletta as Malta Reopens for Americans - Cruise Industry News | Cruise News to market Americans. Viking partnered with Lufthansa to offer non-stop flights from Newark Liberty International Airport to Malta, exclusively for Viking guests.
18 June 2021 News

June 17, Malta has added most U.S. states and territories – covering the vast majority of the population – to its "Amber List." Travelers from the Amber List may arrive in Malta with proof of a negative COVID-19 PCR test having been conducted at least 72 hours prior to arrival.

The European Union recommended that its member countries begin lifting restrictions on American travelers, with a formal announcement expected on Friday. Additionally, on June 7, the U.S. Centers for Disease Control and Prevention (CDC) announced it has eased travel recommendations for 110 countries and territories. As part of the new recommendations, the CDC specifically ranked Malta as "Level 1" or the lowest for risk of COVID-19.
Are Things Returning to Back to Normal Though?
Capacity on domestic cruises in June and much of July will remain capped following the government's four-week delay in easing lockdown restrictions.

The prime minister announced on Monday that measures will remain in place until July 19 because of the rapid spread of the Delta variant [THE INDIAN VARIANT – PERPETUAL LOCKDOWN]

The original roadmap for easing of restrictions had set out June 21 for restrictions to be eased, including all legal limits on social contact.
When and How Is This Going To Affect Or Make Its Way To Gibraltar?
Especially with this coming in –
Royal Caribbean discovers that vaccines cause outbreaks, after eight vaccinated crew members test POSITIVE for COVID
Cruise ship industry and basic human liberties are under attack

Testing positive for COVID and not having any sign of sickness is a pattern that has occurred for both the vaccinated and the unvaccinated populations for over a year. Even though NONE of these positive cases on the Odyssey of the Seas represent a viable public health concern, the CDC has quarantined hundreds of non-infected, vaccinated crew members and halted the ship's operations! The ship's inaugural sailing date is now July 31st.
---
Isn't this really psychological warfare – back and forth?
The globalists goal is to collapse the economy and make governments and their people dependent on a "Big Brother" totalitarian government [LOCKSTEP and GREAT RESET].
Gibraltar is involved in advancing the evil schemes – Opening Gib Could Be A Plan For The Next Lockdown – Picardo would make Franco Proud - #2 by DOTS
But the ministers in the government may look like they are trying to boost the economy, whilst behind the scenes going along with the plan to bankrupt Gib – ie PICARDO ADMITS TO 'WASTE AND ABUSE' WHILST GSLP-LIBERAL HYPOCRISY CONTINUES
The most remarkable aspect of all this is Gibraltar's own widespread compliance – The Most Remarkable Aspect of the Unprecedented Lockdowns: The Widespread Compliance
Admit it – Gibraltar Hasn't Had Enough Nor Are Their Eyes Open.
It's not dark enough yet, because government and health officials are still playing psych games, which will lead to more feelings of hopelessness and despair.
Tourism and travel for the common man is being reworked. Through climate change initiatives and using the scamdemic, the elites are setting it up that they will be the only ones who can travel. They want everyone else in an East-Berlin style lockdown scenario. Those who will be able to travel easily will be the "diplomatic" types. And as long as the common man gets digitally-marked, he can do a bit – when absolutely necessary. Want to cross a border - show your papers (digital passport).
Industries, companies etc will only be allowed "to sell" if they also receive the mark. Most of them will go bankrupt and will be gobbled up. Some will go bankrupt trying to keep on all the rules and spending money on "stand-here" labels, plexiglass, and all the other hoops they jump through to open and stay open. They will probably lose their license if the future in they get caught selling to the unvaccinated.
---
Isaiah 60:2 For, behold, the darkness shall cover the earth, and gross darkness the people: but the "I AM" shall arise upon thee, and His glory shall be seen upon thee.
John 3:19 And this is the condemnation, that Light is come into the world, and men loved darkness rather than Light, because their deeds were evil.
John 8:3 Then spoke Jesus again unto them, saying, I am the Light of the world: he that followeth me shall not walk in darkness, but shall have the Light of Life.
"As The Lightening Shineth from the East even unto the West..." – JAHTruth.net