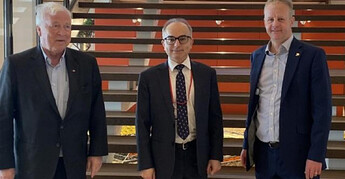 Gibraltar's Minister Daryanani meets with Viking's Hagen and Grimes
Gibraltar's Minister for Business, Tourism, Transport and the Port Vijay Daryanani met with Torstein Hagen, chairman of Viking, and Matt Grimes, VP maritime operations, on board Viking Venus during a technical call of Viking's newest ship to Gibraltar.

The Viking executives flew to Gibraltar to join Viking Venus and meet with the minister, who also toured the ship including its full-scale COVID-19 PCR laboratory.

Viking Venus is scheduled to be named in the UK on May 17 before embarking on a series of cruises exclusive to vaccinated UK residents. The ship will then move to the Mediterranean where Viking plans to restart operations in in July with new ocean voyages for vaccinated travelers on Viking Venus and Viking Sea from Valletta, Malta.