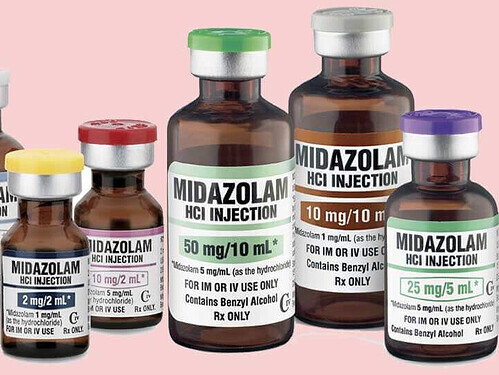 While there is a thread on Michael O'Bernician and the PUB legalsuits against Matt Hancock, Chris Witty and others, using Midazolam to Murder may warrant it's own thread...
London Met Police Set To Investigate The Midazolam Murders
Family, friends and followers, I am delighted to announce that the People's Union of Britain [PUB] will from henceforth be collaborating with the indomitable former Police Constable, Mark Sexton, who has assisted Philip Hyland, PJH law and Dr Sam White, along with lawyer Lois Bayliss from Broad Yorkshire Law, in filing a criminal complaint alleging misconduct in public office and gross negligent manslaughter [against various defendants] with the London Metropolitan Police on 20/12/21.

"Mark has also been invited to work with the international task force that PUB is already working with, for the express purpose of bringing the perpetrators of such crimes to justice, irrespective of political, social or financial status."
Besides Michael O'Bernician and PUB, you should recognize these others persistent individuals from various posts on Defending-Gibraltar:
Mark Sexton – Retired Police Constable Reports Crimes Against Humanity.
Dr Sam White Wins High Court Case – NHS had suspended him for raising concerns about the safety of the Covid injection and informed consent. Represented by Philip Hyland.
Related:
But Matt Hancock's abandonment of the elderly and vulnerable didn't end there. Whilst the NHS was busy discharging patients who required medical treatment into care homes under his directive, Matt Hancock and the Department of Health were busy trying to source them all a certain drug known as midazolam. The Evidence – 'You stayed at home, to protect the NHS, but they gave Midazolam to the Elderly and told you they were Covid Deaths'
Were "the Elderly… Being Killed in Hospitals, Care Homes, and Hospices" During the Pandemic? – Gibraltar Deaths After Covid Vaccine Push - #139.

Still waiting on an answer if GHA and HMGoG used Midazolam.
On the 12th November 2021, the UK Governments Department of Health and Social Care (DHSC) published a tender inviting suppliers to bid for 'The Supply of ITY Medicines and End of Life Care Medicines for Covid-19 Preparedness'. With the description stating that the DHSC wish to "top up the stockpile holdings of Midazolam and Noradrenaline medicines in preparation for further waves of Covid-19 in Winter 2021 / Spring 2022". – Is Another Elderly Death Wave Coming To Gibraltar?
Many hospitals are also giving COVID-19 patients with midazolam, which is questionable at best as it depresses a person's ability to breathe. – Tom Renz: Hospitals are now becoming killing fields