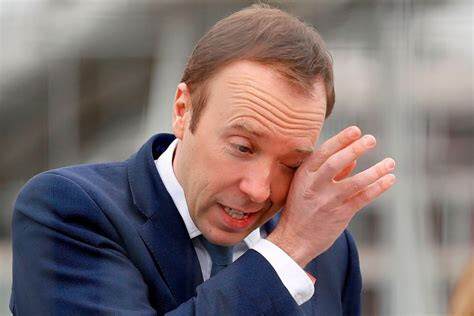 Isn't part of the Protocols of the Elders of Zion to discredit and disgrace the politicians – or was he a sacrificial offering?
The most interesting headline about Hancock:
Whilst you've been distracted by Hancock's affair, PHE released a report revealing 62% of alleged Covid deaths are people who've been vaccinated:
But because you've been busy delighting in Hancock's embarrassment, you're probably not aware that Public Health England released a report on the very same day which showed the majority of alleged Covid-19 deaths are significantly higher in people who have had at least one dose of the Covid-19 vaccine, with the highest number of deaths occurring in people who are supposed to be fully vaccinated.
What did Matt Hancock say about Prof Neil Ferguson's sex scandal?
Many on social media recalled Mr Hancock's harsh criticism of Professor Neil Ferguson after the government adviser was found to have broken lockdown rules by arranging visits from his lover last year.

In May 2020, the health secretary claimed to have been left "speechless" by Prof Ferguson's "extraordinary" behaviour, and said it had been right for him to resign as a government Sage adviser. (Source).
Wonder how this case will evolve as Hancock was named – MICHAEL O'BERNICIA - Private Prosecutions of British MPs
His replacement – Sajid Javid, the former Chancellor of the Exchequer and the former Home Secretary, was announced hours later as the new Health and Social Care Secretary (Source). Javid, also a former banker and possible tax evader, landlord, was a prominent supporter of the unsuccessful Britain Stronger in Europe campaign for the UK to remain in the European Union.
Something Else People Are Overlooking –
Committing Adultery is Against God's Law – THE 12 COMMANDMENTS (10+2)
YOU shall NOT commit adultery, either physically, individually, or spiritually, nationally or individually but shall be FAITHFUL to God, your word and your spouse, also NOT committing adultery nationally by following the wrong examples of other nations.
---
More posts on Matt Hancock on DG:
NHS Doctor: Matt Hancock is "Not Fit for Public Office and Needs to be Removed Before He Inflicts Further Harm on the People of this Country"
Hancock withheld "promising vaccine data" from Johnson, potentially influencing extension of Covid restrictions
Did Hancock SAGE NHS Cause 60K UK Deaths? (Dr Tess Lawrie)
Common-Law Notice of Personal Liability to UK Ministers: So you really think any COVID 19 TRIAL Vaccine is NOT going to DAMAGE your HEALTH?