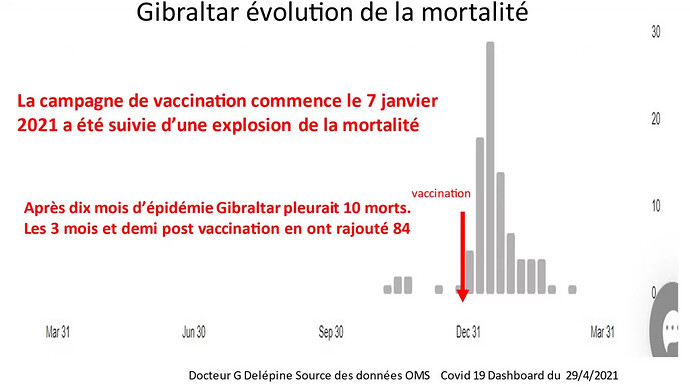 Gibraltar is mentioned in this article, which includes the above graph.
French Medical Doctor: COVID-19 Injections Increasing DEATHS and New Infections – The Evidence is Overwhelming
Two months ago, we tried to alert people to the paradoxical results of the covid19 vaccines by publishing the pre- and post-vaccination mortality curves for Israel and Great Britain which already showed that these vaccinations were followed by 'a considerable increase in contamination and mortality lasting 6 to 8 weeks after the start of vaccination. Since this period, vaccination campaigns have spread worldwide even to countries where covid was not present. And everywhere they have been followed by a dramatic rise in new infections and mortality for several weeks or months.

Vaccine "harvesting" in Britain and Israel

Vaccination advocates claim vaccinations in Israel and Britain have been successful, as current, daily contaminations and mortality are low... In these two countries, the mortality attributed to Covid increased sharply for 4 to 6 weeks, equaling all the deaths in 2020. The covid per vaccination mortality curve in Israel is demonstrative.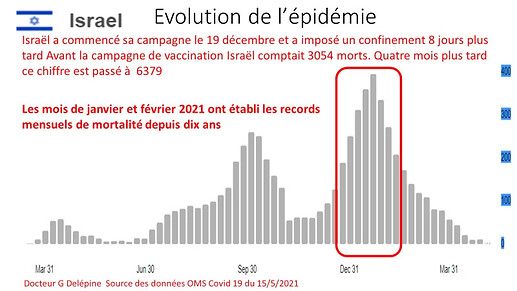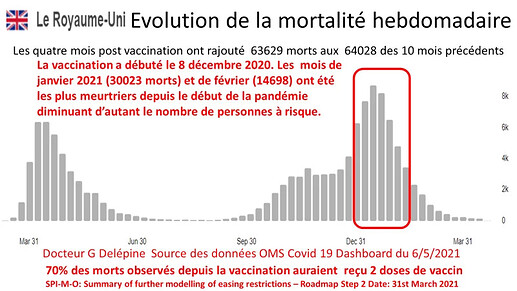 Since the British vaccination campaign, the average mortality per million inhabitants in Great Britain (934 / M) is more than double that of the Netherlands (411 / M).

The review of the main countries which have adopted broad vaccination shows that in real populations, generalized vaccination behaves more as an accelerator of the epidemic and of mortality than as a prevention thereof.

In all highly vaccinated countries, the mortality recorded during the two months after vaccination is equal to or exceeds that of the whole of 2020.

In all countries, experimental vaccinations were followed by an increase in contamination and mortality attributed to Covid19 and the appearance of mutants. As long as the phenomenon has not been elucidated, a moratorium on anticovid vaccinations is essential and urgent.
Read entire article at referenced link.