On Friday, June 18th, Mark Sexton, a retired police constable from Birmingham, visited the police to report the government for MURDER and crimes against humanity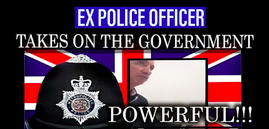 On Brighteon – BANNED on YouTube | Retired ex policeman Mark Sexton has just visited the police to report the government for MURDER and crimes against humanity. "POLITICIANS, POLICE AND HOSPITAL WORKERS WILL BE HELD PERSONALLY ACCOUNTABLE AS INDIVIDUALS FOR CRIME AGAINST HUMANITY IF IN ANY WAY HAS BEEN INVOLVED IN THIS GENOCIDE. EACH AND ONE WILL BE HELD RESPONSIBLE."
Also reported by UK Reloaded – Crime in progress: citizen reports government to the police. "This retired police officer has put forward a very cogent case against various government criminals and submitted, as is his duty as a citizen who observes a crime, his report to the local constabulary. As he points out, people are being killed or injured and in such circumstances it is the duty of the police to investigate and, if murder or unlawful killing are found to have been committed, bring the perpetrators to trial."
Below is the transcript of Sexton's email to the minister in charge of the vaccine program Nadhim Zahawi -
Dear Mr Zahawi and Covid Vaccs NHS England.

My name is Mark Sexton I am a retired police constable from Birmingham.

I am making contact in order to bring to your urgent attention some very disturbing facts and information that have come to light over the last few days.

On the 31st of May 2021 a report was released on to the Internet from a Dr Bryam Bridle from Canada. In the audio he is expressing some serious and grave concerns surrounding the vaccines for Covid 19.

This is a direct quote from the audio.

"We screwed up, we didn't realise the spike protein is a toxin, does this mean everyone vaccinated is manufacturing their own spike protein in their own bodies."

He goes on to say " the spike proteins travel to the brain, the heart, the kidneys and the ovaries. This is going to cause serious problems for every vaccinated person."

On the 30th of May 2021 a Twitter feed was picked up and sent to me the feed is from a Dr Ah Khan Syed.

The feed is talking about a study from Pfizer where serious life changing and life-threatening effects have been brought to light surrounding the vaccine for COVID-19.

The report is alluding to composites from the vaccine settling in the ovaries and other organs.

This fully supports the report by the Canadian doctor, Dr Bryam Bridle.

Serious menstrual irregularities, reproductive dysfunction, heart inflammation and blood clots are occurring. There are reports to suggest there is a 2000% increase in miscarriages.

This information is of huge concern, it is so disturbing I am asking for and demanding all vaccines for COVID-19 are stopped as a matter of urgency in order to protect the public from serious harm and death.

It is also documented that Polysorbate 80 is contained within the vaccines and this is known to cause issues relating to fertility.

Prior to these reports coming out and on Tuesday, the 25th of May I attended the four biggest hospitals in the West Midlands. The Queen Elizabeth, Heartlands, The City and Solihull hospitals.

I was sent a research report from Slovakia suggesting the PCR tests are contaminated with Hydrogel and Lithium. Such was my concern I reported this to the police, they in turn forwarded this on to Special Branch to investigate. I deem this to be a targeted terrorist attack.

I took it upon myself to attend the four hospitals mentioned above, this was in order to make them aware of my concerns re the PCR tests.

Copies of the Slovakia report were given and to allow them the opportunity to withdraw all PCR testing kits.

All PCR kits are made in China [Beware of the Covid 1984 PCR test – your life depends upon it]

While I was at all four hospitals it was confirmed to me by doctors, nurses and members of the administration staff they are having a significant increase in patients. The patients are suffering with heart inflammation, blood clots and serious menstrual irregularities.

All of these patients have had both doses of the vaccinations.

It is therefore incumbent upon you as the minister overseeing the vaccination program and the Covid vaccs team for the rollout of these vaccines to order an immediate cessation of the administering of the vaccines.

An investigation must be carried out into these serious allegations coupled with the worrying information relayed to me, in person, from all four hospitals to suggest these two reports are factually correct.
Other topics Sexton discussed during this report:
PCR Test is Deliberately Contaminated
Analysis of test sticks from surface testing in the Slovak Republic - confirmation of genocide.
Mark's message from May to Serving and Retired Police Officers
Some 30 serving and retired police officers and staff have contacted him to express concern for what's going on. He reads out a letter from one of them.