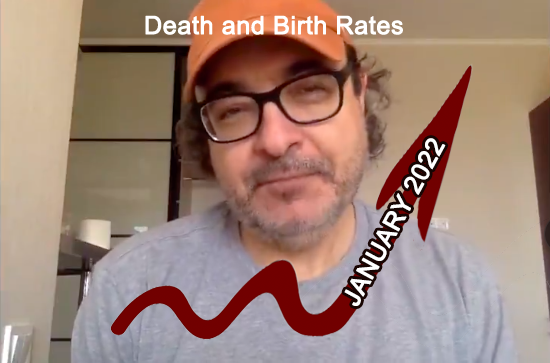 76,253 Dead 6,033,218 Injured Recorded in Europe and USA Following COVID Vaccines with 4,358 Fetal Deaths in U.S.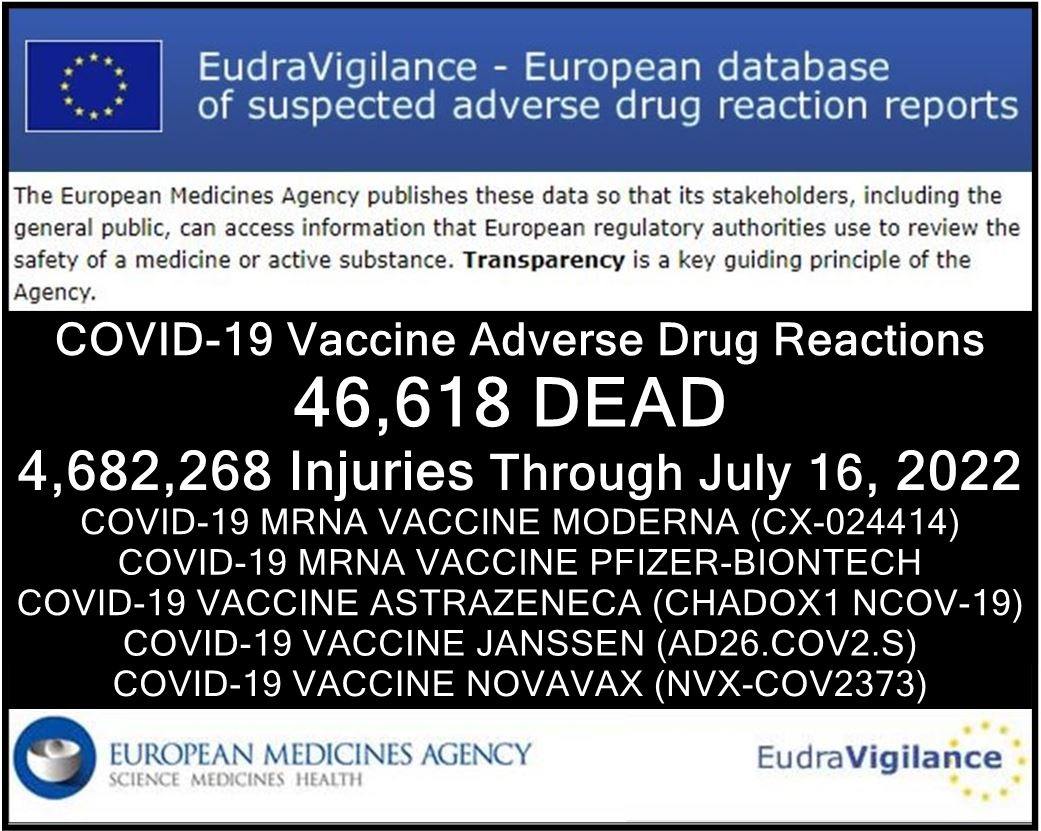 by Brian Shilhavy
Editor, Health Impact News
The European Medicines Agency (EMA) database of adverse drug reactions is now reporting 46,618 deaths and 4,682,268 injuries following COVID-19 vaccines (details below).
In the United States, the Vaccine Adverse Events Recording System (VAERS) is now reporting 29,635 deaths and 1,350,950 injuries following COVID-19 vaccines. (Source.)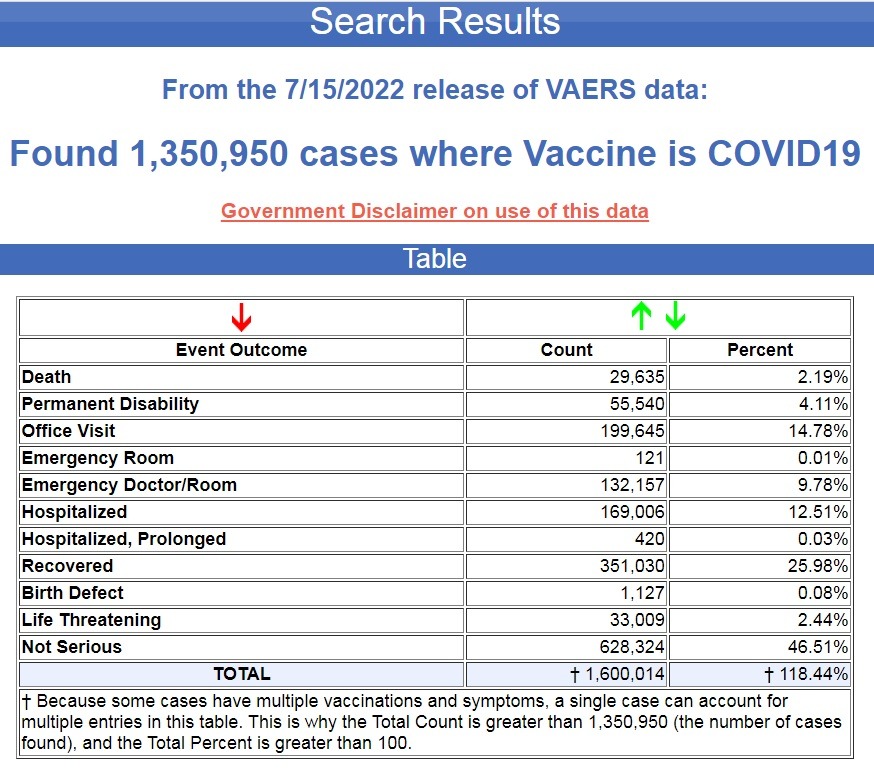 A 2011 report by Harvard Pilgrim Health Care, Inc. for the U.S. Department of Health and Human Services (HHS) stated that less than 1% of all adverse events following vaccines are ever reported to VAERS.
Although 25% of ambulatory patients experience an adverse drug event, less than 0.3% of all adverse drug events and 1-13% of serious events are reported to the Food and Drug Administration (FDA).
Likewise, fewer than 1% of vaccine adverse events are reported. Low reporting rates preclude or slow the identification of "problem" drugs and vaccines that endanger public health. New surveillance methods for drug and vaccine adverse effects are needed. (Source.)
There have now been more deaths and vaccine side effects reported during the past 20 months to VAERS following COVID-19 vaccines than there has been for the entire previous 30 years for all FDA-approved vaccines before the Emergency Use Authorization of the COVID-19 shots in December of 2020. (833,968 cases, 9,279 deaths – source.)
46,618 Deaths and 4,682,268 Injuries in EudraVigilance
The European (EEA and non-EEA countries) database of suspected drug reaction reports is EudraVigilance, verified by the European Medicines Agency (EMA), and they are now reporting 46,618 fatalities, and 4,682,268 injuries following injections of five experimental COVID-19 shots:
From the total of injuries recorded, almost half of them (2,126,925) are serious injuries.
"Seriousness provides information on the suspected undesirable effect; it can be classified as 'serious' if it corresponds to a medical occurrence that results in death, is life-threatening, requires inpatient hospitalisation, results in another medically important condition, or prolongation of existing hospitalisation, results in persistent or significant disability or incapacity, or is a congenital anomaly/birth defect."
A Health Impact News subscriber in Europe ran the reports for each of the four COVID-19 shots we are including here. It is a lot of work to tabulate each reaction with injuries and fatalities, since there is no place on the EudraVigilance system we have found that tabulates all the results.
Since we have started publishing this, others from Europe have also calculated the numbers and confirmed the totals.*
Here is the summary data through July 16, 2022.
Total reactions for the mRNA vaccineTozinameran (code BNT162b2,Comirnaty) from BioNTech/ Pfizer: 21,999 death s and 2,418,846 injuries to 16/07/2022
72,033 Blood and lymphatic system disorders incl. 315 deaths
84,095 Cardiac disorders incl. 3,168 deaths
759 Congenital, familial and genetic disorders incl. 68 deaths
31,119 Ear and labyrinth disorders incl. 17 deaths
3,084 Endocrine disorders incl. 12 deaths
35,120 Eye disorders incl. 56 deaths
170,853 Gastrointestinal disorders incl. 880 deaths
619,596 General disorders and administration site conditions incl. 6,032 deaths
2,753 Hepatobiliary disorders incl. 127 deaths
26,467 Immune system disorders incl. 140 deaths
163,310 Infections and infestations incl. 2,288 deaths
43,021 Injury, poisoning and procedural complications incl. 487 deaths
57,469 Investigations incl. 602 deaths
15,173 Metabolism and nutrition disorders incl. 383 deaths
271,328 Musculoskeletal and connective tissue disorders incl. 312 deaths
2,783 Neoplasms benign, malignant and unspecified (incl cysts and polyps) incl. 264 deaths
371,860 Nervous system disorders incl. 2,351 deaths
3,324 Pregnancy, puerperium and perinatal conditions incl. 85 deaths
315 Product issues incl. 4 deaths
42,110 Psychiatric disorders incl. 249 deaths
8,750 Renal and urinary disorders incl. 328 deaths
101,364 Reproductive system and breast disorders incl. 9 deaths
98,633 Respiratory, thoracic and mediastinal disorders incl. 2,341 deaths
105,888 Skin and subcutaneous tissue disorders incl. 200 deaths
6,277 Social circumstances incl. 28 deaths
26,201 Surgical and medical procedures incl. 276 deaths
55,161 Vascular disorders incl. 977 deaths
more results at link provided: 76,253 Dead 6,033,218 Injured Recorded in Europe and USA Following COVID Vaccines with 4,358 Fetal Deaths in U.S. - Vaccine Impact
TRAGIC: Babies Breastfeeding Are DYING from Covid-Vaxxed Mothers
This vaccine that the government is pushing on to the masses is unsafe and completely unnecessary and I will stand by that. There is no reason that the entire world needs to be taken a vaccine that was rushed through every process and shoved down our throats all while saying they still don't know enough about this virus.
They don't know enough about this virus, yet they developed a vaccine in mere months that is the only way to combat it. It sounds literally stupid. What gets me is that people believe this nonsense and propaganda which has me asking why.
Well, that is almost too simple of an answer to give. The mainstream news media outlets have been pumping everyone's head with fear and death for months that everyone honestly believes that if they catch this virus it is an immediate death sentence.
Even years ago, when Ebola graced our shores there wasn't that much hype around it and that does have a high death rate, but this virus is the one that will take us all out. So, everyone is racing to get the vaccine and that is even pregnant women and nursing mothers when in the past it was highly discouraged to get vaccinated while breastfeeding or pregnant.
However, due to the hype from the mainstream media, these women are getting jabbed with this experiment and are now seeing the heartbreaking results. These mothers are witnessing their sweet babies becoming incredibly ill and dying and yet STILL these demons in the medical community are pushing mothers to get this crap.
Check this out:
The Vaccine Adverse Event Reporting System (VAERS) published a report by a 36-year old mother whose baby boy was hospitalized two weeks after she got the first Pfizer shot. He was treated with IV antibiotics for two weeks, was sent home, and died shortly thereafter from blood clots in his arteries. Journalist Brian Shilhavy searched the VAERS database and found another breastfed infant who died the day after his mother took a second dose of the Covid vaccine. Then he found 94 more cases of breastfeeding babies that sustained injuries after their mothers took Covid injections. Symptoms in those infants included anaphylaxis shock, blood clots, high fever, vomiting, diarrhea, and hives. Many nursing mothers had their breast milk dry up after taking a Covid shot. -GEG
As more and more data is entered into the government Vaccine Adverse Event Reporting System (VAERS), we are now seeing cases where babies that are breastfed are suffering adverse reactions to the COVID shots that their mothers are taking. The shots have not yet been authorized for infants, although such authorization is expected any day now.
Celeste McGovern of LifeSite News reported on one case where the breastfeeding baby died with blood clots, something rarely ever seen in infants, but a common side effect we are seeing with people who take the COVID shots, blood clots which the CDC states are "rare" in spite of the data in VAERS that shows over 10,000 cases of "thrombosis", including 488 deaths.
VAERS report ID 1532154 was apparently filed by the mother, a 36-year-old woman from New Mexico:
On July 17, my baby passed away.

I had been breastfeeding my 6 week old baby at the time that I received the first Pfizer vaccine on June 4, 2021.

He became very sick with a high fever about 2 weeks after I got the first Pfizer vaccine on June 21. He was treated for 2 weeks with IV antibiotics for a supposed bacterial infection.

However, they never found any specific bacteria, and called his diagnosis culture-negative sepsis. At the end of his hospital stay he tested positive for rhinovirus.

After the 14 day course of antibiotics, he was home for one week, but exhibited strange symptoms (e.g. swollen eyelid, strange rashes, vomiting).

I took him back to the hospital on July 15, where he presented with what they called an atypical Kawasaki disease.

He passed away shortly thereafter from clots in his severely inflamed arteries.

I am curious if the spike protein could have gone through the breast milk and caused an inflammatory response in my child.

They say Kawasaki disease presents very similarly to the Multi-System Inflammatory Syndrome in children that they are seeing in post Covid infections. (My baby also had unusual birth circumstances, as he was born at 37 weeks, triggered by a maternal appendicitis.)

However, if they know that antibodies go through the breastmilk as a good thing, then why wouldn"t the spike protein also go through the breastmilk and potentially cause problems. (Source.)
I ran a search in the VAERS database to see how many other reports have been filed with mothers who are breastfeeding babies and came up with 94 cases, which included one other infant death. (Source.)
The other breastfeeding infant death is VAERS case 1166062 which lists Thrombotic Thrombocytopenic Purpura is one of the symptoms. Thrombotic Thrombocytopenic Purpura is a rare blood disorder in which blood clots form in small blood vessels throughout the body.
Patient received second dose of Pfizer vaccine on March 17, 2020 while at work. March 18, 2020 her 5 month old breastfed infant developed a rash and within 24 hours was inconsolable, refusing to eat, and developed a fever.

Patient brought baby to local ER where assessments were performed, blood analysis revealed elevated liver enzymes. Infant was hospitalized but continued to decline and passed away.

Diagnosis of TTP. No known allergies. No new exposures aside from the mother"s vaccination the previous day. (Source.)
Here are a few more cases in VAERS where the COVID shot given to the breastfeeding mother apparently also affected the baby. Some of the cases of breastfeeding mothers getting the COVID shot report reduced milk flow, green milk, mastitis, thrombophlebitis in the breast, heavy menstruations even though breastfeeding, etc.
I am only including some of the cases here that affected the baby who was breastfeeding, and who did NOT get the shots but apparently had side effects from drinking the breast milk from their mothers who got the shots.
30-Year-Old Connecticut Breastfeeding Mother with 5-month-old son – Vomiting, Diarrhea, Body Rash, and Hematuria
VAERS case 970309: Patient is breastfeeding her 5 month old son. Two nights after her 1st Moderna dose, he had violent vomiting, diarrhea, body rash, and hematuria (blood in urine).
36-Year-Old California Breastfeeding Mother – Hives
VAERS case 999040 (Pfizer): Breastfed son have severe hives x5days.
31-Year-Old California Breastfeeding Mother with 4-month-old-son – Diarrhea
VAERS case 1070803 (Pfizer): I was exclusively breastfeeding at the time of receiving both doses. My 4 month old son developed diarrhea on February 1st and it lasted 2 weeks. Lab work/stool studies were negative for any bacterial or viral infections.
38-Year-Old New Jersey Breastfeeding Mother with 3-month-old daughter – Skin Rash
VAERS case 1111787 (Pfizer): I am breastfeeding my daughter exclusively. She was born December 9, 2020. She is roughly 3 months old. She had an all body rash.
35-Year-Old Alaska Breastfeeding Mother with 12-month-old infant – Anaphylaxis shock
VAERS case 1119088 (Pfizer): Patient received 1st in series covid vaccine at approximately 915… she breastfed her 12 month-old infant shortly thereafter without problem. around 1215 baby was getting fussy and breastfed for about 5 minutes before baby broke out in hives.

EMS was called and epinephrine/diphenhydramine administered for course cough/wheezing, presumably anaphylaxis.
Other foods consumed by baby on same day included banana, kids fig newton bar, dried apples, meat from frozen meal, and two piece of cereal (new to baby). ER course required 4 hours of monitoring but no other medical interventions.
Infant Breastfeeding Boy in Alaska – Anaphylaxis shock
VAERS case 1124474 (Pfizer): MOTHER OF 12 MONTH OLD BOY RECEIVED FIRST DOSE OF COVID 19 VACCINE AT 9:15 AM SHE BREASTFED HER 12 MONTH OLD SON 3 HOURS LATER AND WHILE BREASTFEEDING THE CHILD DEVELOPED ACUTE ANAPHYLAXIS. TO BE CLEAR: MOTHER HAD THE VACCINE AND THE CHILD HAD THE REACTION
34-Year-Old California Breastfeeding Mother with 11-Week-Old infant boy – Appetite decrease, Vomiting
VAERS case 1139952 (Moderna): Breastfeeding exclusively an 11 week old infant boy. I have no adverse effects other than sore arm but within 24 hrs baby appetite decreased and vomited once so far.
40-Year-Old Breastfeeding Mother with 1-Month-Old Infant – Diarrhea for 36 hours
VAERS case 1144429 (Pfizer): I am breastfeeding and the day after receiving the Pfizer-BioNTech COVID19 vaccine and breastfeeding that day, my one month old had diarrhea for approximately 36 hours. There were no other changes to diet. Approximately 14 hours prior to the diarrhea I had one dose of tylenol to help with the aches from the vaccine reaction.
29-Year-Old New Jersey Breastfeeding Mother with 15-Month-Old child – Ear infection, fever
VAERS case 1149144 (Moderna): The patient who received the vaccine was a breastfeeding mother. Her 15-month-old developed an ear infection, requiring antibiotics for the first time ever, within 72 hours of the vaccine administration.

Her 15-month-old developed a fever of 102.6 approximately 6 days after the vaccine was administered. He then was prescribed antibiotics 7 full days after the vaccine was administered to the mother.
Oh, and that is not all of them!
You can read more about this tragedy HERE.
Please share this with everyone you know so that we can hopefully prevent another mother from going through a horrific tragedy such as this again.
Vaccines are the problem, not the solution. Vaccination has made murder legal
Exposing medical crime as WITCHCRAFT: Vaccines are medical SORCERY
Nursing baby died with blood clots, inflamed arteries following mother's Pfizer shot
Pfizer Issues Urgent Warning about Pulmonary Embolisms Caused by Blood Clots
Whistleblower UK Funeral Director – The Only Ones Dying Are From the Vaccine
Pro-Russian blogger Gonzalo Lira detained in Kharkiv
Ukraine's SBU security service has arrested Moscow-aligned blogger Gonzalo Lira in Kharkiv, who is accused of denying Russian war crimes and insulting Ukrainian troops, SBU said in a Telegram post on May 5.
According to investigation, the man is a citizen of a Latin American country but has lived in Kharkiv for several years. Law enforcement authorities accuse him of supporting Russian occupation and valorizing Moscow's apparent war crimes during the war.
Additionally, he is said to have engaged in attempts to discredit Ukraine's highest military and political leadership.
In spring 2022, he filmed provocative videos, showing the faces of Ukrainian soldiers and insulting the country's defenders. He posted the videos on YouTube and Twitter, where he has nearly 300,000 subscribers.
The SBU has also accused him of denying the facts of Russian missile strikes on Ukrainian cities and the mass killings of civilians by the invading forces.
During a search of his possessions, law enforcement officials found mobile phones and a computer that contained evidence of his illegal activity.
He has been remanded in custody by the court, and the investigation is ongoing.
From Gonzalo Lira – Out of Prison – Escaping . . . .
by Gonzalo Lira | Aug 1, 2023
Hal Turner – The Hal Turner Show July 31, 2023
Gonzalo Lira is alive and he said this today:
Right now, I'm about to try to get out of Ukraine, and seek political asylum in Hungary.
Either I'll cross the border and make it to safety, or I'll be disappeared by the Kiev regime.
This is what's happened to me over the past three months.
On May 1, I was arrested for my YouTube videos. The photos of my arrest are pretty funny—morning bed-head made me look like a character out of Dr. Seuss.
My crime was making videos critical of the West and their proxy regime in Kiev—and how they are destroying Ukraine.
Attached to these tweets is the full indictment against me, both the original Ukrainian and English translation.
As you can see, even the prosecutor admits I committed no crime against property or any person. And I certainly provided no aid or intelligence to the Russians.
My indictment explicitly states that all I did was discuss publicly known facts about the war—the epitome of free speech in a democracy.
But Zelensky's Ukraine is no democracy—it is a thieving, corrupt, murderous gangster regime PRETENDING to be a polite "western" democracy.
Once arrested, I was given documentation assuring me that I was "guaranteed the right" to contact my lawyers and loved ones, as well as post bail.
In fact, I was blocked from calling anyone—even my lawyers. And I was not permitted to post bail—though I had the cash to do so.
In other words, the formalities were carried out scrupulously—while judicial and ethical grotesqueries ruled.
That's Zelensky's Ukraine. That's what his thuggish regime cares about: The >perception< of democracy and the rule of law, so as to mask the sordid, corrupt reality.
That's why they relentlessly persecute anyone who tells the truth about this war. I'm not the only so-called "propagandist" the Kiev regime has thrown in prison.
It's also why they shoot any AFU soldier who dares retreat. That's why the AFU losses are so horrific—but hidden.
As you can see by the indictment, the video I made that really chapped their ass was "Ukraine: A Primer", which gives the historical background to the conflict—where I state outright that this invasion wasn't out of the blue. That indeed, it was provoked by the Kiev regime.
Once inside Sizo Prison, I was tortured in two of the four cells I was in—by the other prisoners. Guards NEVER beat prisoners—they outsource torture to the other prisoners.
One prisoner actually apologized to me, telling me he had no choice. He wasn't lying. I understood.
I got a cracked rib in my first cell, but it wasn't too bad. The worst stretch was in my fourth cell.
From 1pm on June 21 until 7pm the next day—30 hours—I was beaten and sleep deprived, my arms twisted the wrong way around at the shoulders, and generally beaten pretty bad.
I've taken a beating in my time. So sure, it hurt like hell, but it was manageable—but then at one point, two thugs held my head and used a toothpick to scratch the whites of my left eye, while asking me if I could still read if I had just one.
Near the end of this session, one of the thugs struck me in the chest so hard and so repetitively that the beating left a yellow-and-green splotch dead-center on my sternum.
He was >berated< by the cell boss, because he'd left a mark on me—which was a no-no.
Then as luck would have it, two days later—when the bruising was in full bloom—a senior guard came to give me a wellness check!
This was likely because of the Chilean embassy efforts.
The US embassy called me three times, but gave me nothing but "support"—empty bromides.
The guard told me to remove my shirt so he could look me over. The bruising was really spectacular—but he just nodded and pretended he didn't see a thing.
Perceptions< He'd checked me, right?
Why was I beaten to the point of torture? Well—it wasn't over my YouTube videos!
I was imprisoned because of my videos—no doubt. The videos are why the SBU arrested me and put me in Sizo Prison without bail.
But as they investigated me—and examined my computers and accounts, all of which they confiscated and opened—the SBU realized that I'm not poor.
So once they had me imprisoned for my videos, the SBU took the opportunity to extort money from me—using the guards as accomplices, who in turn used the prisoners as the muscle.
How I discovered this is too complicated for a Twitter thread. But I'm writing a book about it.
All told, they extorted USD$70,000 out of me, and split it among themselves. They also took another $9k when they arrested me (my emergency cash). And another 11 grand, which was the bail money.
With the computers, iPhone, etc., I'm out an even 100k on this adventure.
I'm never seeing any of that back, not even the bail money—because I've decided to leave Ukraine before my trial.
My trial is on Wednesday August 2—and I've already been told: I WILL be found guilty.
My sentence will be five to eight years in a prison labor camp.
Yeah.
But here's the thing: The conditions of my bail are that I have to wear an electronic monitor, surrender my passports, and not leave the city of Kharkov, much less the country.
HOWEVER—after posting bail, I >didn't< get an ankle monitor—and they >returned< my passports.
Later at the SBU offices, they >returned other documents< they'd confiscated—my driver's license and my motorcycle registration.
In Sizo, I told an inmate how last year I'd been detained, released, but told not to leave Ukraine. He laughed. "They were telling you to leave!"
This time, it looks like the same is happening: They're telling me not to leave—but leaving the door open.
Or so I hope.
Or maybe I'm being set up by them so they can justify putting me away in a labor camp—so no one will ever know about their sordid extortion scheme.
I simply don't know. So I decided to die trying.
I rode my motorcycle across Ukraine—1,400 kms in two days.
I'm going to Hungary to ask for political asylum.
When I fail to show up in court in Kharkov, an arrest warrant will be issued, likely an international warrant.
No doubt other EU countries will comply like sheep, returning me to serve five to eight years in a prison labor camp—
—regardless of the fact that Kiev arrested and imprisoned me for >YouTube videos!<
For free speech!
What happened to "European democratic values?
lol
And the US State Department would return me too. I'm not a black lesbian druggie, or a transgender grifter. Besides, Victoria Nuland hates my guts, or so I'm told.
I'm hoping the Hungarians will read my indictment and say, "This is bullshit—we're not sending him back."
I'm posting this thread just as I'm getting to the border checkpoint. I'm also posting videos on the two channels I have access to, The Roundtable and Gonzalo Lira—Again.
If you don't hear from me in the next 12 hours—whelp! I'm on my way to a labor camp!
Wish me luck.
VIDEOS
Worth looking into what Lira had to say when he called himself "Couch Redpill"...
"If you don't hear from me in the next 12 hours—whelp! I'm on my way to a labor camp!" - Gonzalo Lira.
No new updates from Gonzalo Lira yet. Last update was ~ 22 hours ago.
1 Samuel 24:15 The "I AM" therefore be judge, and judge between me and thee, and see, and plead my cause, and deliver me out of thine hand.
[quote="cybe, post:7, topic:3727, full:true"]
Worth looking into what Lira had to say when he called himself "Couch Redpill"...
[/quote].
I think he meant an awake person sitting in prison. Maybe he needs to look inward seeking who got him in this position?
Thank-you.
Not sure what you mean.
What I meant is that before Gonzalo Lira was an "expert" on the Ukraine war he was a rather misogynistic "dating coach" who called himself "Couch Redpill"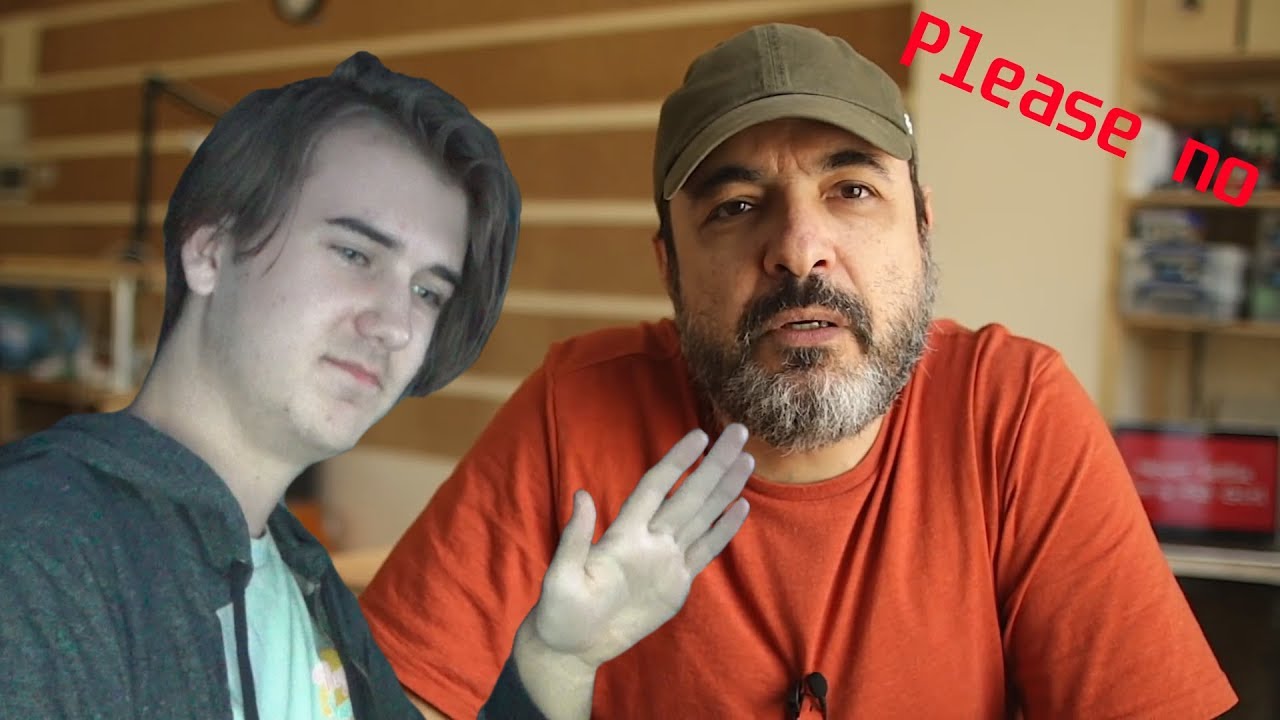 Gonzalo Lira Was 'Stopped On The Ukrainian Side of The Border From Crossing And Has Since Disappeared,' Friend Says
Writer and journalist Gonzalo Lira was blocked at the border from fleeing Ukraine and has since "disappeared," according to his friend Mark Sleboda.
Sleboda said he wouldn't reveal his source but he and Lira have done multiple podcasts together in the past.
".... "transgender" nut job Sarah Ashton-Cirillo (born Michael John Cirillo) — who is now a Junior Sergeant in the Armed Forces of Ukraine — claimed in an ominous message that Ukraine's SBU security service "knew where Gonzalo Lira was" the whole time."