'Contact Your Doctor…No Time to Wait': Pfizer Issues Urgent Warning about Pulmonary Embolisms Caused by Blood Clots
Pfizer has issued an ominous public warning about "deep vein thrombosis," in what appears to confirm another so-called conspiracy theory that has been circulating for months.

Pfizer posted the warning on Twitter about deep vein thrombosis, the medical term for a blood clot in a deep vein, traveling to the lungs and causing a pulmonary embolism. They said if any individuals are having trouble breathing or experiencing chest pain, they should call a medical professional immediately.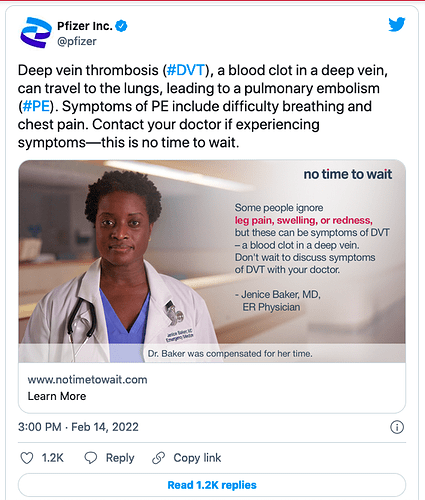 Twitter
Big League Politics has reported on how official propaganda organs like the CDC are trying to get ahead of the issue of blood clots being potentially caused by experimental COVID-19 vaccines: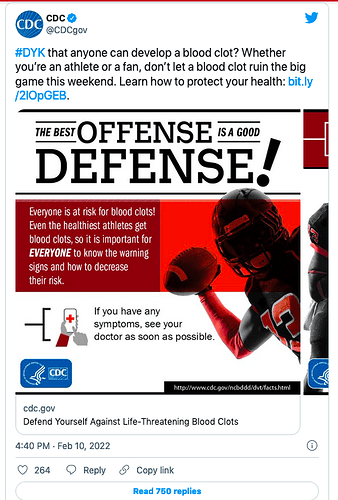 Twitter
Source - 'Contact Your Doctor…No Time to Wait': Pfizer Issues Urgent Warning about Pulmonary Embolisms Caused by Blood Clots - Big League Politics
---
Nothing to see here folks:
• Denmark Ditches J&J COVID Vaccine, Says Benefits 'Do Not Outweigh Risk' of Blood Clots
• Researchers find 1,000 different proteins in AstraZeneca's covid vaccine linked to deadly blood clots
• 9 European nations suspend experimental AstraZeneca covid vaccines due to fatal blood clots - Dr Vernon Coleman - URGENT News about the Covid-19 Vaccine - #2 by be1
• The CoVaxx-19 Scorecard: Bleeding, Blood-Clots and the Whole Nine Yards
• Nursing baby died with blood clots, inflamed arteries following mother's Pfizer shot
• Salk Institute science paper reveals the covid spike protein is what's causing deadly blood clots and it's in all the covid vaccines (by design)
• Everyone who has taken the jab gets blood clots. More Doctors Coming Forward About The Vaccine Fraud
• The Conspiracy Theorists were Right; It IS a 'Poison-Death Shot'