Dear @Daniel,
Glad you're here.
March on soldier.
LLTK, LLTF's,
P
Vaccine Passports were the secret plan behind the totalitarian lockdowns all along?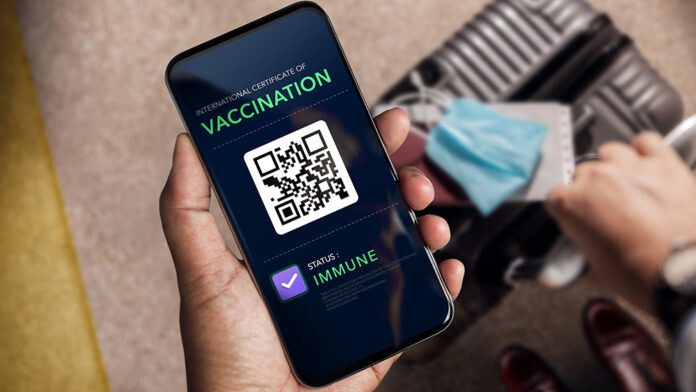 CNN revealed the sinister plot behind the government's continuous lock down policies. The tyrannical, controlling intent behind government lockdowns was revealed for all to see in a recent broadcast that featured disgraced anchor, Chris Cuomo, and former Planned Parenthood president, Dr. Leana Wen.

"We need to make it clear to them (Americans) that the vaccine is the ticket back to pre-pandemic life," said Wen. "And the window to do that is really narrowing. You were mentioning about how all these states are reopening. They're reopening at 100%."

"We have a very narrow window to tie reopening policy to vaccination status," she continued. "Because otherwise, if everything is reopened, then what's the carrot going to be? How are we going to incentivize people to actually get the vaccine?" Vaccine Passports were the secret plan all along.

Government lockdowns are being used to usher in total slavery, segregation and discrimination via Vaccine Passports
---
220,000 Brits Sign Petition Against Vaccine Passports, Forcing Debate in Parliament
European Plans for 'Vaccine Passports' Were in Place 20 Months Prior to the Pandemic. Coincidence?
EU Planning "Vaccination Passport" Since 2018; Report
COVI-PASS: UK Introduces 'Digital Health Passport' To Monitor Travel, Health Of Population
Vaccine Passports, "Medical Martial Law" and the Stockholm Syndrome
Explained: What we know about proposed travel rules to Spain under new "Vaccine passport" scheme
Vaccination Records 'Will Be Digitally Linked to British Passports' to Slash Queues at Airports This Summer
You see where this is heading?
France Becomes 1st EU State to TRIAL Covid Vaccine Certificate for All of Europe
The EU and the US Are Working on a Vaccine Certificate That Will Be Required for International Travel
11th May 2021
By Neil Lancefield, PA Transport Correspondent
Holidaymakers who have had both doses of a coronavirus vaccine will be able to "prove" their status to other countries, Health Secretary Matt Hancock said.
The Cabinet minister confirmed that people in England who travel abroad will be able to use the NHS app to demonstrate they are fully vaccinated when the ban on overseas leisure travel is lifted on Monday.
The app is currently used to book medical appointments and order repeat prescriptions, and is different from the Covid-19 app.
People who do not have access to a smartphone and know the country they are travelling to requires proof of vaccination status can call the NHS helpline 119 from Monday and ask for a letter to be posted to them.
Mr Hancock told Sky News: "The certification, being able to show that you've had a jab, is going to be necessary for people to be able to travel.
"So, we want to make sure people can get access to that proof, not least to show governments of other countries that you've had the jab if they require that in order to arrive.
"Israel's a good example. They've said that they'll want proof of you having had two jabs for you to go to Israel as and when they open up. They're on the green list of course.
"So we will make sure that you can get access to that, to prove that point."
Mr Hancock said the use of so-called vaccine passports is "different to the question of whether we require people to be certified as Covid-secure before doing things domestically".
He added: "The focus for the time being on this certification question, is making sure that people can travel internationally and show that they've had the jab if that's what another country requires."
Meanwhile, Heathrow published figures showing the number of passengers who travelled through the airport in April compared with the same month in 2019 was down 6.3 million to 0.5 million.
Chief executive John Holland-Kaye criticised the Government's decision to only put a handful of countries on its green travel list, claiming ministers "need to expand it massively in the next few weeks to include other low-risk markets such as the United States".
He added that the decision by the Border Force to warn passengers to accept there will be increased delays when they return from overseas "smack of complacency", adding: "They are completely avoidable if ministers ensure that all desks are staffed at peak times."
Transport Secretary Grant Shapps has said ministers will review the situation every three weeks from Monday "to see if we can expand the green list".
That means the next two dates when major changes could take place are June 7 and June 28.
Paul Charles, chief executive of travel consultancy The PC Agency, said several Greek islands could be added to the green list early next month, with most of Europe put in that tier by the end of June.
"Their rates are coming down and they're starting to really manage their Covid crisis now," he told the PA news agency.
The Daily Telegraph reported that coronavirus data analysis shows additions to the green list on June 7 are likely to be restricted to "a limited number of destinations" including the British Virgin Islands and some Caribbean countries.
Any "big summer holiday getaway" to countries such as Spain, Italy and France is "likely to be delayed until July or even August", the newspaper reported.
Assessments of the travel lists are based on a range of factors, including the proportion of a country's population that has been vaccinated, rates of infection, emerging new variants, and the country's access to reliable scientific data and genomic sequencing.
As a Technocracy, China has packaged and exported to the world its evil system of social and pseudo-scientific control. Global citizens, including Americans, are in total denial of these expansionist goals, even as China closes the trap. ⁃ TN Editor
On March 8, China launched its domestic vaccine passport, which shows a Chinese citizen's vaccination status and virus test results via a program on Chinese social media platform WeChat.
The following day on March 9, China urged the World Health Organization (WHO) to allow Beijing to build and run a global database for "vaccine passports", prompting fears over privacy and expansion of government surveillance.
The WeChat program and other Chinese smartphone apps include an encrypted QR code that allows authorities to obtain a traveler's health information. The apps track a user's location and produces a color code of green, yellow or red to indicate the likelihood of their having the virus, and whether or not the person can walk around freely. These "QR health codes" are already required to gain entry to domestic transport and many public spaces in China.
However, according to a New York Times article, using software to dictate quarantines and send personal data to police may set a dangerous precedent for automated social control, and further erodes the thin line separating China's tech titans from the Chinese Communist Party.
Continued at link.
NHS app ready to become vaccine passport
Julia Hartley-Brewer: What the hell does this have to do with Covid jabs!?
World Doctors Alliance: NHSX – COVID-19 Vaccination Certification Programme" – A Department of Health and Social Care contract for the printing and mailing of COVID-19 vaccination paper documentation worth £21 million. Are they planning something, perchance? DHSC: NHSX - COVID-19 Vaccination Certification Programme - Contracts Finder
Covid Marshalls Starting in July? Contract for 'Covid Marshalls' published starting from 1st July
Related -
Emergency Alert System Will Issue Lockdown Instructions by Text Message Broadcast
Why Do Covid Passports Hold 'Alleged Criminal Behaviour' Along With Vaccine Records?
The Privacy notice on the NHS website further states that data from the system will be used at 'vaccination only events', including shockingly states it will hold "Information relating to the individual's physical or mental health condition," as well as "Information relating to genetic /biometric details," and "Information relating to the family of the individual and the individual's lifestyle and social circumstances."
SPAIN will participate in trials of the European Union's digital COVID-19 certificate from June 7, the Prime Minister announced on Friday.
The involvement in the trial, at least three weeks ahead of the launch of the scheme across the EU, means Spain can welcome tourists from across the bloc who can show immunity to the coronavirus.
"This will be decisive in getting the certificate ready before summer begins and is big news for our tourism industry," he told an event on rural depopulation in the northern Spanish city of Soria.
Known as the EU Digital Covid Certificate, (it was previously called the Digital Green Certificate) the scheme will be used by all EU countries as well as Iceland, Liechtenstein, Norway as well as Switzerland and be available to EU citizens as well as third country nationals who reside within the EU.
Under the current terms it will not be valid for those travelling from countries outside the European Union, including the United Kingdom.
However, earlier this month Spain announced that it would be ready to welcome travellers from across the world from June 7 as long as they could show immunity.
Further details on what they will be required to show immunity have not yet been made clear.
Spain also lifted restrictions on travellers from Britain on May 24 no longer requiring them to have a negative PCR test to enter.
What we know about the EU digital Covid Certificate
The certificate will carry proof that the holder has either;
been fully vaccinated
has recently recovered from the virus (meaning the holder has antibodies in their system)
or has recently tested negative for Covid
Continued at link.
Africa to Become Testing Ground for "Trust Stamp" Vaccine Record and Biometric Digital Payment System
A new biometric identity platform partnered with the Gates-funded GAVI vaccine alliance and Mastercard will launch in West Africa and combine COVID-19 vaccinations, cashless payments, and potential law enforcement applications.

A biometric digital identity platform that "evolves just as you evolve" is set to be introduced in "low-income, remote communities" in West Africa thanks to a public-private partnership between the Bill Gates-backed GAVI vaccine alliance, Mastercard and the AI-powered "identity authentication" company, Trust Stamp.

The program, which was first launched in late 2018, will see Trust Stamp's digital identity platform integrated into the GAVI-Mastercard "Wellness Pass," a digital vaccination record and identity system that is also linked to Mastercard's click-to-play system that powered by its AI and machine learning technology called NuData.
Step by Step... (or should we say LOCKSTEP)?
REV 13:17 And that no man might buy or sell, save he that had the mark, or the name of the beast, or the number of its name.
First – The Bad News:
Government Secretly Sign Contract With Tech Firm Who Suggested COVID Passports As National ID Cards
Second – The Good News:
Committee finds no justification for Covid passports
The Public Administration and Constitutional Affairs Committee of the UK Parliament call for Government to abandon unjustified plans and says they have not made the scientific case, in its report on Covid 19 vaccine certification published today.
Proposals for a Covid-status certification system to be used domestically have been slammed by a cross-party group of MPs, with them calling for plans for their introduction to be scrapped.
---
Evil doesn't sleep, look for them to continue to push the health-passports - a lot of time, money and planning has gone into this final plan. Evil doesn't give up easily.
Maybe this should be Vaccine National ID Cards are Coming...
'New Normal': Vaccine Passports Could be 'Redeployed' as National ID Cards in the UK
The United Kingdom could follow the lead of the European Union and Communist China in implementing a digital ID out of a "redeployed" vaccine passport, a firm developing a health pass for the government has said.

Civil rights campaigners have warned that "mission creep" could result in the UK using a vaccine passport as a pseudo national ID card after an American IT company contracted by the British government to develop a "Covid Certification" pass suggested that the health passes could become part of the "new normal".

Entrust, which describes itself as a "global leader in identities, payments, and data protection", was given £250,000 by the UK in May to develop cloud software for the government's Covid-status certification scheme run by NHSX — the digital arm of the nation's socialised healthcare system.

Read more of the article.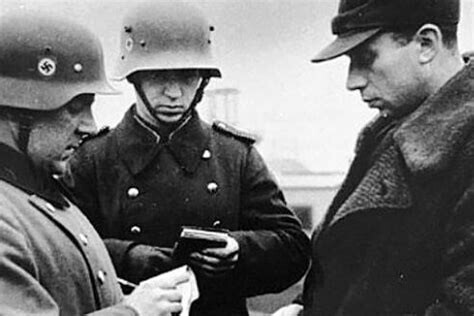 During the Third Reich everyone had to show their papers to be able to travel, even locally. The infamous phrase is: "Your papers, please."

If T.H.E.Y. are successful the Covid-19 passports will be the fulfilment of the Nazis' plan to control everyone during their Fourth Reich. The new saying will probably be, "Your Covid-19 passport please."
---
Related article on Breitbart - Facial Recognition Vaccine Passports Being Developed by British Tech Firms
President Macron's announcement that citizens must adhere to a Covid-19 vaccination schedule, or pay for nose-swab tests every 2-3 days to live any semblance of a normal life, is the final nail in the coffin of civil liberties.
Continued at link.
Gibraltar is set to be included within an NHS system that will provide electronic proof of vaccination - a system that the UK is working to ensure is recognised by other European countries, as part of the anticipated "vaccine passport" scheme. This was revealed by the Chief Minister, Fabian Picardo, on Direct Democracy on Radio Gibraltar, following reports that Malta has been refusing to recognise Gibraltar's own vaccination certificate.
Boris Johnson has confirmed he is in self-isolation until Monday 26th July, after being 'pinged' by NHS Test & Trace.
This comes after Downing Street's earlier statement that neither the Prime Minister nor Chancellor Rishi Sunak would be isolating after coming into contact with Health Secretary Sajid Javid, who has tested positive for Covid-19.
Instead, both were said to be taking part in a pilot scheme of daily testing rather than quarantine.
However, the U-turn comes amid public criticism of what has been perceived as an exclusive rule for Mr. Johnson and Mr. Sunak.
The Prime Minister said he did briefly consider the idea of daily testing but decided 'it's far more important that everybody sticks to the same rules.'
Boris Johnson was at Chequers when he was contacted by the NHS, and will remain there for the duration of his 10-day period of self-isolation, conducting meetings remotely.
The news comes ahead of England's much anticipated 'Freedom Day' on Monday, as Covid numbers continue to rise.
Meanwhile, Housing Secretary Robert Jenrick, told Sky News the UK's third wave may not peak until late August or early September.
Amazing Polly links the ENTRUST FIRM that got the VAX PASSPORT CONTRACT in the UK to GOEBBELS and GERMANY'S NAZI REGIME [31 min video]
Now this makes sense:
UK Govt Gave Contract to IT Firm That is "openly plotting" to turn vaccine passports into a national ID card, privacy group warns
The Silence of the Quandts
(English subtitles, German narration)
This one is dubbed in English – BMW - The Silence of the Quandts - YouTube
"The Quandt family is the silent might, behind one of the world's largest and most profitable automakers, BMW. Yet the family has a dark past. Its businesses profited from forced labour during the Third Reich, and the patriarchs, who were intimately involved with the Nazi regime, managed to escape prosecution and keep those profits when the war ended, profits with which they could buy and rescue BMW. This documentary shows the victims, and asks the question, "Why are the Quandts silent?"
An article about the the film - The Silence of the Quandts: The history of a wealthy German family - World Socialist Web Site