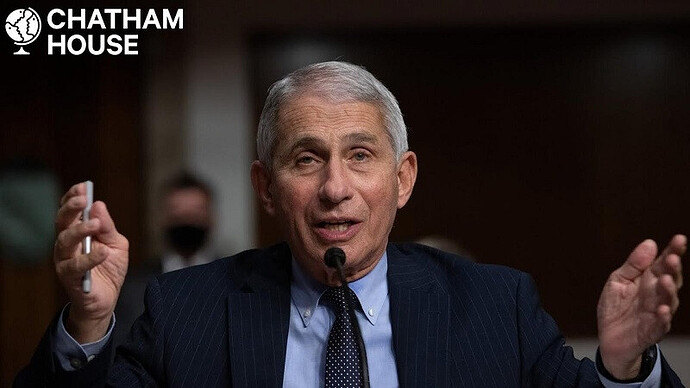 Self-serving Biden regime chief medical advisor Anthony Fauci long ago betrayed the public trust for personal gain.

Throughout his public life, he prioritized self-enrichment and mass deception over public service.

Throughout the made-in-the-USA covid mother of all scams, he lied and mass deceived the public all along.

A doctor who never treated a patient, never operated honestly, faked being covid jabbed on national television and was exposed.

Since seasonal flu/influenza was deceptively renamed covid early last year, he allied with US dark forces and Pharma to mind-manipulate unsuspecting Americans and others to self-inflict harm.

Earlier as NIAID director, he transformed the agency into an incubator for Pharma's drug development — including hazardous covid mRNA drugs and vaccines.

In cahoots with Bill Gates and other US dark forces, he wants everyone jabbed with toxins that risk serious harm to health including premature death.

His claim about safe and effective covid — gene altering — mRNA drugs and vaccines is one of many Big Lies he's infamous for.

At the same time, he's dismissive toward safe and effective hydroxychloroquine (HCQ) and ivermectin in treating seasonal flu-renamed covid.

Instead he promotes hazardous, experimental mass-jabbing destruction to health over preserving and protecting it.

Fauci emails obtained by a Washington Post Freedom of Information Act (FOIA) request exposed him as a congenital liar.

Concealing what he knew about seasonal flu-renamed covid, his public remarks were and continue to be an exercise of mass deception.

Undemocratic Dems support him. GOP congressional members want him sacked.

Senator Rand Paul tweeted: "Told you…#FireFauci."

"Can't wait to see the media try to spin the Fauci FOIA emails."

Separately, Paul tweeted:

"It's time to fire Fauci!"

"Emails that have been released now under Freedom of Information Act show two very important things:"

"1. FAUCI has been lying 2. I've been right all along."

Rep. Marjorie Taylor Greene tweeted:

"Fauci's leaked emails are shocking to say the least,."

"He needs to be FIRED!"

"I introduced a bill to do just that…HR 2316, the 'Fire Fauci Act.' "

Rep. Lauren Boebert tweeted:

"We've been needing to #FireFauci for months now, but after these #FauciEmails we simply cannot wait another day."

"How many lives could have been saved if these people were worried about science rather than PR?"

Continued at link.
Fauci needs to be fired.
The same goes for Sieg Heil Bhatti and his cohorts who should all be charged with crimes against humanity, including under the Nuremberg Code, but especially under God's Law –
Newsweek: Dr. Fauci Backed Controversial Wuhan Lab with Millions of U.S. Dollars for Risky Coronavirus Research