GHA and Sacramento Fear-mongering Urgency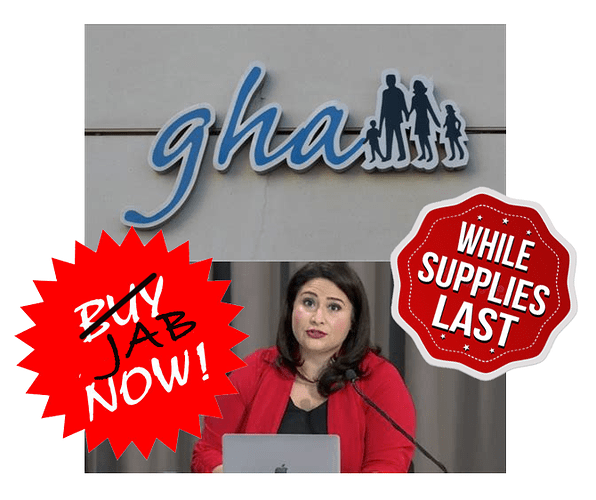 This has always been about control and profits; and governments kowtowing to BigPharma. We don't know what all they agreed to, because of the highly-redacted contracts – What DEAL does GIBRALTAR have with PFIZER? Understanding this deal could explain everything. - #11 by DOTS
With government officials, like Samantha Sacremento, being the local marketing execs or sales reps for Pfizer, one has to really wonder what they agreed or promised to do in secrecy. Delivery was a big part of the contract.
The GHA is preparing to offer this up to 5-11 year olds - did you expect differently? In fact, no age group will be left behind. They are systematically going after younger and younger cohorts.
There is so much evidence and so many experts calling for the halt of shooting up children – too many to name – but many references on DG.
But here's an example from Children's Health Defense – Example 4: 'Clinically Suspected Myocarditis Temporally Related to COVID-19 Vaccination in Adolescents and Young Adults'. In any case, every single person in this study was hospitalized. These 5 Studies Reveal a Disturbing Trend — Researchers Presenting Conclusions That Don't Match the Data • Children's Health Defense
HMGoG Ministry of Health wants everyone to come forward BEFORE current supplies expires.
DA. Why let a bad poison go to waste? They've already extended the shelf life once. Governments were charged maximum price for time-sensitive "pandemic" goods.
UK is 'set to bin 3.5million Pfizer vaccine doses' despite their shelf life already being extended as rollout slows – UK is 'set to bin 3.5million Pfizer vaccine doses' despite their shelf life being extended | Daily Mail Online
It says these are due to expire in June, with no guarantee of future supplies to Gibraltar.
Good riddance. Let them expire. Unfortunately, their lies never expire.
Sacramento: "Vaccination is proven as the best way to protect yourself and your loved ones against hospitalisation and death."
We beg to differ:
Read this from Children's Health Defense – Does Pfizer Shot Increase Kids' Risk of Death by 5100%? Here's What UK Data Tell Us.
Samantha Sacramento called on everyone who hasn't already been vaccinated, or who needs a second or a booster dose, to come forward immediately, before it's too late. GHA said there was no guarantee of future supplies to Gibraltar.
How many actually believe these statements?
Buy now and save, before stocks are gone - advertising gimmicks.
In March 2020 – Sacramento has been working on contingency plans, including topping up vaccinations with a booster. What DEAL does GIBRALTAR have with PFIZER? Understanding this deal could explain everything.
And we know the UK has bought more of Pfizer's poison for delivery LATER this year. The UK has ordered 35 million more doses of the Pfizer-BioNTech vaccine, which will be delivered in the second half of 2022. What's The Plan For The Booster Jabs? - #3 by DOTS
So why are the GHA and Sacramento trying to darndest to get Gibraltarians to fall for the gimmick?
Do you really think the UK Government and its Overseas Terrorities Department don't have Gibraltar's back with it comes to more jabs (more profits)?
LOOK AT WHAT THEY PROMISED: THEIR SUPPORT IS ENDURING

While the Government has not made any specific statements about planning for future waves of the pandemic, should the Overseas Territories be adversely affected, it has made clear that its support is enduring. Financial assistance will continue to be provided on a case by case basis, while additional military support will be provided as needed or requested. – Coronavirus: UK support to the Overseas Territories - House of Commons Library

AND

The safety and security of those in the British Overseas Territories (OTs) is a UK Government priority. The UK Government has been working with the OTs to support their healthcare systems throughout the pandemic. To date, we have funded, procured and delivered medical supplies to all inhabited OTs (except Pitcairn, which has had no confirmed cases of COVID-19), delivered testing systems to six territories and boosted testing capabilities in three other OTs. The Government has supported OTs' efforts to source and recruit additional medical personnel, and healthcare professionals from Public Health England continue to provide technical advice and guidance. We have also been working closely with the OTs to assess their exposure and resilience to the economic shock caused by the pandemic and are considering requests from territory governments for additional economic support and funding on a case-by-case basis. We are looking to the territories firstly to make full use of their own financial resources in order to address the needs of their citizens. Economic support from the UK Government will be to complement comprehensive local responses, be subject to need, and require good governance. https://questions-statements.parliament.uk/written-questions/detail/2020-09-01/83907