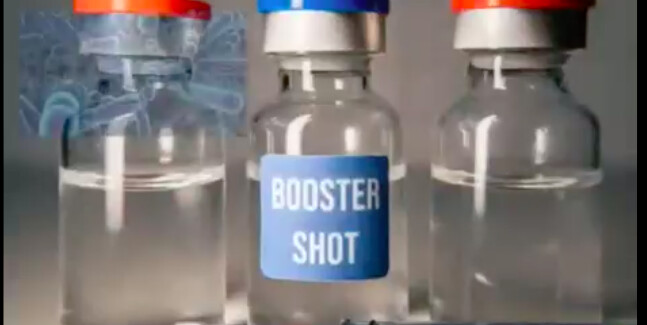 The plan explained in under 5 minutes. "You will become dependent on boosters to survive."
This is interesting (article below).
An end to boosters? Annual, perhaps like the flu vaccine? A way to get the hold-outs vaxxed? And the million dollar question: What are the contents (all of them)?
US Army Creates Single Vaccine Against All COVID & SARS Variants, Researchers Say
Within weeks, Walter Reed researchers expect to announce that human trials show success against Omicron—and even future strains.
Updated on Dec. 22 to add information from Walter Reed officials about testing the vaccine against the Omicron variant.

Within weeks, scientists at the Walter Reed Army Institute of Research expect to announce that they have developed a vaccine that is effective against COVID-19 and all its variants, even Omicron, as well as previous SARS-origin viruses that have killed millions of people worldwide.

The achievement is the result of almost two years of work on the virus. The Army lab received its first DNA sequencing of the COVID-19 virus in early 2020. Very early on, Walter Reed's infectious diseases branch decided to focus on making a vaccine that would work against not just the existing strain but all of its potential variants as well.

Walter Reed's Spike Ferritin Nanoparticle COVID-19 vaccine, or SpFN, completed animal trials earlier this year with positive results. Phase 1 of human trials, wrapped up this month, again with positive results that are undergoing final review, Dr. Kayvon Modjarrad, director of Walter Reed's infectious diseases branch, said in an exclusive interview with Defense One on Tuesday. The new vaccine will still need to undergo phase 2 and phase 3 trials.
MORE BOOSTERS – BigPharma and Profits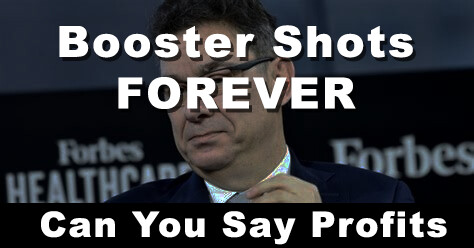 Without bringing up all the reasons they want to jab everyone with these poisons, let's just look at financial incentives and rewards.
They planned for boosters long before there was any mention of them.
And they are planning more.
What this means – like with the 3rd jab/booster – is reasons will be concocted to get another jab (waning effects, finding yet another CGI variant, whatever) – bent scientists will do the "supporting" studies: health officials will quote them; and government officials will promote and/or mandate them.
From the UK GOV (which is mostly propaganda):
The doses will be delivered from the second half of 2022.

Published 23 August 2021

The UK has agreed a contract for 35 million more doses of the Pfizer/BioNTech vaccine, to be delivered from the second half of next year.

The government, through the Vaccine Taskforce, is putting in place preparations to future-proof the country from the threat of COVID-19 and its variants through safe and effective vaccines, as the UK's world-renowned vaccination programme continues to protect the population.

These include robust plans for ensuring the country remains ahead of the virus for years to come and for any future booster programmes, as well as working to make the UK a global centre of excellence for the next generation of vaccines.

The Vaccine Taskforce has contracts in place with multiple vaccine manufacturers.

Health and Social Care Secretary Sajid Javid said:

The UK's phenomenal vaccination programme is providing tens of millions of people with protection from COVID-19, saving 95,200 lives and preventing 82,100 hospitalisations in the over 65s in England alone.

While we continue to build this wall of defence from COVID-19, it's also vital we do everything we can to protect the country for the future too – whether that's from the virus as we know it or new variants.

I am pleased we've reached this agreement with Pfizer for more doses as part of our robust preparations to future-proof our vaccine programme, ensuring we have plans in place to keep the nation safe for years to come.

The UK is committed to supporting global recovery from the COVID-19 pandemic and improving access to vaccines, and will be donating 100 million vaccine doses within the next year. The donation of the first 9 million doses was announced last month.

The UK is also one of the largest donors to the COVAX facility, the global mechanism to help developing countries access a coronavirus vaccine, and has committed £548 million in UK aid to help distribute 1.3 billion doses to 92 developing countries this year.

The government is preparing for a booster programme this year to ensure those most vulnerable to COVID-19 are protected. The booster programme will be based on the final advice of the Joint Committee on Vaccination and Immunisation (JCVI), expected in September.

COVID-19 vaccines have saved 95,200 lives. They have also prevented 82,100 hospitalisations and 23.9 million infections in England alone, according to the latest data from Public Health England and Cambridge University.

The contract will be published on Contracts Finder in due course.
BigPharma has known for awhile that pills have saturated the market; and that the only way to increase its profits was through vaccines – and we are all well aware of what came after – A scripted plandemic.
---
Prepping Everyone For What's Already Planned:
I still believe we're going to need boosters in the fall of '22 and forward,' Bancel said – Moderna CEO warns Americans may need yet another COVID booster in fall 2022
OF COURSE HE DOES - It is already scripted. The doses are bought.