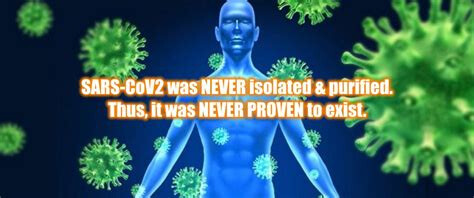 Dear Prime Minister,

I am a concerned health scientist who is writing to you in the second Christmas season in which many businesses and lives are being ruined due to your government's policy on Covid-19.

In this letter I expose the false science underlying the original Nature journal article by Zhou et al (2020).

Zhou et al (2020) claimed to describe a 'new' 'SARS-CoV-2' virus:

A pneumonia outbreak associated with a new coronavirus of probable bat origin | Nature.

I list the fatal flaws in Zhou et al (2020) which indicate that there is no scientific justification for the type of public restrictions – lockdowns – and 'vaccination' programmes for which you have been personally responsible for implementing on behalf of Her Majesty's Conservative government.

I argue thus because it has not been proven that any new virus has been detected, isolated and /or purified and thus there is no basis for the recent UK government policy approach of lockdowns and vaccinations (Laboratory testing for coronavirus disease 2019 (COVID-19) in suspected human, and FOIs reveal that health/science institutions around the world (159 and counting!) have no record of SARS-COV-2 isolation/purification, anywhere, ever)

For the scientific reasons mentioned above, I argue that there is neither any pandemic nor any 'new virus'.

Based on the above I also argue that the erroneous policy decision which your Government has been responsible for under your leadership has been based on the seasonal common colds and influenza, which can develop into serious illnesses in those patients with pre-existing disease.

Based on the above, I further all upon you to end the Covid-19 restrictions and vaccination programme, including restrictions on travelling abroad; all of which have been affecting millions of UK citizens and residents.

I respectfully suggest that your Government refocus on programmes to tackle existing diseases such as COPD, asthma, cardiovascular disease, cancer, diabetes, mental health, drug addiction, smoking related diseases, and sepsis.

Finally I suggest your Government improve the access of patients to primary care, making sure patients can access promptly a GP surgery appointment when in need and train pharmacists adequately so that they can effectively help or signpost patients.

I look forward to hearing from you.

Dr. Ana Pedro BSc (Pharmaceutical Sciences) Kingston University, MPharm (Pharmacy) University of Coimbra, PhD (Cell Biology) University of Valladolid. Post-doctoral research experience at NIH, Bethesda; Champalimaud Foundation and Cornell Medicine. 5 years working as a community pharmacist in the UK and starting-up own pharmaceutical and scientific research company.

If you wish to add your signature to this open letter please email Ana on romalocums@gmail.com
Previously on Defending-Gibratlar:
Although it wasn't an official letter, or open letter, Fabian Picardo was already asked to provide proof on an isolated virus by @A_Freeman on 20 Nov 2021 – "If you believe Covid is real Picardo, then it's up to you to prove it, which you can do in the following way..."
It was even brought in this post about what is happening at the University of Gibraltar's Genome Laboratory - "Gibraltar begins local genome-sequencing, but are they really identifying viruses and variants?" - Gibraltar: Whole Genome Sequencing Of Virus Causing COVID Can Now Be Undertaken Locally and here further down on the same thread - It's about time that the Lab produced an isolated sample of SARS-Cov-2 or stop the charade of producing casedemics for the government to continue their medical tyranny
Also on DG:
• The Final Refutation of Virology
• Spanish Government Says that the SARS-CoV-2 Virus Has Not Been Isolated
• The Smoking Gun: Where is the coronavirus? The CDC says it isn't available
• The Emperor Has No Corona – No Virus Isolated
The question remains -
Can the University of Gibraltar's Genome Lab, Fabian Picardo, Helen Carter, The Ministry of Health, Gibraltar Health Authority, or any other person in Gibraltar PROVIDE PROOF that the SARS-CoV-2 Virus exists?