UK Health Sec withheld promising vaccine data from PM, potentially influencing decision to extend Covid restrictions – media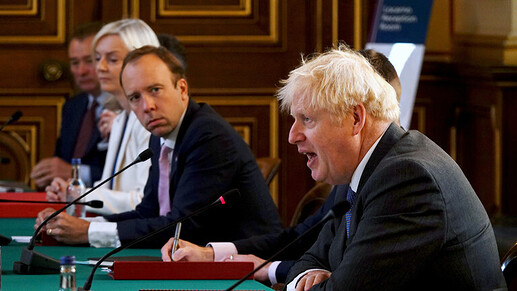 Matt Hancock allegedly failed to inform Boris Johnson about a study that showed Covid-19 jabs are effective against the Delta variant, during a meeting to discuss lifting restrictions. The health department denies the allegation.

A major Public Health England (PHE) study found that the AstraZeneca and Pfizer vaccines were more effective at preventing hospitalisation with the strain than with other Covid variants. The health secretary was aware of the promising results but chose not to tell Johnson about them during a meeting to decide whether to postpone the planned lifting of restrictions on June 21, the Telegraph reported, citing sources familiar with the discussion.

The data was also absent from briefing papers given to Johnson by finance minister Rishi Sunak and cabinet minister Michael Gove ahead of the critical meeting, the outlet said. Had the prime minister been aware of the study's findings, he may have reconsidered the controversial decision to push back reopening until July 19, the Telegraph claimed.

Senior ministers were reportedly angered by how the decision was ultimately made, and were particularly upset by the fact that SAGE scientists did not provide explanations to back up their claim that lifting restrictions in June would lead to a surge in hospital admissions.

Continued at link.
THE INDIAN VARIANT – PERPETUAL LOCKDOWN
MICHAEL O'BERNICIA - Private Prosecutions of British MPs
Stanley Johnson, Boris's Dad, wrote a Novel. Can You Guess What it's About?