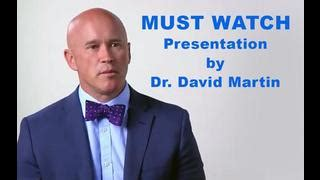 https://www.bitchute.com/video/tRrJ3gzmvMt8/
Dr. David Martin - Follow the Patents, Then You Will Understand Covid
Do not participate in the propaganda of this conspiracy.

There is no SARS-Corona-Virus 2. There is a bioweapon – that in 1999 was paid for by Anthony Fauci.

There is no Covid-19. The is Influenza-like illness.

There is no vaccine. There is a bioweapon that is being injected.

Look at what the Covid Rico Conspirators wrote in 2015. This is an admission of a felon-criminal conspiracy and this statement (slide on video) needs to go to every politician etc.

This Mandatory Injection was Planned in 2015 by the Covid RICO Conspiractors

"until an infectious disease crisis is very real, present, and at an emergency threshold it is often largely ignored. To sustain the funding base beyond the crisis, he said, we need to increase public understanding of the need for MCM's such as a pan-influenza or pan-coronavirus vaccine. A key driver is the media, and the economics follows the hype. We need to use that hype to our advantage to get to the real issues. Investors will respond if they see profit at the end of the process, Daszak stated"

2016 Feb 12, Developing MCM's for Coronavirus, Available from Developing MCMs for Coronaviruses - Rapid Medical Countermeasure Response to Infectious Diseases - NCBI Bookshelf

32-minute video.
Another David Martin video -
The Covid Orchestra, Board of Trustees

"The Names of the People Killing Humanity" compiled by Dr David Martin.

Al Gore, Vice-President of the United States (1993-2001), Chairman and Co-Founder, Generation Investment Management LLP

Andre Hoffmann, Vice- Chairman, Roche

Angel Gurria, QECD

Bill Gates, Bill & Melinda Gates Foundation

Christine Lagarde, President European Central Bank

Chrystia Freeland, Deputy Prime Minister & Minister of >Finance, Office of the Deputy Prime minister of Canada

David M. Rubenstein, Co-Founder and Co-Executive Chairman, Carlyle Group

Dustin Moskovitz, Open Philanthropy

Fabiola Gianotti, Director-General, European Organisation for Nuclear Research (CERN)

Feike Sybesma, Chairman of the Supervisory Board, Royal Philips

H.M. Queen Rania Al Abdullah of the Hashemite Kingdom of Jordan, Queen of the Hashemite Kingdom of Jordan, Office of H.M Queen Rania Al Abdullah

Heizo Takenaka, Professor Emeritus, Keio University

Herman Gref, Chief Executive Officer and Chairman of the Board, Sberbank

Jim Hagemann Snabe,Chairman Siemens

Julie Sweet , Chief Executive Officer, Accenture

Klaus Schwab, Founder and Executive Chairman, World Economic Forum

Kristalina Georgeva, Managing Director, International Monetary Fund (IMF)

L. Rafael Reif, President, Massachusetts Institute of Technology

Larry Page, Google

Laurence D Fink, Chair and Chief Executive Officer, BlackRock

Luis Alberto Moreno, Member of the Board of Trustees World Economic Forum

22**. Marc Benioff**, Chair and Chief Executive Officer, Salesforce

Mark Carney, United Nations Special Envoy for Climate Action and Finance, United Nations

Mark Schneider, Chief Executive Officer, Nestle

Mark Zuckerberg, Facebook

Mukesh D Ambani, Chairman and Managing Director of Reliance Industries

Orit Gadiesh, Chairman, Bain & Company

Patrice Motsepe, Founder and Executive Chairman, African Rainbow Minerals

Paula Ingabire, Minister of Information Technology and Innovation, Ministry of Information Communication Technology and Innovation of Rwanda

Peter Brabeck-Latmathe, Vice Chairman of the Board of Trustees, World Economic Forum

Peter Maurer, President, International Committee of the Red Cross (ICRC)

Robert Mercer, Renaissance Fund

Tharman Shanmugaratnam, Senior Minister, Government of Singapore

Thomas Buberi, Chief Executive Officer, AXA

Yo-Yo Ma, Cellist

Zhu Min, Chairman, National Institute of Financial Research
---
Dr. David Martin Exposes Three Unspeakable Facts about COVID-19
Experimental mRNA COVID Vaccines Aren't Vaccines: They are Medical Devices - Dr. David Martin