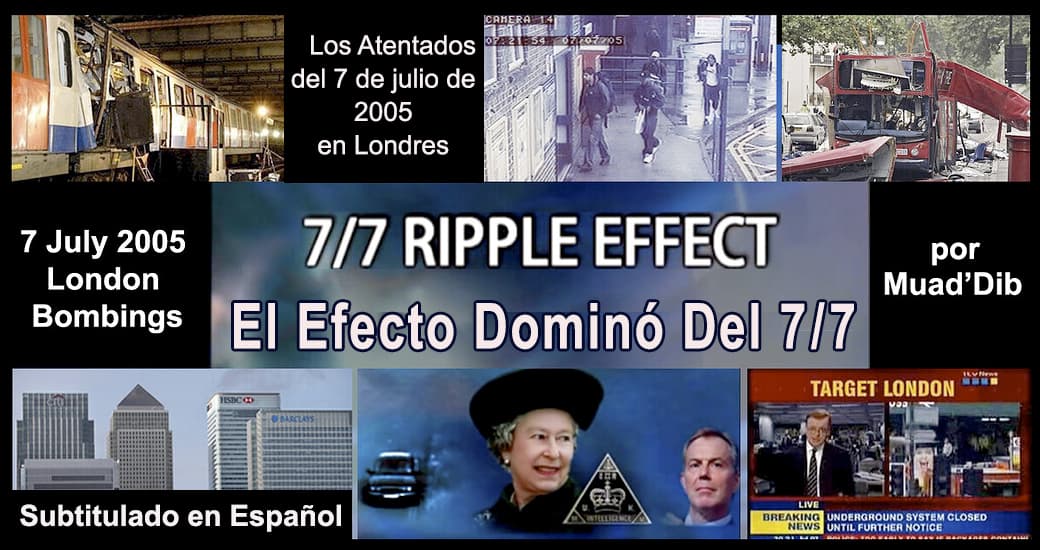 Estrenado: 5 noviembre 2007
Este es el documental original de renombre mundial que explica lo que realmente ocurrió en Londres el 7 de julio de 2005.
La transcripción puede leerse en J de Justicia - 7/7 Ripple Effect
Este documental fue enviado a los tribunales como amicus curiae al juez y al jurado del Tribunal de la Corona de Kingston, Inglaterra, donde tres hombres musulmanes (Waheed Ali, Sadeer Saleem and Mohammed Shakil) fueron juzgados por segunda vez en 2009, por haber ayudado supuestamente a los cuatro presuntos autores originales de los atentados de Londres del 7 de julio de 2005. Un tribunal británico absuelve a tres acusados de los atentados de 2005 en Londres - British court acquits 3 charged in 2005 London bombings | CBC News
El productor Muad'Dib fue detenido por un supuesto intento de pervertir el curso de la justicia con su amicus curiae, del que fue declarado inocente en 2011 - The (7/7) Ripple Effect Story | Friends of Muad'Dib
Los atentados de Londres de 2005: ¿qué ocurrió realmente?
Utilizando la navaja de Ockham y el sentido común, Muad'Dib examina lo que probablemente ocurrió en Londres el 7 de julio de 2005. Este documental está dividido en nueve capítulos.
1 - SIMULACROS DE EJERCICIOS Y BOMBAS DE FALSA ALARMA EN EL PERÍODO PREVIO AL 7/7/2005.
2 - PETER POWER: ¿ENGAÑADO O CÓMPLICE?
3 - EMPRESAS DE SEGURIDAD EXTRANJERAS: ¿SON DE FIAR?
4 - LOS CUATRO MUSULMANES: ¿ACTORES O CHIVOS EXPIATORIOS?
5 - LOS TRENES FANTASMA.
6 - EL AUTOBÚS NÚMERO 30.
7- EXPLOSIVOS PRECOLOCADOS.
8 - CONCLUSIÓN.
9 - EPÍLOGO.
Para más información: (En inglés)
JforJustice.net: 7/7 Ripple Effect
JforJustice.net
(JforJustice.info)
Friends of Muad'Dib
CHRISTS.NET
7/7 RIPPLE EFFECT (En Inglés):