Franco was a War Criminal and Horrible Dictator - just like Hitler. And they both had followers to do their bidding. Let this news remind all you politicians and health officials, doctors and nurses and other administrators pushing the poisonous jabs and lockdowns that you will also answer for your Crimes Against Humanity.
Spanish government take action to prosecute Franco-era crimes
Amnesty legislation to be changed so authorities able to prosecute Franco-era crimes

The Socialist Party (PSOE) and junior partner Unidas Podemos want to force a reinterpretation of the Amnesty Law which passed in 1977 without the need to repeal it altogether. The PSOE does not want to overturn the legislation entirely as it was used to secure the release of the regime's political prisoners during the "transition" to democracy.

The new law looks to make war crimes exempt from the statute of limitations and not subject to amnesty. This would open the door to be able to prosecute Franco-era crimes in the regular Spanish justice system. The 1977 Amnesty Law has so far blocked all previous attempts to do this.
Argentine judge indicts Spanish Franco-era minister on murder charges
Argentine judge María Servini de Cubría has indicted Rodolfo Martín Villa, 87, a former minister in Spain's 1939-1978 fascist Francoite regime, on four counts of homicide. The judge ordered Villa, who lives in Madrid, to be detained. So far, the Socialist Party (PSOE)-Podemos government has refused to honor the warrant.

Servini, sitting in Buenos Aires, based her probe on the principle of universal jurisdiction, which allows an investigator to prosecute individuals who are not its citizens or on its territory, but have committed serious crimes, including crimes against humanity, war crimes, genocide and torture.

More at link.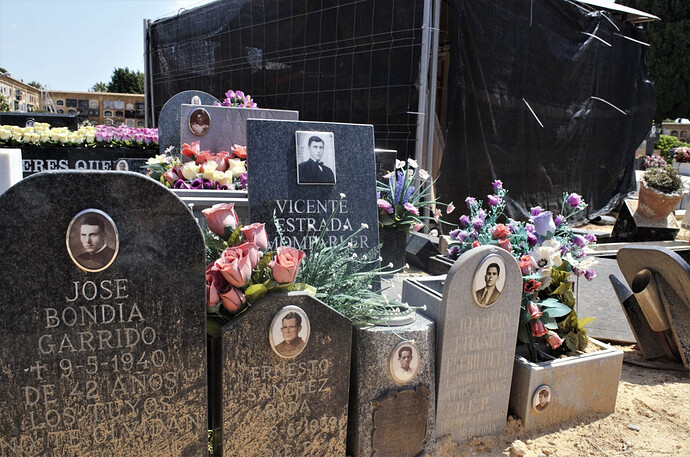 In September, Spain Slowly Exhumed Victims of Franco's Repression.
Related -