While Seseme Street coerces children to get jabbed (see below), Dr. Robert Malone and thousands others logically say otherwise:
Robert Malone Implores Parents To Get Facts About Vaccinating Children
https://globalcovidsummit.org/news/live-stream-event-physicians-alerting-parents
Before you vaccinate your child — which is irreversible and potentially permanently damaging — find out why 16,000 physicians and medical scientists around the world signed a declaration publicly declaring that healthy children should NOT be vaccinated for COVID-19.

My name is Robert Malone, and I am speaking to you as a parent, grandparent, physician and scientist. I don't usually read from a prepared speech, but this is so important that I wanted to make sure that I get every single word and scientific fact correct.

I stand by this statement with a career dedicated to vaccine research and development. I'm vaccinated for COVID and I'm generally pro-vaccination. I have devoted my entire career to developing safe and effective ways to prevent and treat infectious diseases.

After this, I will be posting the text of this statement so you can share it with your friends and family.

There are three issues parents need to understand:

The first is that a viral gene will be injected into your children's cells. This gene forces your child's body to make toxic spike proteins. These proteins often cause permanent damage in children's critical organs, including

Their brain and nervous system.
Their heart and blood vessels, including blood clots.
Their reproductive system, and
This vaccine can trigger fundamental changes to their immune system.
The most alarming point about this is that once these damages have occurred, they are irreparable.
You can't fix the lesions within their brain.
You can't repair heart tissue scarring.
You can't repair a genetically reset immune system, and
This vaccine can cause reproductive damage that could affect future generations of your family.
The second thing you need to know about is the fact that this novel technology has not been adequately tested.

We need at least 5 years of testing/research before we can really understand the risks
Harms and risks from new medicines often become revealed many years later. Ask yourself if you want your own child to be part of the most radical medical experiment in human history.

One final point: the reason they're giving you to vaccinate your child is a lie.

Your children represent no danger to their parents or grandparents. It's actually the opposite. Their immunity, after getting COVID, is critical to save your family if not the world from this disease.

In summary: there is no benefit for your children or your family to be vaccinating your children against the small risks of the virus, given the known health risks of the vaccine that as a parent, you and your children may have to live with for the rest of their lives.

The risk/benefit analysis isn't even close.

As a parent and grandparent, my recommendation to you is to resist and fight to protect your children.

The statement was delivered at a December 12 livestream event hosted by Unity Project and Global Covid Summit. Dr. Robert Malone and other leading physicians discussed their recent Physicians' Declaration update, why healthy children should not be vaccinated and the associated risks. Read Supporting Documents.
They are targeting children with trusted and beloved characters: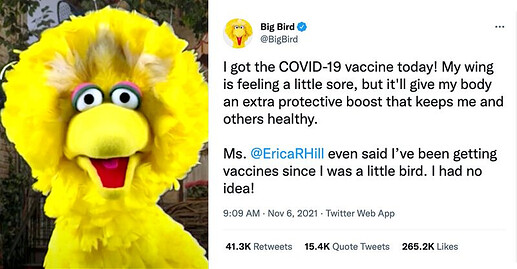 The fictional children's character is supposed to be 6 years old, which if he were real, means he became eligible for the COVID vaccine last week when the U.S. Food and Drug Administration (FDA) authorized the Pfizer-BioNTech COVID vaccine for emergency use in children ages 5 through 11.

Big Bird's endorsement of the COVID vaccine for children isn't an isolated incident — it's just the latest example of Sesame Street endorsing federal health agencies' COVID messaging for young children, with the help of corporate media.

But the announcement was met with backlash from elected officials and media pundits who accused the character of spreading government propaganda.

Robert F. Kennedy, Jr., chairman of Children's Health Defense, today said:

"The use of trusted and beloved figures in this propaganda assault to induce children into submitting as guinea pigs to injections with an experimental high-risk zero-liability medical product with no proven benefits for kids is unconscionable and revolting.

"Big Pharma has turned Big Bird into a child predator."
'Big' shot: Big Bird gets his COVID-19 vaccine:
Big Bird, Elmo and other Sesame Street characters appeared on CNN for a Saturday morning program called, "The ABCs of COVID Vaccines."

Rosita, a furry, turquoise, Mexican monster, was inoculated against COVID-19 Friday.

Unfortunately, Elmo — who is just 3 — isn't yet old enough to get his COVID shot.

"Elmo was so happy to talk to Dr Sanjay Gupta at the town hall today! Elmo learned that Elmo's friends can get the COVID-19 vaccine now, and soon Elmo can too!" he tweeted early Saturday.

While Big Bird was excited about getting the jab, Sen. Ted Cruz seemed less than thrilled by it.

"Government propaganda…for your 5 year old!" the Texas Republican tweeted.
Lawyers worldwide submit new evidence to International Criminal Court alleging World Leaders & Scientific Advisors have used Covid-19 & the Injections to commit Genocide and Crimes against Humanity