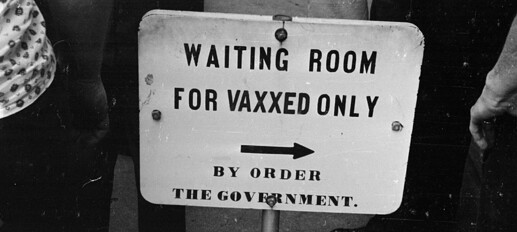 Halt Vaccine Passports! It's illegal, medical apartheid
By Michael Yeadon
It makes no one safer. If you're vaccinated, you're protected & are not made safer by knowing others immune status.

As in Israel, you will be compelled to present a valid VaxPass in order to access defined facilities or access services. No VaxPass, you're denied.

This system only needs 50%+ of the adult population to start up because of its huge, coercive power on the unvaccinated.

It's illegal, medical apartheid.

If they succeed, it won't help you to refuse. They'll move on, leaving that minority behind.

A VaxPass System like this will give to those controlling the database & it's algorithms TOTALITARIAN TYRANNY over us all.
Yeadon Related -
BOMBSHELL! Former Pfizer VP: 'Entirely possible this will be used for massive-scale depopulation'
Depopulation: Pure, Unalloyed Evil
Doctors for COVID Ethics: COVID-19 Vaccines are Unnecessary, Ineffective and Unsafe
Vaccine Passport Related -
European Plans for 'Vaccine Passports' Were in Place 20 Months Prior to the Pandemic. Coincidence?
COVI-PASS: UK Introduces 'Digital Health Passport' To Monitor Travel, Health Of Population
220,000 Brits Sign Petition Against Vaccine Passports, Forcing Debate in Parliament
Your Choice -
Beware of the Covid 1984 PCR test – your life depends upon it
Life or Death: Pharmaceutical "Plandemic" Poisonous Vaccines, or the Healing of the Holy Spirit – Your choice