This story was expanded on by the Daily Expose:
Pilot details how he nearly blacked out whilst flying and is no longer fit to fly due to adverse reaction to the Covid Vaccine
Everybody knows that there is an increased chance of suffering a blood clot when flying, and everyone will know by now that there is an increased risk of suffering blood clots associated with low platelets due to the AstraZeneca Covid vaccine. It's not hard to put 2 and 2 together and come up with 4 as to why four pilots within the same company have died within quick succession of each other.

Even insurance companies refuse to cover blood clots that occur after flying if the person has had the Covid vaccine...

According to VAERS, the US version of the UK's Yellow Card scheme, a 33-year-old pilot almost blacked out whilst flying due to an adverse reaction to the Pfizer Covid jab, an adverse reaction which has seemingly changed his life for the foreseeable future.
Leaked Airline Documents Reveal Horrific Details About 'Vaccinated' Pilots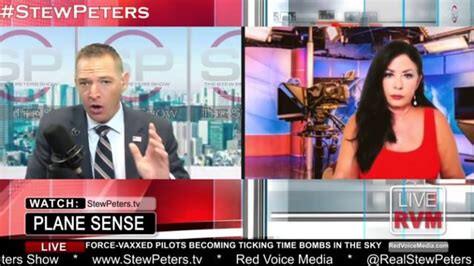 Stew Peters Show
Leaked Airline Documents Reveal HORRIFIC Details About 'Vaccinated' Pilots
'Fact-Checkers' Dispute Dead Inoculated Airline Pilots, Continue to Push Dangerous Propaganda
More details on the pilots.
BA refuse to deny pilots died after covid jab
Yesterday, British Airways said that they do not tell staff whether or not to get vaccinated. Asked three times to confirm or deny whether the dead pilots had had Covid vaccines, they declined to comment.

They did say that their colleagues had not all died within the last seven days, which is true, but they did not respond when sent the following request for further information about vaccination.

Is the fact that four BA pilots died within a few weeks connected to the jab? We know that Air India have had 5 pilots die too.
Mysterious Pilot Deaths Are Increasing Globally, Large Numbers of Flights Cancelled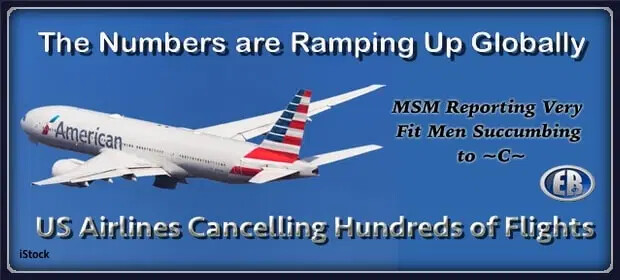 ER Editor: A shout out to one of our readers for having alerted us to this story, via Google translate. The publication date is June 22, 2021, from the German site Report24.news in English translation. The second article below that, from The Colorado Herald, reports on several US airlines having recently cancelled more than the usual number of flights.

We recommend clicking on the MSM Indian media links below. Airline employees are being vaccinated with an initial dose at the rate of 96-99%(!); 17 pilots at the time of reporting died of 'Covid'. In summer. At relatively young ages (37 in one case). We remind readers, as the reports below do, that pilots are some of the fittest people around, and must necessarily be so. The Colorado Herald rightly sounds the alarm on OUR risks as vaccinated passengers flying. We face precisely the same ones as the pilots themselves, yet we may not be so healthy.

And we highly recommend the site, new to us, The Colorado Herald. They are not afraid to report on what MSM steers us away from.

See this article we published recently, titled 4 British Airways Pilots Dead Following COVID-19 Injections While Spain, Russia Concerned About Clots During Air Travel.

Continued at the link.
So why did the US-FAA and Transport Canada change their policy?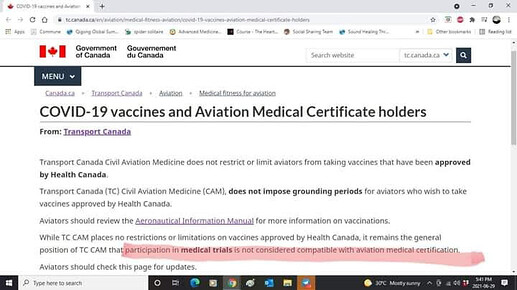 This image is being circulated on alternative media with the misleading headline "Canada Prohibits All Vaxxed Pilots From Flying: The Corona Vax Is A 'Medical Trial' And Such 'Vaccinations' Are Ruled To Ground All Pilots"
Of course, pilots were given the okay to fly, as per their announcements, because the jabs are government-approved.
And while most of us understand the Covid jabs are experimental and a medical trial, the FAA and TC quickly followed up with these announcements to cover their bases:
Government Authorizations

As of February 27, 2021, the Food and Drug Administration (FDA) has granted emergency use authorization (EUA) for the following COVID-19 vaccines:

Pfizer-BioNTech (authorized December 11, 2020)
Moderna Therapeutics (authorized December 18, 2020)
Janssen, produced by Johnson & Johnson (authorized February 27, 2021)

The FAA Office of Aerospace Medicine has adopted policy changes allowing the use of the three vaccines listed above by holders of FAA-issued airman medical certificates or medical clearances, with the following conditions:

A 48-hour no fly/no safety-related-duty interval must be observed after each dose.
Before returning to duty, pilots should be free of any significant side effects from the vaccine.

Currently, the FAA only allows the Pfizer, Moderna, and Janssen COVID-19 vaccines for use by medical certificate holders. Other COVID-19 vaccines will be individually considered by the FAA following granting of each FDA EUA. Pilots should not participate in trials of other manufacturers' COVID vaccines at this time.

In early December, the U.S. Advisory Committee on Immunization Practices recommended prioritizing the initial phase of the vaccination. Priority would be given to frontline health workers, along with residents and workers in long-term care facilities.

In Canada

Health Canada has authorized the following COVID-19 vaccines for use:

Pfizer-BioNTech (authorized December 9, 2020)
Moderna Therapeutics (authorized December 23, 2020)
AstraZeneca, developed in partnership with Oxford University (authorized February 26, 2021)
Covishield, Verity Pharmaceuticals Inc./the Serum Institute of India's version of the AstraZeneca vaccine (authorized February 26, 2021)

TC has stated that taking a vaccine that has been authorized by Health Canada will not result in restrictions or limitations to aviators. TC Civil Aviation Medicine does not impose grounding periods for aviators wishing to take vaccines approved by Health Canada. TC has advised, however, that participating in any vaccine clinical trial is incompatible with medical certification.

From the Airline Pilots Association - News Room - ALPA.
This was a change in stance though. In December 2020, the FAA was using caution:
"The FAA is closely monitoring the active vaccine trials and awaiting the outcome of the Vaccines and Related Biological Products Advisory Committee's scheduled meeting next week …" the agency said.
This is the interesting part from the article:
Meanwhile, the Air Line Pilots Association is telling its members to not take part in clinical trials for vaccines because they'll lose their medicals, perhaps for a long time. "… since no trial COVID-19 vaccine has full FDA approval, the FAA considers participation in COVID-19 vaccine trials medically disqualifying for pilots for an indefinite period," ALPA said in a brief article on the effects of the pandemic. "ALPA representatives are working with the FAA to better define a policy as the science evolves." The FAA declined to comment on ALPA's assertions. The union is also warning its Canadian members not to roll up their sleeves for science. "In Canada, the director of Civil Aviation Medicine stated that participation in medical trials isn't considered compatible with aviation medical certification," the article said.
They changed their tune since then as we can see with the above announcements about "approved" government jabs.
FAA Pilots must wait 48 hours after being jabbed – FAQs on Use of COVID-19 Vaccines by Pilots and Air Traffic Controllers
In March, the FAA approved the J&J one – The approval came on the same day the FDA issued emergency approval for the vaccine – FAA Approves Johnson & Johnson COVID-19 Vaccine (Updated) - AVweb
This is a coordinated effort and of course they were going to get airline industry on the same page, just as they did insurance companies. But the game is rigged - they will cover up jab-related deaths at all costs.