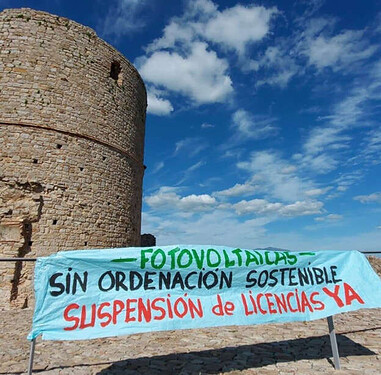 British residents in Spain's picturesque south west are fighting against a huge proposed solar panel park that they claim
will harm the environment,
drain water resources and
damage a protected sanctuary for migrating birds.
The solar park is expected to cover an area of 1,300 sq hectares near the traditional "white villages" of Jimena de la Frontera, Gaucin, Casares and Tesorillo in Andalusia.
There are already large solar energy parks in nearby Cadiz and Seville, and Spain's left-wing government is promoting renewable energy to cut emissions. But the panels require cleaning to be efficient, using valuable water, and the campaingers are worried about uncontrolled expansion.
Ecologists in Action and a local pressure group SOS Campiña Jimena claim that Fran Gomez, the mayor of Jimena de la Frontera, said last year that the deal was passed and could not be reversed.
---
A study by Sheffield Hallam University:
Forced Uyghur labour behind world's solar panels, investigation finds
A study by Sheffield Hallam University has urged the world's leading panel manufacturers not to source materials from Xinjiang.

An investigation by Sheffield Hallam University says some 45% of the world's supply of a key component in the panels – polysilicon – comes from Xinjiang and is obtained through a vast system of coercion involving the Uighur ethnic minority.
Justice for the Uyghur Muslims? – China's CCP Accused of Genocide