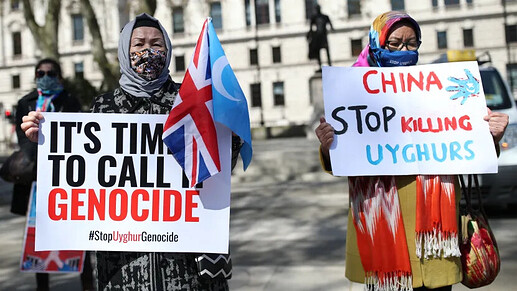 4 June - Hearings in London Aim To Assess Allegations of Genocide in China.

A series of hearings begins in London today aiming to gather evidence on whether the Chinese governments alleged human rights abuses in the Xinjiang region constitute a genocide.

An eight-member panel, chaired by the prominent British barrister Geoffrey Nice, will hear from about 30 witnesses over four days of testimony. The hearings have no government backing and the panel's conclusions are not binding on ministers.

The Chinese state has been accused of crimes against humanity and genocide in Xinjiang, a large region in the country's northwest which is home to the Uyghurs and other minority Muslim groups.
Some background -
Uighur muslims in China 'suffering crimes against humanity and genocide', UK parliament declares
UK sanctions Chinese officials over Xinjiang human rights abuses – The UK Government has announced coordinated sanctions against four senior Chinese officials over human rights abuses against Uighur Muslims in Xinjiang. Working alongside 30 allies - including the EU, US and Canada - the sanctions slap travel bans and asset freezes on senior officials and the state-run Xinjiang Production and Construction Corps Public Security Bureau.
China in Focus (March 26): China Bans UK MPs Over Uyghur Sanctions – The sanction war between Europe and China has reached a new high, as Beijing expands its sanctions to UK citizens. Up to 15 Chinese embassies in Europe are protesting against their host countries' governments, coming after the European Union issued sanctions against China over human rights abuses in Xinjiang.
Concentration camps and forced labor: China's repression of the Uighurs, explained
---
Interesting China Joe Biden dismisses Uighur genocide as part of China's 'different norms'. What does one expect from those who ride the dragon? Or who hob-knob with them in Marxist symposiums, where "around 70 political leaders and representatives from 58 political parties in 48 countries participated in the event. Leaders of some Marxist political parties from Laos, Spain, Russia, Brazil, India and the United States also sent congratulatory messages to the symposium."
God's Nations were not supposed to enter into contracts with other nations for a reason:
Deut. 7:2 And when the "I AM" thy God shall deliver them before thee; thou shalt smite them, [and] utterly destroy them; thou shalt make no covenant with them, nor show mercy unto them:
Exodus 23:32 Thou shalt make no covenant with them, nor with their gods.
They would cause His People to serve and worship other gods - even materialism and Marxism (The State); and accept their way of thinking - This is treason and adultery against God.