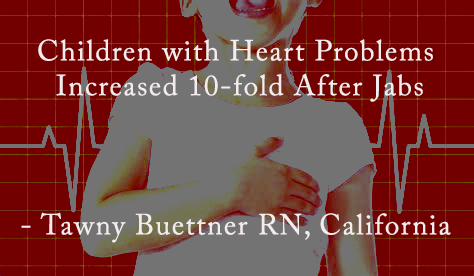 Tawny Buettner RN worked in the Cardiothoracic Intensive Care Unit (CTICU) of a major children's hospital in San Diego, California for more than 12 years. Here's her story about what she observed about myocarditis rates post vaccine. Yeah, it's way worse than the rates caused by the virus.

She also explains that doctors who work for hospitals and health care providers are not independent practitioners and must follow protocols that discourage them from reporting adverse vaccine reactions to VAERS and that force them to vaccinate even though they see the resulting injuries and deaths.

In other words, doctors who are employees have been divorced from the doctor-patient relationship and must follow orders or quit or be fired. This is one way that Big Pharma has gained control over the practice of medicine. Doctors who are employees have to follow protocols that are established independently of good medical practice.

Americans have little idea how denuded of rights they are and how powerless they are. Even in life and death medicine, facts no longer matter.

Full story: Tawny Buettner, RN observed a >10X increase in the rate of myocarditis after the vaccines rolled out

The increased rate of myocarditis cases and excessive troponin levels didn't happen by chance. It only started after the COVID vaccines rolled out.
RELATED POSTS
CAUGHT: National Institutes of Health "Pull" Report PROVING Covid-vaccines KILLING Kids via Myocarditis
Joseph Mercola: Do More Children Die From the COVID Shot Than From COVID
They Knew The Dangers of Myocarditis, Strokes And Much More
Nurses Speaking Out About Covid Lies
BBC air News Report conditioning the public into believing it's normal for teens to drop dead due to "undiagnosed heart conditions"