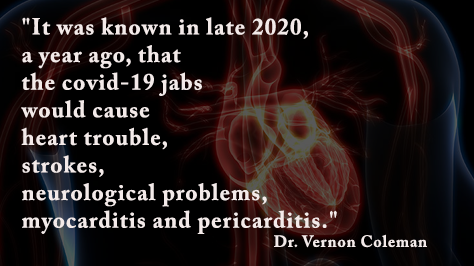 Dr. Vernon Coleman has been warning everyone for months.
They Knew! (This video was first aired in December 2020)
"It was known in late 2020, a year ago, that the covid-19 jabs would cause heart trouble, strokes, neurological problems, myocarditis and pericarditis." – Here's Why Most of the Jabbed Will Die Early | Dr Vernon Coleman.

If you're interested take a look at Coleman's video called Covid-19 Vaccine – Possible Vaccine Side Effects or Vital Information about the Covid-19 Vaccine. Both videos were recorded and published in December 2020 and they are still there. If they'd been on YouTube they would have been removed, of course.
Dr Vernon Coleman – "Studies suggest that 20% of Children with Myocarditis are dead in two years and 50% are dead in five years"
Now There is 300,000 In UK With DEADLY HEART CONDITION ALL OF A SUDDEN
The truthseeker highlights the article in this Hugo Talks video -
---
NORMAL?
BBC air News Report conditioning the public into believing it's normal for teens to drop dead due to "undiagnosed heart conditions"
307 Athlete Cardiac Arrests, Serious Issues, 175 Dead, After COVID Shot
433 Athlete Cardiac Arrests, Serious Issues, 256 Dead, After COVID Shot