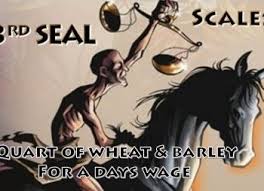 "And I beheld, and lo a black horse; and he that sat on him had a pair of balances (weighing-scales) in his hand."
When a corporate financial news source features an interview on their homepage from a financial investment CEO who says "I recommend prayer," it is time to sit up and pay attention to what may be about to happen.
The Bank of England, and Credit Suisse, as well as many other banks worldwide are on the verge of collapse.
The rich rulers of the world, who profit off of
unfair trading - driving entire nations into poverty [banks], have dropped the snowball down the mountain, which will grow into an avalanche the likes of which the world has never seen.
Some headlines this week around the globe:
Eurozone facing 'severe risks' to financial stability, admits ECB
The eurozone's financial system is ­facing "severe risks" from the chaos gripping global markets, the European Central Bank said in an unprecedented warning as Germany unveiled a €200bn (£177bn) borrowing binge.
Meanwhile, Spain's socialist-led government agreed a temporary wealth tax to fund its efforts to fight the crisis. People with a fortune of more than €3m would be taxed at 1.7pc, rising to a rate of 3.5pc for those with more than €10m.
The darkening economic outlook and the sliding value of investments are the major threats to the eurozone financial system.
The regulator also sounded the alarm on rising mortgage rates threatening the housing market and the growing threat of cyber attacks on banks in the wake of Russia's invasion of Ukraine.
https://www.telegraph.co.uk/business/2022/09/29/markets-live-latest-news-pound-euro-ftse-100/
Weekly global economic update
Week of October 3, 2022
Bank of England intervenes to restore financial stability
The British government's shift toward fiscal stimulus recently upended British financial markets. The combination of massive energy subsidies and tax cuts alarmed investors who worried that the British budget deficit would become unsustainable.
The International Monetary Fund (IMF) urged the British government to "re-evaluate" its fiscal program and suggested that the new policy could intensify inflation.
So far, the government has been publicly unrepentant. As for the BOE, if investors start to believe that it will fund future government deficits, then the decision to purchase bonds could ultimately backfire, leading to renewed crisis.
Inflation continues to accelerate in Europe
Inflation in the 19-member Eurozone continues to accelerate, largely due to the energy crisis. In September, consumer prices were up 10% from a year earlier (the first double-digit increase ever) and were up 1.2% from the previous month. Energy, and to a lesser extent food, played the dominant role in driving inflation.
Energy, and to a lesser extent food, played the dominant role in driving inflation. Energy prices were up 40.8% from a year earlier and up 3% from the previous month.
The inflation is mostly being driven by the political tug of war between Russia and the EU regarding the flow of natural gas.
Spanish banks need to boost provisions amid slowdown, De Cos says
"The potential impact of the current uncertain environment on the banking sector requires extreme caution. Banks will have to increase their provisions to cover potential losses," De Cos told a financial event in Madrid.
Spanish households are among the most exposed to a rise in interest rates as around three quarters of their outstanding mortgage loans are tied to variable rates.
Spanish banks need to boost provisions amid slowdown, De Cos says By Reuters
EU funding disputes over energy spell trouble ahead
Germany's divisive 'double ka-boom' on energy
Europe's fiscal discussions heat up ahead of cold winter
UK economic turmoil: seven days of chaos
Eurozone inflation hits record 10% as energy prices continue to soar
Eurozone economy | Financial Times
Britain on the brink of a social explosion after pound's collapse
Former Bank of England Governor Mark Carney said
The main threat he identified was the immediate need to safeguard government bonds and pension funds from being "unable to make short-term obligations… that would cascade through financial markets."
Former Bank of England Deputy Governor Sir Charlie Bean warned, "Frankly, the only way you can really deal with this is with a very fundamental rethinking of the boundaries of the state…
How to Turn the Tables on Tyrants Waging the Economic War
The Federal Reserve has ordered another 'super-sized interest hike' in what appears to be a hopeless effort to contain runaway inflation.
The Federal Reserve recently ordered another "super-sized interest hike" — the fifth rate hike this year — in what appears to be a hopeless effort to contain runaway inflation.
Cost of food rising 10.9% in the last 12 months. Overall, energy prices have seen the highest increases, rising by 41.6% between June 2021 and June 2022.
Financial crisis historian Adam Tooze predicts several crises may converge over the next six to 18 months, including food crises, energy crises, pandemic outbreaks, stagflation, a Eurozone sovereign debt crisis and potential nuclear war
How to Turn the Tables on Tyrants Waging the Economic War
"During banking crises, you won't have full access to your deposits in the bank. As a result, electronic payments such as bank cards may become useless. In the extreme case, your deposits could be used to recapitalize ailing banks in a process called 'bail-in.'"
People have already begun to report banks declining withdrawls from theirown personal and business accounts, as google, youtube and the gatekeepers have "disappeared" many of these videos.
The Prophecies warn of what is going to happen to the rich rulers of the Earth, and the Churches, who have worked with the rich to keep the masses in the dark; down and poor , by helping the rich to hide God's PERFECT Laws and substitute the rich people's oppressive and illegal laws.
This world is run by a small group of EXTREMELY rich jews who are known as "The Hidden Hand ". They say they are Jews and are NOT . They are the "synagogue of Satan " (Rev. 3 v 9).
These same people had already been previously condemned as traitors by God through Jeremiah in the third chapter of Jeremiah - note well verses 9-11 - "Treacherous Judah ".
The Four Horsemen of The Apocalypse
See also
The Nazi Banksters' Crimes Ripple Effect - Full Documentary
Brighteon
CASHLESS SOCIETY INCOMING - #10 by Gareth CASH AND THE SMART MONEY NIGHTMARE
CASHLESS SOCIETY INCOMING - #4 by DOTS
Mega-Drought & Mega Food Shortages
Thousands of Businesses Closing in Europe Due to High Energy Bills That Make it No Longer Possible to Stay Open