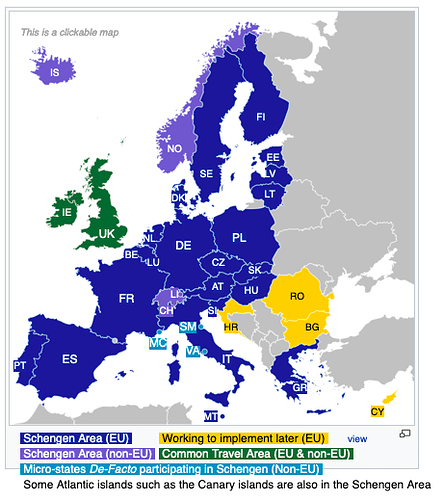 Travellers from the United Kingdom, who are not European Union residents, are required to pay a fee to enter the countries within the European Union from next year. The non-European Union residents need to pay £5.89 to enter the 26 countries in the Schengen Area. A new travel authorisation system, European Travel Information and Authorisation System (ETIAS) which is scheduled to begin in 2022 will supervise security documents and travel fees for travellers.

As per the Daily Record report, ETIAS is a visa waiver system, wherein people travelling to 26 countries in the Schengen Area need to fill an online form and pay €7. Reportedly, travellers can submit their online form on the official website or the app available on mobile phones. The Schengen Area consists of 26 countries including popular tourist destinations for travellers. Britain does not fall under the Schengen Area which includes 26 countries, resulting in the travellers from the UK following the same rules as other residents of non-European Union countries.

More at link.
This scheme would be inefficient for the Gibraltar/La Linea crossing, but could play into Gibraltar "becoming part" of the Schengen Area.
EU introduces €7 tax on entry into Schengen Area as from 2022
Is Gibraltar entering the Schengen Area and allowing Frontex to control the border a good idea?
It's definitely been a hot topic -
Is Spain seeking integration of Gibraltar with the Campo area via Schengen?
Gibraltar waits on EU to determine post-Brexit future with Schengen deal set to expire
Spain Gloats It Has Been Given Control of Gibraltar's Borders as Part of Brexit Deal
Frontex chief says EU border agency would be 'honoured' to play role in Rock's post-Brexit future
It seems like politicians always make solutions so complicated. Attorneys and their agreements, contracts, treaties etc - each vying for control or to have the upper hand/benefit. What actually is the simpliest solution (Political posturing aside)?
We might be in the early stage of a unification of The Campo de Gibraltar.