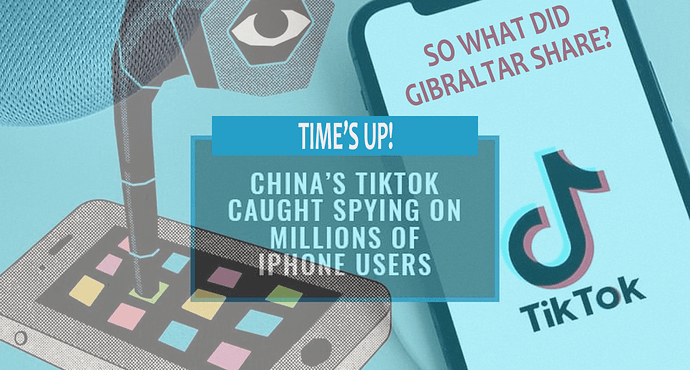 Gibraltarians weren't too aware of this video-sharing APP before The Lockdown; and the Gibraltar Chronicle's coverage of TikTok helped bring the message to the general public – TikTok was latest tech app "to entertain" The Rock during The Lockdown.
After learning what Apps are all about, the real message should be:
Tick-Tock Time to Ditch Your Dummies-Smart-phones.
Let's take a look at what was reported in Gibraltar about TikTok –
On April 2, GBC posted a Umee TikTok challenge via GBC: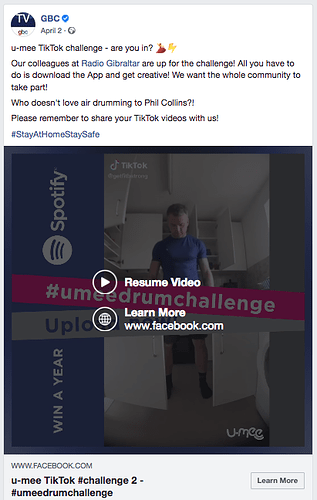 Here is the link: facebook.com/gbc.gi/posts/1388114381390176
"Our colleagues at Radio Gibraltar are up for the challenge! ALL YOU HAVE TO DO IS DOWNLOAD THE APP and get creative! We want the whole community to take part!
Who doesn't love air drumming to Phil Collins?! Please remember to share your TikTok videos with us! #StayAtHomeStaySafe"
What you might not have realized is that you were sharing more than your video with Radio Gibraltar. You were sharing your clipboard/pasteboard with TikTok every time you opened the APP. You may have been at home, but your information wasn't necessarily safe.
Locally, it was brought to you by Gibraltar's Visual Agency (Visu.Al):
"TikTok Gibraltar. Are You Ready?! We're kick starting a TikTok Gibraltar Takeover!"
https://www.facebook.com/visualgibraltar/videos/922729978176456/
What is TikTok
TikTok is a Chinese social networking service built around short video clips. Developed and owned by ByteDance which is based in Beijing, it is very popular amongst young people and children.
On April 17, The Chronicle reported the Press Association's news that "TikTok has introduced a minimum age requirement of 16 to use its direct messaging feature."
By April 27, The Gibraltar Chronicle essentially gave it a thumbs-up:
Gibraltarians in lockdown flock to TikTok
You might think twice before you allow the next-new thing to takeover.
April wasn't the first time it was mentioned by The Gibraltar Chronicle – reported the Press Association's Announcement back in January:
From Libra to TikTok: Ones to watch in tech for 2020
"TikTok has become one of the most popular new apps on the scene, although 2019 was not without its controversies, with concerns over features such as paid virtual gifts."
You'll notice this article disclosed that the U.S. was questioning TikTok.
"The Beijing-owned platform is reportedly the subject of a national security review in the US, while the UK data regulator, the Information Commissioner's Office, is expected to conclude its own investigation in the coming months."
This is because in December 2019, the U.S. Navy raised flags about TikTok and banned it.
US Navy bans TikTok from mobile devices saying it's a cybersecurity threat
Read also:
TikTok's national security scrutiny tightens as US Navy reportedly bans popular social app:
TikTok may be the fastest-growing social network in the history of the Internet, but it is also quickly becoming the fastest-growing security threat and thorn in the side of U.S. China hawks.
The latest, according to a notice published by the U.S. Navy this past week and reported on by Reuters and the South China Morning Post, is that TikTok will no longer be allowed to be installed on service members' devices , or they may face expulsion from the military service's intranet.
Recently, Congress, led by Missouri senator Josh Hawley, demanded a national security review of TikTok and its Sequoia-backed parent company ByteDance, along with other tech companies that may share data with foreign governments like China.
Well, the UK data regulator must have decided it was safe because by April it was the APP "to have" in Gibraltar to stay connected.
Why did the UK decide it was safe?
Notice that TikTok made a major donation to UK's Royal College of Nursing Foundation, which was announced on the same day as the age requirement notification.
Did they come to some kind of understanding that children would be off-limits in a DEAL that saw the UK "rewarded" with a hefty donation to Royal College of Nursing Foundation?
Is this all that is needed for a foreign-entity to make its way into the UK or Gibraltar market? Money.
Gibraltar Chronicle made sure to bring you the news of TikTok's so-called good deed:
TikTok donates £5m to Royal College of Nursing Foundation
It came as the video-sharing platform revealed that TikTok videos celebrating NHS and other healthcare workers reached 330 million in one month, a 5,000% increase on four weeks ago, according to the app.
This all makes one wonder if GHA received any of those funds. And what other funds did they receive from other corporations in the name of "Covid"?
Here is the Recent News that TikTok Was Caught Spying –
TikTok Caught Spying What We Type In Other Apps… TWICE!
https://www.techarp.com/cybersecurity/tiktok-caught-spying-twice/
Beyond their obvious desire to grow their service at the expense of the danger to real people, there have been cybersecurity and privacy concerns about TikTok.
In a space of just four months, TikTok has been caught spying on what we type in OTHER APPS… not once, but TWICE. Take a look at this video exposé… (embedded in the article)
In the video above, you can see how TikTok immediately asked to read all text stored in the pasteboard , whenever it is launched.
TikTok was just one of the many apps that they found to be spying on what we type. Here were the apps they confirmed were spying on the pasteboard/clipboard.
The article gave a list of other APPS caught spying including news, games, social and other type apps.
SEE ALSO –
1. China's TikTok Caught Spying on Millions of iPhone Users:
2. Apple Caught China-owned TikTok Spying on Million of Iphone Users:
3. Apple Suddenly Catches TikTok Secretly Spying...:
Again, TikTok isn't the only App that spies:
TikTok is by no means the only culprit. Other apps have also accessed the clipboard on iPhone and iPad, and the following clip shows several others, including The New York Times, Google News, AccuWeather, Overstock, and others.
Of course, App developers always have their excuses why data breaches happened. But basically, it boils down to they got caught.

It's not just the U.S. raising red flags, India recently banned TikTok, along with 58 other Chinese Apps.
Now, TikTok in a PR move is trying to distance itself from Beijing.
Seriously! Is that going to work? These public-relations tactics are getting too common-place. What will be their next excuse?
Tick-Tock Time to Delete the APP.
Do your own research to every APP you have. You cannot leave it up to BigTech like Apple and Google; or the tech-happy media; or the tech-savvy government to protect your information.
It's on you to protect yourself and your family from this invasion.
This article helps put a few things in perspective:
While Visu.AL does provide news on the Indian Ban of TikTok in its Social issues sections, so far news about TikTok spying has not been featured in the Gibraltar Chronicle. Perhaps, the pro-Chinese Communist Party (CCP) Government of Gibraltar has an "understanding" backed by Chinese investments, that it will not criticize Chinese products, services, or practices.
APPly Logic.
Do you trust all the assurances given by BigTech, BigGov and even BigPoliticians – when they say/lie "problems have been resolved", "its for the collective good", and so on?