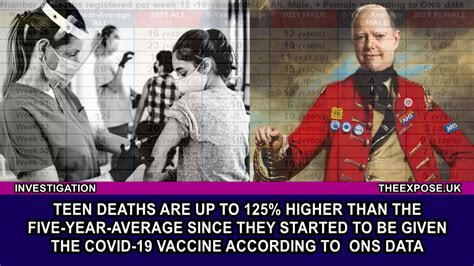 For children 12 to 15 years of age, the extremely short and small Pfizer Covid-19 vaccine clinical trial found the overall incidence of severe adverse events which left the children unable to perform daily activities, during the two-month observation period to be 10.7%, or 1 in 9, in the vaccinated group and 1.9% in the unvaccinated group.

Consequently, children who received the vaccine had nearly six times the risk of a severe adverse event occurring in the two-month observation period compared to children who did not receive the vaccine. In addition, the incidence of Covid-19 in the unvaccinated group was 1.6%, therefore, there were almost seven times more severe adverse events observed in the vaccinated group than there were Covid-19 cases in the unvaccinated group.

Continued at link.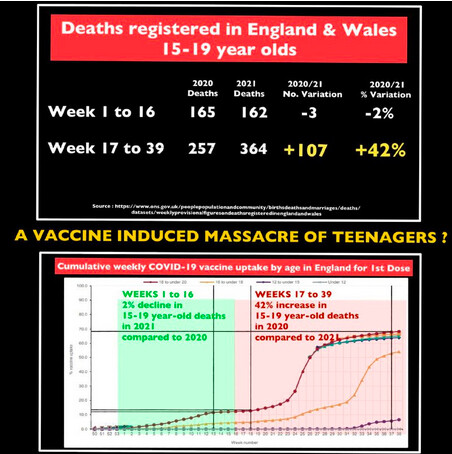 Latest data just released in the UK, indicates that we might have a Vaccine Induced Massacre of Teenagers happening before our eyes.

For the first 16 weeks of 2021, deaths of 15-19 year-olds in the UK were running on par with the number of deaths in 2020.

But since then (weeks 17 to 39) at a time that co-incidentally correspondences with the ramp up of the vaccine rollout in the 15-19 year old age group - deaths are running 42% above what they were for the same period last year in that age group.

That's an extra 107 deaths of teenagers

Until these extra 107 teenage deaths can be adequately explained - the precautionary principle demands that all injections in teenagers must cease

But the problem is, we have 99% of our politicians, the entire health bureaucracy, the ABC & the rest of the MS Media so heavily invested in the narrative of ''SAFE & EFFECTIVE'' - how are they going to admit we might have a vaccine induced massacre of teenagers on our hands? ALL INJECTIONS OF TEENAGERS MUST BE IMMEDIATELY HALTED
CDC: Teens Injected with COVID Shots have 7.5 X More Deaths, 15 X More Disabilities, 44 X More Hospitalizations than All FDA Approved Vaccines in 2021
THE UK HAS FALLEN: 81% of Covid-19 deaths are among the Vaccinated, Male Teen Deaths have rised by 63% since they were offered the jab, Covid-19 Deaths are 12 times higher than this time last year
BBC air News Report conditioning the public into believing it's normal for teens to drop dead due to "undiagnosed heart conditions"
Children Become The Next Target For The Jab
Barrister Charles Gomez has written a letter to the recently appointed Director of Public Health, Helen Carter, asking a series of questions about the safety of the Pfizer vaccine for 12 to 15 year olds.