Spain's Hipra is confident there will be European Union demand for its experimental COVID-19 vaccine once approved for use as it is designed to protect against new variants, can be moved easily and produced in mass quantity, a top executive said.

Though she gave no details, Elia Torroella, Hipra Vice President and Head of Research and Development, told Reuters in an interview she is confident the shot would be effective against the emergent Omicron variant as it had shown protection in trials against all known strains of the coronavirus. "This is a vaccine that already takes into account variants (of the coronavirus)," Torroella said.

Hipra forecasts production capacity of 600 million doses next year and double that in 2023.

EU authorities have bought vaccine supplies for the next two years, but Torroella said Hipra believes there is enough demand and expects "maximum support" at the Spanish and European level.

Spain's government has been a key backer for what would be the first Spanish COVID-19 vaccine, providing 4 million euros for the clinical trials, and is expected to give another 15 million via loans and grants, Torroella said.

More at link.
On a side note - Spain's Science Minister Diana Morant also said Spanish pharmaceutical firm Hipra could be effective as a booster against variants of the virus. Is Morant getting her information from Torroella?
They are making these millions of doses because they have already planned continual boosters.
Interesting that the Spanish government has opted not to make jabs mandatory as yet – Spain rules out EU's advice on compulsory Covid-19 vaccination.
Would it be in their best interest to wait until HIPRA is ready? Just saying...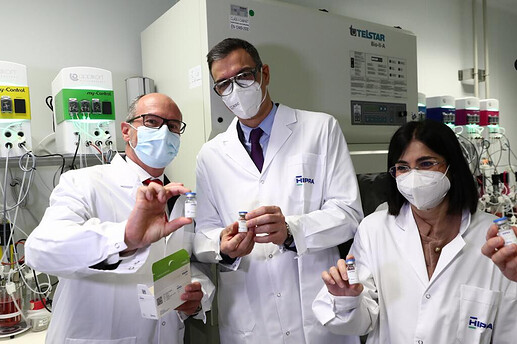 Spanish Prime Minister Pedro Sánchez visited the premises of HIPRA in April, describing his visit as inspirational – Plans to produce 400 million doses of Spanish Covid-19 vaccine in 2022
---
Related -
Is it time to let

SPAIN'S HIPRA get the spotlight and profits? – Vaccine under development by Spain's Hipra could be booster against variants, minister says | National Post