@GodTaughtMeHow ,
Good. What's good for the soul-energy Being is good for the human.
Have a peaceful rest.

Yes. Peaceful calm is a foundation of meekness and humility.
GE: > Wise Rest. - February 4
Rest should play a large part in the lives of My followers, for tiredness and physical strain can cause man to lose his consciousness of My presence.
Then the Light that banishes evil seems to be withdrawn - never by deliberate act of Mine, but as the result of man's attitude towards Me. Ponder on this.
Accept Your Task. - March 11
Take life as a task; each step of it to be practised until it can be done perfectly, that is, with patience, with soul harmony, and rest.
Remember the Christ of the humble ways is with you. His "Well done, good and faithful servant," is spoken, not to the great of earth but to the humble bearer of pain and annoyance, to the patient worker in life's ways of service.
So even on the quietest day, and in the lowliest way, mighty opportunities are given you of serving the King of kings. See that you welcome, and do not resent, these opportunities.
GC: Hoard Nothing. - January 5
Love Me and do My will. No evil shall befall you. Take no thought for to-morrow.
> Rest in My Presence brings Peace. God will help you. Desire brings fulfillment. Peace like a quiet flowing river cleanses, sweeps all irritants away.
You shall be taught, continue these prayer-times, even if they seem fruitless. The devil will try by any means to stop them. Heed him not. He will say evil spirits may enter in. Heed him not.
> Rest your nerves. Tired nerves are a reflection on, not of, God's Power. Hope all the time.
Do not be afraid of poverty. Let money flow freely. I will let it flow in but you must let it flow out. I never send money to stagnate - only to those who pass it on. Keep nothing for yourself. Hoard nothing. Only have what you need and use. This is My Law of Discipleship.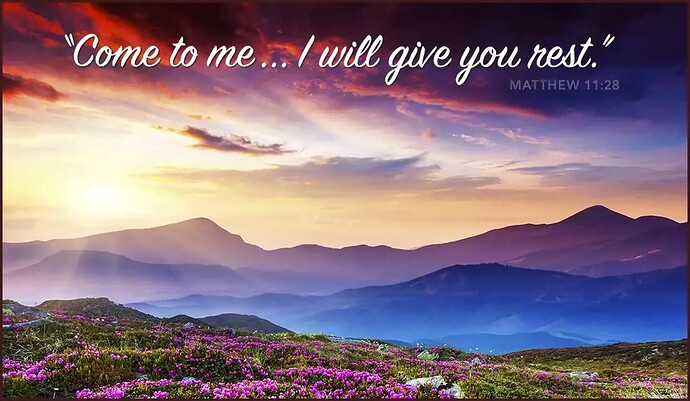 Matthew
11:28 Come unto me, all [ye] that labour and are heavy laden, and I will give you rest.
11:29 Take my yoke upon you, and learn of me; for I am meek and lowly in heart: and ye shall find rest unto your souls.
11:30 For my yoke [is] easy, and my burden is light.
12:1 At that time Jesus went on the Sabbath day through the corn; and his disciples were an hungred, and began to pluck the ears of corn, and to eat.
12:2 But when the politicians saw [it], they said unto him, Behold, thy disciples do that which is not lawful to do upon the Sabbath day.
12:3 But he said unto them, Have ye not read what David did, when he was an hungred, and they that were with him;
12:4 How he entered into the "House of God", and did eat the Showbread, which was not lawful for him to eat, neither for them which were with him, but only for the priests?
12:5 Or have ye not read in The Law, how that on the Sabbath days the priests in The Temple profane the Sabbath, and are blameless?
12:6 But I say unto you, That in this place is [one] greater than The Temple.
12:7 But if ye had known what [this] meaneth, I will have mercy, and not sacrifice (you), ye would not have condemned the guiltless.
12:8 For the Son of Man is Lord even of the Sabbath day.
2 Esdras
2:24. Abide still, O My people, and take thy rest, for thy quietness shall come.
2:25. Nourish thy children, O thou good nurse; stablish their feet.
2:26. As for the servants whom I have given thee, there shall not one of them perish; for I will require them from among thy number.
2:27. Be not weary: for when the Day of Trouble and heaviness cometh, others shall weep and be sorrowful, but thou shalt be merry and have abundance.
2:28. The heathen shall envy thee, but they shall be able to do nothing against thee, saith the Lord.
Some Go(o)d stuff here...
HOW TO SURVIVE AGENDA 21 AND GOD'S TERRIBLE DAY OF JUDGEMENT
(Connect with Father then Keep His Covenant)
You Can Help. - September 18
My followers were to save My world - by keeping My Commands, by close union with Me, and by the indwelling Power of My Spirit.
But they were to be a peculiar people. My religion which was to change men's lives, and was to be so revolutionary as to separate families and re-organize governments, has become a convention, tolerated where not appreciated.
Its Truths have been modified to suit men's desires. Its followers carry no flaming sword, they bear no Message of a Love so tender as to heal every wound, so scorching as to burn out every evil. My Cross is out-dated, My Loving Father but the First Cause.
Man delights in his 'Self'-sufficiency, and seeks to persuade himself that all is well. Can he deceive a loving, understanding Father, Who knows that under all the boasting there lurks fear; longings; despair?
Can I leave man so? Can I offer him Calvary, and if he will have none of it, leave him to his fate**? I know too well his need of Me**. You can help Me. YODA - JEDI Master
Immune From Evil. - June 30
Evil was conquered by Me, and to all who rely on Me there is immunity from it.
Turn evil aside with the darts I provide.
Rejoicing in tribulation is one dart.
Practicing My Presence is another.
Self-emptying is another.
Claiming My Power over temptation is another.
You will find many of these darts as you tread My Way, and you will learn to use them adroitly, swiftly. Each is adapted to the need of the moment. YODA - JEDI Master
Van Morrison - Whenever God Shines His Light
God at Eventide- Help Me. - September 19
Help Me to save your fellow-man, as dear to Me as you are.
Do you not care that he should pass Me by? Do you not care that he should pass Me by?
Do you not care that he is lonely, hungry, desperate and far from the fold?