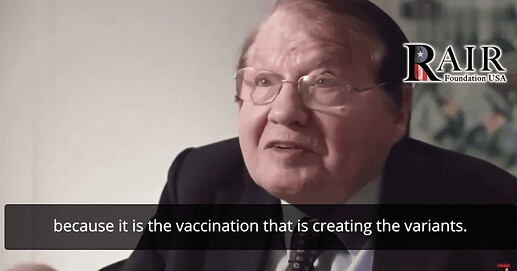 The 2008 Nobel Laureate made the explosive comments as part of a larger interview with Pierre Barnérias of Hold-Up Media earlier this month. The clip was exclusively translated for RAIR Foundation USA, and is quite damning for the agenda-driven left-wing establishment.

Prof. Montagnier referred to the vaccine program for the coronavirus as an "unacceptable mistake". Mass vaccinations are a "scientific error as well as a medical error," he said. "It is an unacceptable mistake. The history books will show that, because it is the vaccination that is creating the variants," Prof. Luc Montagnier continued.

The prominent virologist explained that "there are antibodies, created by the vaccine," forcing the virus to "find another solution" or die. This is where the variants are created. It is the variants that "are a production and result from the vaccination."

Prof. Montagnier said that epidemiologists know but are "silent" about the phenomenon, known as "Antibody-Dependent Enhancement" (ADE).

Prof. Luc Montagnier continued to say that he is doing his own experiments with those who become infected with the coronavirus after getting the vaccine. "I will show you that they are creating the variants that are resistant to the vaccine," he said.
Continued at link.
Life or Death: Pharmaceutical "Plandemic" Poisonous Vaccines, or the Healing of the Holy Spirit – Your choice