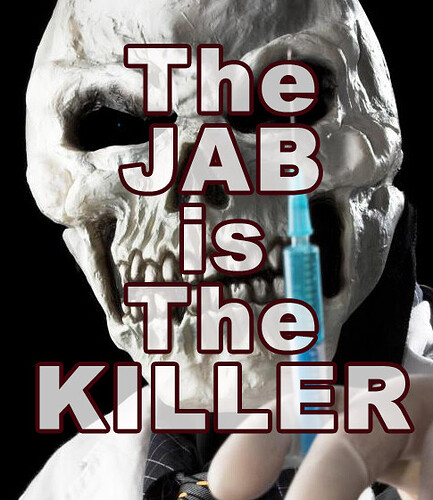 More Evidence That They Know the Covid Vaccine Is Killing and Maiming People and Yet They Continue Their Death Program
Here is a doctor and chief RN in a US Department of Health & Human Services Hospital reporting that the official protocol is NOT to report adverse reactions to the vaccine, NOT to treat Covid patients with safe and effective Ivermectin, indeed, it is impermissible to do so and you are fired if you save lives with Ivermectin, and NOT to permit staff to refuse inoculation based on informed consent from seeing the deadly effects of the vaccine on patients.

In this video you can witness the doctor and nurses speaking about the evil of the Health & Human Services federal hospital intentionally killing people and preventing doctors and nurses from saving the lives of patients. This is not happening from incompetence and lack of knowledge. People are being systematically murdered, and Covid is being blamed. All adverse vaccine reactions are blamed on Covid, not on the vaccine, and this lie is used to justify not reporting the adverse event. PART 1: Federal Govt HHS Whistleblower Goes Public With Secret Recordings "Vaccine is Full of Sh*t" - YouTube You had better watch the brief video before it is taken down as "Covid disinformation." It is a video of doctors and nurses on the front line discussing what they see and experience.

It has also emerged that the medical establishment arranged a "test" of HCQ's effectiveness by waiting until patients were in the last stage of the disease before administering HCQ. They did this despite knowing that HCQ is effective in the early stages of Covid infection and arrests the progress of the infection. In the later stages of the disease, HCQ is not effective, or not nearly as effective.

Having rigged the test in this way over the dead bodies of betrayed patients, the medical establishment used the arranged failure of HCQ to prevent the use of Ivermectin, which is effective at all stages of the disease.

Continued at the link.
ANALYSIS: The vaccines kill many more people than they save
Politicians and so-called experts across the planet increasingly want to force you to get inoculated with a substance that takes away at least twice the lives it saves, across all age groups. It doesn't matter anymore if this is intentional or just sheer incompetence, we have no time left to discuss that. We're killing people. Millions of people. Our loved ones, family, friends, and neighbors. It has to stop. Now. We have gone mad. Maybe Steve Kirsch's access to the FDA can help.

And when Steve says the vaccines killed 200,000 Americans so far already, and permanently disabled 300,000, remember that this is just the tip of the iceberg: many if not most of the effects will only show up later. And then Pfizer today claims that their stuff is safe for kids 5 years old and up. Who are 99.9996% safe if they get infected, due to their immune system, which also gets killed by the vaccines.

And I would have some questions about the people "saved" by the vaccines. Because a recent Israel study suggests only that "a booster can strengthen protection for a few weeks in older adults." A few weeks? And we call that a vaccine now?

Stop it. We have gone mad.

Continued at the link.
Related -
Former Pfizer Employee Confirms Poison in COVID 'Kill Shot'
BOMBSHELL: FDA Allows Whistleblower Testimony that COVID-19 Vaccines Are Killing and Harming People!
New Analysis: Pfizer Vaccine Killed 'About 40 Times More Elderly Than the Disease Itself Would Have Killed'
THE VERDICT IS IN: They're deliberately killing us with the Covid 'vaccine' bioweapons!
Insider - Vaccines are Killing the Elderly
Highly Cited COVID Doctor Comes To Stunning Conclusion: Gov't 'Scrubbing Unprecedented Numbers' Of Injection-Related Deaths
Investigation – UK Gov. / SAGE document admits the Covid-19 Vaccines will lead to a variant that kills 35% of