Love is (much) more than a feeling. Love is an actual living real Force / Being.
1:6 the "Light" and "The Force", which is the force of love. God, Who is pure love and the source and controller of His "Force"; love, the greatest force in creation -
Excerpted from The Way home or face The Fire
1 Thessalonians 5:15 See that none render evil for evil unto any [man]; but ever follow that which is good, both among yourselves, and to all [men].
5:16 Rejoice evermore.
5:17 PRAY WITHOUT CEASING.
5:18 In every thing give thanks: for this is the Will of God in Christ Jesus concerning you.
Romans 12:2 And be not conformed to this world: but be ye transformed by the renewing of your mind, that ye may prove what [is] that good, and acceptable, and perfect, Will of God.
Hopefully, those animals will remain "protected" having been raised in that type of environment.
I am reminded of these verses from Isaiah
11:6 The wolf also shall dwell with the lamb, and the leopard shall lie down with the kid; and the calf and the young lion and the fatling together; and a little child shall lead them.
11:7 And the cow and the bear shall feed; their young ones shall lie down together: and the lion shall eat straw like the ox.
11:8 And the sucking child shall play on the hole of the asp, and the weaned child shall put his hand on the adder's den.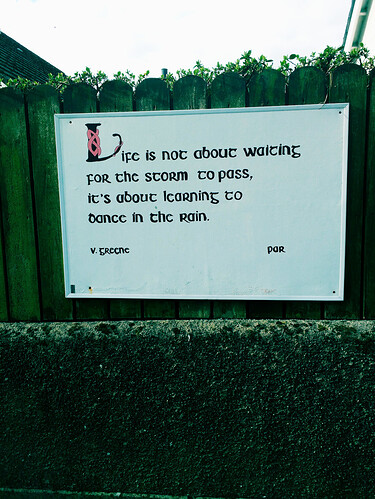 TWH
12:54 There are clues everywhere, in the game of LIFE, but you have to open your spiritual-eyes, to be able to see them, and find them, and to be able to recognise them, as clues.
God at Eventide-The Sunlit Way. - April 15
Know that your Source of joy is something changeless. The hopes of the world are but in material things and when these pass or change their joy fades, hope dies, only dark night remains.
Speak comfort to such. Tell of My Love surrounding you, that My protecting Power is yours. That I can never fail one who trusts in Me. That you can breathe in courage from My Presence as you breathe in air.
Tell the world - that for one who walks a cheerless road with Me, the bare hedge doth blossom as the rose, and life is bathed in sunlit joy.
Happy Elephants
Video:- Happy Elephants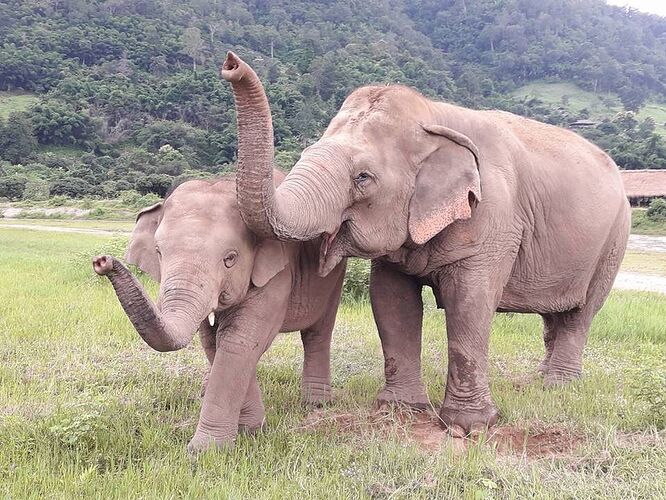 Proverbs 7:18 Come, let us take our fill of love until the morning: let us solace ourselves with loves.
Dear @Persistent,
I hope you have had a good day. Thank-you for the good you bring/have brought to this forum.
The verse you posted (Proverbs 7:18) are the words of an adultress, a harlot. It is not the love that is found within this thread. Out of context, it may sound nice, but the Verse is followed by:
Proverbs 7:19 For my husband [is] not at home, he is gone a long journey
Even more is revealed about the woman when the whole of Chapter 7 in Proverbs is read.
Her love speaks of the love of a flatterer (7:5), in fact a dangerous woman for men to avoid.
The Chapter begins with a Command and then follows with the pitfalls and dangers to avoid.
7:1 My son, keep My Words, and lay up My Commandments with thee.
7:2 Keep My Commandments, and Live; and My Law as the apple of thine eye.
7:3 Bind thy fingers to them, write them upon the table of thine heart.
7:4 Say unto Wisdom, Thou [art] my sister; and call Understanding [thy] kinswoman:
7:5 That they may keep thee from the strange woman, from the stranger [which] flattereth with her words.
7:6 For at the window of my house I looked through my casement,
7:7 And beheld among the simple ones, I discerned among the youths, a young man void of understanding,
7:8 Passing through the street near her corner; and he went the way to her house,
7:9 In the twilight, in the evening, in the black and dark night:
7:10 And, behold, there met him a woman [with] the attire of an harlot, and subtle of heart.
7:11 (She [is] loud and stubborn; her feet abide not in her house:
7:12 Now [is she] outside, now in the streets, and lieth in wait at every corner.)
7:13 So she caught him, and kissed him, [and] with an impudent face said unto him,
7:14 [I have] peace offerings with me; this day have I payed my vows.
7:15 Therefore came I forth to meet thee, diligently to seek thy face, and I have found thee.
7:16 I have decked my bed with coverings of tapestry, with carved [works], with fine linen of Egypt.
7:17 I have perfumed my bed with myrrh, aloes, and cinnamon.
7:18 Come, let us take our fill of love until the morning: let us solace ourselves with loves.
7:19 For my husband [is] not at home, he is gone a long journey:
7:20 He hath taken a bag of money with him, [and] will come home at the day appointed.
7:21 With her much seductive speech she caused him to yield, with the flattering of her lips she forced him.
7:22 He goeth after her straightway, as an ox goeth to the slaughter, or as a fool to the correction of the stocks;
7:23 Till a dart strike through his liver; as a bird hasteth to the snare, and knoweth not that it [is] for his life.
7:24 Hearken unto me now therefore, O ye children, and attend to the words of my mouth.
7:25 Let not thine heart stoop to her ways, go not astray in her paths.
7:26 For she hath cast down many wounded: yea, many strong [men] have been slain by her.
7:27 Her house [is] the way to hell-fire, going down to the chambers of death.
"Oh what a tangled web we weave/When first we practice to deceive means that when you lie or act dishonestly you are initiating problems and a domino structure of complications which eventually run out of control."
It is no wonder that the Penalty for adultery is execution.
Leviticus 20:10 And the man that committeth adultery with [another] man's wife, [even he] that committeth adultery with his neighbour's wife, the adulterer and the adulteress shall surely be put to death.
Good day and good wishes to you too.
Love always thinks first of how one can help another.

Thank-you.
Likewise.
Thank-you for your loving correction. This truth forum is a learning place, a place to learn to use the "Force of Love" in this case learning humility, remaining teachable, overcoming spiritual slothfulness.
excerpts from The Different Effects of Nature and Grace
"Nature is afraid of humiliation and contempt, but grace rejoices when it suffers indignity for the sake of Truth, Justice and Freedom."
Agreed.
( Deut. 5:18 Neither shalt thou commit adultery [neither personally, nor nationally]. 5:19 Neither shalt thou steal [nor make up thine own laws to enable thee to do so by fraud (deceiving people)]. 5:20 Neither shalt thou tell lies [not even to thy "Self", neither to, nor] against thy neighbour,
Proverbs 6:32 [But] whoso committeth adultery with a woman lacketh understanding: he [that] doeth it destroyeth his own soul. 6:33 A wound and dishonour shall he get; and his reproach shall not be wiped away. 6:34 For jealousy [is] the rage of a man: therefore he will not spare in the day of vengeance, Hosea 4:2 By swearing, and lying, and killing, and stealing, and committing adultery, they break out, and blood toucheth blood. 4:3 Therefore shall the land mourn, and every one that dwelleth therein shall languish, with the beasts of the field, and with the fowls of heaven; yea, the fishes of the sea also shall be taken away.
Romans 13:9 For this, Thou shalt not commit adultery, Thou shalt not murder, Thou shalt not steal, Thou shalt not bear false witness (lie), Thou shalt not covet; and if [there be] any other commandment, it is briefly comprehended in this saying, namely, Thou shalt love thy neighbour as [or more than] thyself,
Sura 17:32. Nor come nigh to adultery: for it is a shameful (deed) and an evil, opening the road (to other evils. )
"But grace aims at putting the old nature to death, and it resists the desires of the body.
https://jahtruth.net/natgra.htm
About the Reinstating God's Law category
So many laws broken on so many levels - with Senior Lawyer Anna De Buisseret
@Persistent You are welcome and thank-you.
Yes, it is. A privilege to be here of which I am very thankful.
Thank-you. One of my favorite songs.

You are most certainly welcome.
Agreed.
Thanking Father and The Lord for Their loving mercy.

Deuteronomy 14:7 Nevertheless these ye shall not eat of them that chew the cud, or of them that divide the cloven hoof; [as] the camel, and the hare, and the rabbit: for they chew the cud, but divide not the hoof; [therefore] they [are] unclean unto you.
Leviticus 19:28 Ye shall not make any cuttings in your flesh for the dead, nor print any marks upon you: I [am] the "I AM".