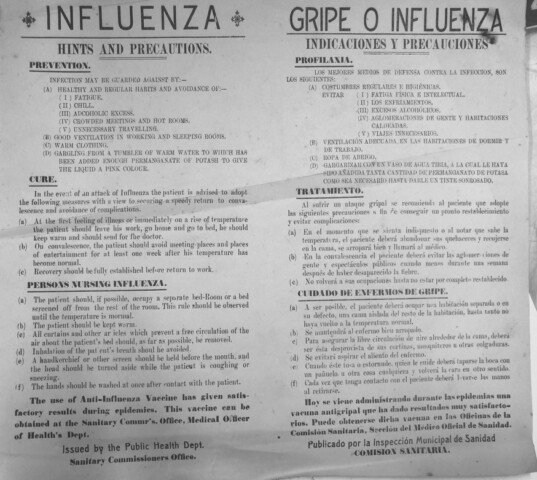 The Gibraltar Chronicle look at the Spanish Flu
by Andrew Sene former Surgeon General at St Bernard's Hospital Gibraltar with contributions by Anthony Pitaluga Head of the Gibraltar National Archives

The following is a four-part account of how the Spanish flu impacted Gibraltar in the early 20th century.

There were apparently four waves and altogether it is estimated that approximately 500 million cases occurred with 25-50 million deaths.

At the time infectious organisms smaller than bacteria were suspected as some diseases could be transmitted by filtering out bacteria but viruses were not seen until much later with the advent of the electron microscope.

The first wave, of which there is less documentation than the second, appears to have started in Gibraltar in late May 1918 i.e. two months after the Kansas cases. It is reported in Gibraltar to have resulted in 600 cases but it is probable that 800 occurred with 29 deaths. Of these 19 were civilians, 1 naval and 1 military. The other 8 deaths were shipping or 'bay' cases. The MOH reports this wave as 'benign' with low mortality lasting 7-8 weeks and subsiding by the end of July 1918.

The second wave impacted Gibraltar much more forcefully, as it did worldwide. It started in September 1918, reached a maximum in October and died away in early December 1918.
Absent from this article is -
REVELATION: Only the "vaccinated" died during the 1918 Spanish Flu
Although the infectious nature of this illness was widely assumed, MASKS, QUARANTINES, AND ISOLATION WERE ALL WITHOUT EFFECT. What does 1918 Spanish Flu and the 2020 Corona Virus have in common? Both have a next generation wireless communications technology being rolled out.- Isn't it time to unmask this criminal conspiracy? - #7 by A_Freeman
The unmasked buried the masked in the "Spanish Flu." What did people in masks die from? Bacterial pneumonia. Who knew this and wrote about it in 2008? Dr. Anthony Fauci' - Blaylock: Face Masks Pose Serious Risks To The Healthy - #7 by be1
This is consistent not with any respiratory virus, but with what has been known about electricity ever since Gerhard did the first experiment on human blood in 1779. - Further information from The Invisible Rainbow - Discussion on the World Situation in Biblical Terms - #11 by A_Freeman
Study Shows Direct Correlation Between 5G Networks and "Coronavirus" Outbreaks
Withdrawn report from NIH website linking 5G and corona virus
The Connection Between 5G and the Corona Virus
---
Gibraltar Encampments and Health Passes During the Yellow Fever Outbreak – Gibraltar History Lesson