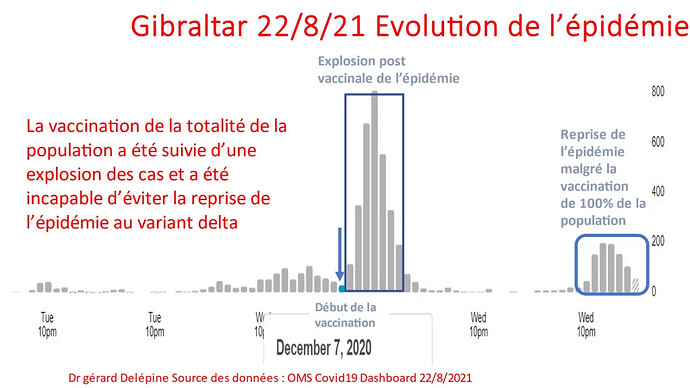 Record mortality in Gibraltar, champion of Astra Zeneca injections

(Shouldn't this be Pfizer, not AZ?)

Gibraltar (34,000 inhabitants) started vaccination in December 2020 (Shouldn't this be January 2021?) when the health agency counted only 1040 confirmed cases and 5 deaths attributed to covid19 in this country. After a very comprehensive vaccination blitz, achieving 115% coverage (vaccination was extended to many Spanish visitors), the number of new infections increased fivefold (to 5314) and the number of deaths increased 19fold. The number of deaths increased 19-fold, reaching 97, i.e. 2853 deaths per million inhabitants, which is one of the European mortality records. But those responsible for the vaccination deny any causal link without proposing any other plausible etiology. And after a few months of calm, the epidemic resumed, confirming that 115% vaccination coverage does not protect against the disease.

Other countries listed at link.
Gibraltar Covid Cases Among The Vaccinated
Gibraltar Deaths After Covid Vaccine Push