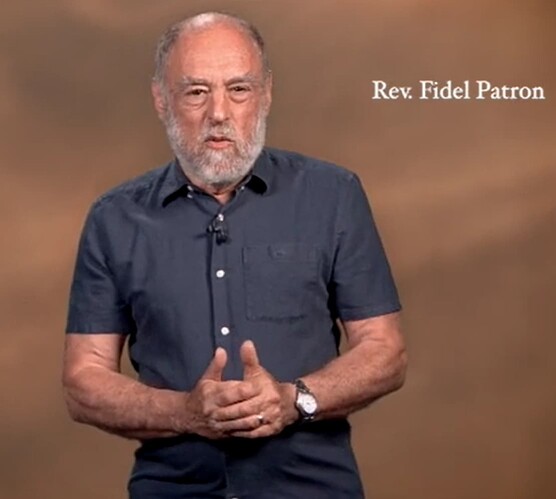 3rd October 2021
Dear Fidel,
Good afternoon, and good wishes.
Episode 96 of Thought for The Weekend was watched on-line yesterday, so please be assured that at least one person, outside the Gibraltar Methodist church, actually watches these Thought for The Weekend presentations, in the hope that eventually we might find some common ground.
You said in your historical presentation that the world has gone mad, but in truth, mankind has always been insane, and if you had read Christ's The Way home or face The Fire, a printed copy of which I left for you some considerable time ago, you ought to have realised by now that we are indeed living in a lunatic asylum, and Earth is a maximum-security prison-planet for the criminally-insane.
While not knowing the precise reasons for your gripe against the apostate UK Methodist Church leadership, I was pleasantly surprised to see your courageous scathing comments about them, with which I totally agree - common ground at last?
Perhaps, either you have been silently taking onboard my advice from the Lord, or Father has Himself moved your position towards mine, and emboldened you from within you. You may recall that I actually attended the 2020 UK Methodist Conference in Birmingham, and was left distinctly unimpressed with the institutionalised snobbery of the then president Barbara Glasson.
!st Timothy 2:11 Let the woman learn in SILENCE with all subjection.
2:12 But I suffer not a woman to teach, nor to USURP authority over the man, but TO BE IN SILENCE.
2:13 For Adam was first formed, then Eve.
2:14 And Adam was not deceived, but the woman being deceived was in the transgression.
You talk about unity and cohesion disappearing in Gibraltar, and so I wondered if you had been reading Hannah Michael's Time To Think article from 22nd April 2021 that the Lord Himself oversaw and edited?
A Focus on Gibraltar – The Ugly, The Bad, and The Good
Rightfully upset as you seemed at pains to stress, especially in relation to the PRO LIFE issue, conspicuous by its absence in episode 96 of your presentation, was any reference to the COVID DEPOPULATION GENOCIDAL PLANDEMIC / SCAMDEMIC. So, not really knowing where you stand these days on that burning issue, I thought I'd bring to your attention an excellent letter, which I read yesterday, as posted on the Defending Gibraltar website. It was entitled "A Letter to My Vaccinated Friend." It's well worth a read.
On the whole, though, it was a somewhat different, arguably more "baptised with fire", thus fired-up and emboldened Fidel going before the camera this time around. I liked this Fidel much better than the one I'd frustratingly watched in previous editions. Anyway, because I thought it more emboldened, I sent the link to The Gibraltar Messenger, as He knows all about our historical encounters, including the one you had with His disciple Peter, which I witnessed.
The Lord must have watched it too, as here's how He briefly replied to me.
"He's not following me, even though he says he is."
I asked Him for His permission to relay this brief message back to you. His response was thus: " Yes. He has consistently rejected me."
The Lord asks you this: Is this new emboldened Fidel now brave-enough to completely reject the new Methodist doctrine, and help Him reorganise and redirect the Methodist community, starting in Gibraltar, to finally embrace His true teaching, as John Wesley intended, instead of being misled into the Fiery Pit, by the blind guides of what has become traditional Methodist false doctrine?
Peace be with you.
Tony Farrell
Disciple of The Gibraltar Messenger