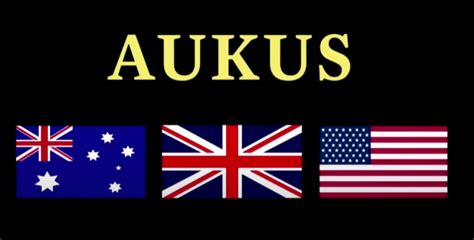 The EU was not told in advance about a new military partnership between the United States, Britain and Australia, a spokesman said Thursday, fueling fears Europe is being cut out by Washington.

The three countries' leaders unveiled the alliance on Wednesday in what was seen as a move to counter China's rising might.

The agreement to provide a nuclear submarine fleet to Australia raised hackles in EU member France, which saw its earlier multi-billion dollar deal with Canberra scrapped.

US President Joe Biden, Australian Prime Minister Scott Morrison and British counterpart Boris Johnson unveiled the new alliance -- dubbed AUKUS -- just as the EU prepared to detail its own Indo-Pacific strategy on Thursday.
Macron and Merkel (Merkron) "may" have been blindsided, but they are siding with China in the coming war (with the exclusion of Northern France) – French Blindsided as AUKUS Details Were Discussed at G7 Summit Leaving Macron Out - Report - 19.09.2021, Sputnik International
---
https://www.sfgate.com/news/article/9-EU-Mediterranean-countries-hold-summit-in-Greece-16466508.php
The Athens meetings came two days after the United States and Britain promised to help Australia acquire nuclear-powered submarines — a pledge that abruptly sidelined Paris, leaving it out of a lucrative submarine deal.

The leaders of Europe's Mediterranean countries pledged late Friday to expand cooperation in the fight against climate change and to back common security and defense initiatives in the European Union.

The nine Mediterranean countries expressed their "strong conviction that urgent and ambitious global action" to fight climate change is needed at national, regional and local levels, according to a joint statement issued after the talks got underway.
---
The UK (Ephraim), USA (Manasseh), Australia (Issachar) Alliance makes perfect sense if you understand Biblical prophecy about the True Tribes of Israel.